PMQs Live – Dom Philips missing 'deep concern' for govt 
Home Secretary Priti Patel offers a statement on the Rwanda plan following backlash and controversy.
………………
Theresa May says she has a constituent who is a niece of Dom Phillips – the Guardian journalist who has gone missing in the Amazon. Will the govt make this a diplomatic priority?
PM says govt is deeply concerned and FCDO officials are working with Brazil on this and the UK has offered to provide all the support that may be needed.
………………
Labour's Kerry McCarthy asks the PM to support more suicide prevention programmes. 
PM says the gobt wants to focus ever more on mental health and it would be good if Labour supported the govt's health spending. 
………………
Labour's Anna McMorrin quotes new cost of living tsar asking (in a tweet posted bef0re his appointment) why the worst people rise to become PM.
PM says McMorrin wants to return to the single market and the EU. 
He is referring to this story. 
………………
Neale Hanvey (Alba) asks if the PM will have a meeting to discuss the case of Jim Fitton – the Brit jailed in Iran for collecting fragments of pottery. 
PM says he will arrange a meeting. 
………………
Lib Dem leader Ed Davey says people in rural communities like Devon are hurting because rural fuel duty relief is not available. 
PM says all households are getting help with the cost of energy under his government's plans. 
HE says people don't know what Lib Dems policies are – Lib Dems are in favour of green taxes and returning to the common agricultural policy, he says.
PMQs Live – Why is UK growth so slow? 
Blackford says independence evidence 'overwhelming'
SNP Westminster leader Ian Blackford refers to First Minister Nicola Sturgeon's statements on independence yesterday. Refering to Iceland, Norway and Denmark he says they are outperforming the UK on things like poverty and productivity.
The evidence is overwhelming, Scotland is being held back by Westminster he says.
All those countries can use powers of independence, he says, why not Scotland?
Stop the world – Scotland wants to get on.
Boris Johnson says he doesn't doubt Blackford's skills as a conversationalist, but the national conversation should be about coming through the aftershocks of Covid, not Scottish independence.
He says the whole of the UK should stand together on the international stage against Russia's action in Ukraine – and that is what we should be talking about. – (BBC)
……………
Starmer says he does not want the strikes to go ahead. Johnson does so that he can "feed on the division". He starts quoting from what Tory MPs said about Johnson. Reading out the quotes, he invites Tory MPs to say who it was. His favourite was a document describing him as "the Conservative Corbyn". That was not intended as a compliment, he says.
People know the truth, he says. The economy is growing more slowly than in competitor countries. The PM sounds "totally deluded". He is failing to tackle inflation and failing to help people. And his big idea – going back to Imperial measurements. Under him, the economy is going backwards.
Johnson says Starmer tried to get Corbyn elected as PM. And Corbyn is "relatively dynamic compared to [Starmer]". He says he will continue to take the tough decisions to help the British people. Labour is on the side of the union barons, he says. And Labour is also on the side of the people traffickers. They carp from the sidelines. And no matter how much welly Angela Rayner asks him to apply, that welly is always on the left foo. – (Guardian)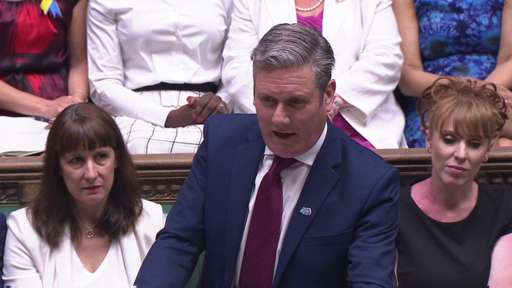 ……………
Stamer says Johnson thinks he is on Love Island. Johnson was warned about inflation last autumn. But he ignored the warnings; he did not act. When will he act that he got it badly wrong when he claimed worries about inflation were unfounded.
PM says he is helping people with the cost of living. They can do that because they have the "fiscal firepower", because the economy is in good shape. He challenges Starmer to say he opposes the rail strikes. Let Starmer disagree with the union barons.  – (Guardian) 
……………
Starmer says PM is making it worse with his tax rises. When did screwing business turn from a flippant comment to economic policy?
PM says it is tech week. The super deduction helps. Under Labour taxes go up, he says. He says on average people are getting a tax cut worth £330. Labour has made promises worth £94bn. That is why Labour governments leave the office with unemployment higher than when they came in.- (Guardian)  
………………
'Ostrich prime minister with his head in the sand'
Starmer says PM is in govt and he is not and that Labour doesn't want the strikes but the PM does – so he can blame Labour.
Starmer says PM thinks he can perform Jedi mind tricks on the public – but he can't. The economy has shrunk for the second month in a row – how does it help to have an ostrich PM, with his head in the sand. 
PM says Starmer is speaking the country down and he should be talking the country up because employment is at a record high and investment levels are higher than in France or Germany. 
………………
Starmer says Johnson has not answered the question. Why is the UK on course for lower growth?
Quoting a Latin legal term, Johnson says he has already answered that. What would help would be for Starmer to denounce the rail strikes, he says. – (Guardian)
………………
Starmer – why is UK growth so slow?
Labour leader Keir Starmer starts with a question about the economy.
He asks why the UK's growth is so poor compared with other countries.
Johnson replies saying that the UK will have the "second-fastest" growing economy this year, citing G7 figures. – (Independent)