France's lower house has passed the 'French vaccine passport' on Sunday. The French parliament gave final approval to the government's latest measures to tackle the Covid-19 pandemic, including a vaccine pass that will exclude unvaccinated people from restaurants, tourist locations, sports arenas and other venues.
The bill was passed on Sunday by 215 votes to 58. The vote, chaired by Senate President Gérard Larcher of the right-wing Républicans, followed two long days of relatively calm debate, contrasting with the turbulent climate that had surrounded the bill's adoption last week in the French National Assembly.
The current health pass will become a "vaccine pass" for those over 16 years old and tough penalties for fake passes are some of the new measures approved by France's National Assembly over the weekend.
Follow WTX News EU on Twitter for live travel information into France.
A negative pass will no longer be sufficient
Under the bill, French residents will be required to prove their vaccination status to access restaurants and bars, cultural venues, or interregional public transport. A negative Covid-19 test will no longer be sufficient, except for access to health facilities and public transport services.
There is however an exception to the transport rule for people without a vaccine pass travelling for "compelling family or health reasons" – a dying relative, for example – provided that a negative test is presented, "except in the case of emergency".
France changes vaccine rules whilst you were sleeping
Tough anti-fraud controls on french vaccine passport
Following alarming reports of unvaccinated people buying fake health passes, the new law has tough provisions to crack down on offenders.
In addition to the police, managers of venues and activities subject to the pass – such as cafés and restaurants – will be able to check these passes, but under very restricted conditions. So, "when there are serious reasons to believe that the document presented is not related to the person presenting it", "an official document with a photograph" may be requested.
Companies that fail to comply with work-at-home rules may be hit with an administrative fine of up to 500 euros per employee, up to a maximum of 50,000 euros.
France has today eased strict COVID travel restrictions for arrivals from the United Kingdom.

See detailshttps://t.co/mTvk6Y3732#France #travel #travelban #unitedkingdom #TRAVELNEWS pic.twitter.com/f7jiSj8xu1

— EU NEWS 🇪🇺 (@wtx_EU_news) January 13, 2022
President Macron wants to "piss off" the unvaccinated
President Emmanuel Macron, who is expected to seek a second term in an April presidential election, told Le Parisien paper this month that he wanted to "piss off" unvaccinated people by making their lives so complicated they would end up getting the COVID vaccine.
French vaccine passport for tourists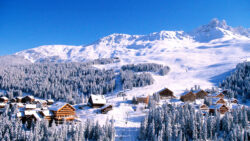 The tourism industry in France has been severely affected by the French government's ban on British travellers. Until last week, all those who wanted to embark on the French Skii slopes could not travel to France.
The new law for the French vaccine passport for tourists now means in order for tourists to use any facilities, including bars, restaurants and resorts, foreign tourists will have to show an active vaccine pass.
A negative test to travel through France for British Travellers 
Even though for entering France a negative covid test is sufficient when in France the tourists will have to follow the same rules as the French nationals. Inadvertently making the vaccine passport compulsory for French residents and foreign travellers including UK travellers who seem to have a special focus from the French.
The French government have made it very difficult to circumvent these rules, apply heavy fines and criminal charges for any establishment that does not comply with the new French vaccine passport rules.
…………………………….