Russian invasion of Ukraine LIVE: Russia-Ukraine border talks, 500,000 flee war,
Rouble falls to record low
This morning's latest on the Russian invasion of Ukraine – here are this morning's top stories from the war in Ukraine, what you need to know.
Russia and Ukraine are currently holding talks- Ukraine wants an immediate ceasefire and Russia out of the country, Russia "wants to reach an agreement that was in the interests of both sides".
Ukraine President says next 24 hours 'crucial' – he has called on the EU to grant Ukraine immediate membership.
More than 500,000 have fled Ukraine to neighbouring countries.
Rouble falls to record lows as sanctions take effect.
Talks of 'nuclear deterrent' is a distraction says UK, also claims Russia's war plan is behind schedule and not going to plan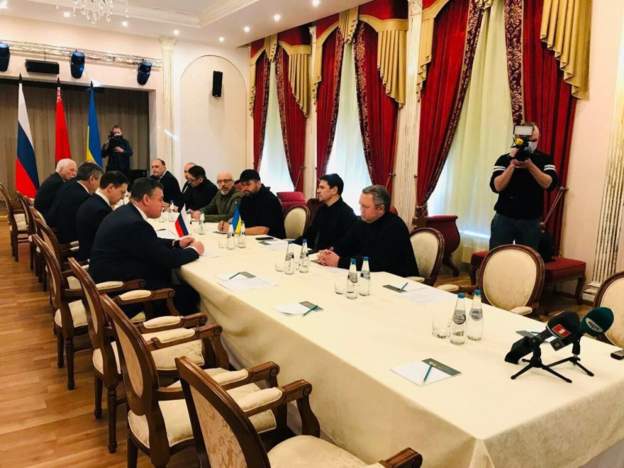 Russian-Ukraine talks begin with Chelsea FC owner in attendance – reports
The Jerusalem Post is reporting that Chelsea FC owner Roman Abramovich is in attendance at the Ukraine-Russia talks at the border. The newspaper says Abramovich is in Belarus at Ukraine's request. 
"I can confirm that Roman Abramovich was contacted by the Ukrainian side for support in achieving a peaceful resolution, and that he has been trying to help ever since," Abramovich's spokesperson told the PA news agency.
"Considering what is at stake, we would ask for your understanding as to why we have not commented on neither the situation as such nor his involvement. Thank you."
Russian billionaire Roman Abramovic has been in the firing line recently over his past relationship with Russian President Vladimir Putin – at the weekend it was announced the Chelsea FC owner had handed over stewardship of the football club to the team's charitable foundation, amid calls for him to be sanctioned. 
Ukraine President Volodymyr Zelenskyy says next 24 hours "crucial" for Ukraine 
The Ukrainian president has said the next 24 hours are "crucial" for his country as Russia and Ukraine hold talks, but President Zelensky has indicated he sees little prospect of any meaningful dialogue.
Today, President Volodymyr Zelensky has announced that Ukrainians with military experience will be released from prison to fight.
He further called on the EU to grant Ukraine immediate membership. 
Mr Zelensky has also called on the EU to grant Ukraine immediate membership. He said: "We ask the European Union for Ukraine's immediate accession under a new special procedure."
More than 500,000 have fled Ukraine – UN refugee agency confirms 
The head of the UN refugee agency has confirmed more than 500,000 people have fled from Ukraine to neighbouring countries since Russia invaded the country five days ago. 
Humanitarian efforts are stepping up amid escalating rights abuses in Ukraine, amid huge numbers of people being displaced within the country and more than 500,000 people have already fled the war. 
Sanctions working – Rouble falls to record low
Russia's central bank has raised its key interest rate from 9.2% to 20% in an attempt to shore up the rouble after it fell to a record low. The sharp dip came after the West imposed new sanctions on the country following Russia's invasion of Ukraine. 
The rouble was down nearly 30% against the US dollar today, dropping as low as 119 per dollar in early Asian trading, passing its previous low of 0 roubles per dollar, before later recovering slightly to 109 roubles. 
Nuclear deterrent talk is a distraction 
UK's Ben Wallace told Sky News that Russian President Putin's talks of nuclear deterrents is a distraction. 
Defence Secretary Wallace said Putin put his nuclear deterrent into the communications space to remind people he has it. 
"It doesn't link to anything specific in their readiness structures of their forces," he said.
Mr Wallace said the government is constantly reviewing the situation and that the UK's nuclear readiness is kept "very high".
"It is a big attempt to distract away from his troubles in Ukraine by just deploying into the media space these phrases."
Wallace would not rule out Putin launching a nuclear attack and when asked if Putin was "crazy enough" to start a nuclear war, Wallace told Sky News: "I think he has certainly done a lot of irrational things recently."