Marine Le Pen signals the end of the EU and has a real chance of becoming France's president: what would be the consequences of her election. Signalling the end of the Franco-German axis.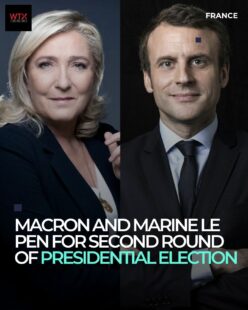 She has launched her second-round campaign and she wants to get rid of the "sectarian" image the name Le Pen still conjures amongst large parts of the French electorate, Ballet pointed out.
The image Le Pen is trying to rebrand for Le Pen's bid for political respectability, even if the "substance of her discourse remains xenophobic, however, softened it might seem".
French elections: Le Pen and Macron face off
Le Pen signals the end of the EU
Far-right candidate Marine Le Pen heads into her second-round duel with President Emmanuel Macron with a new poster at the heart of her campaign, plastered with the new slogan "For all French people". This marks the latest step in her communication strategy aimed at "de-demonising" her party.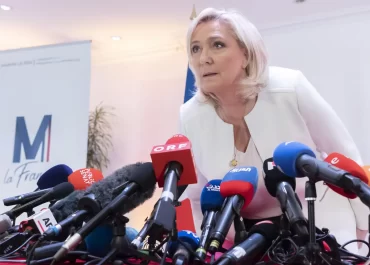 Emmanuel Macron has to fight for his position as French President in a run-off election. His challenger: the right-wing extremist Marine Le Pen.
In the polls, Le Pen is currently just behind Macron, and she has a realistic chance of winning the election. In the first round of voting, she received 23.1 percent of the vote, just a few points behind Macron, who got 27.8 percent.
This would be the end of the Franco-German axis.
Restrict EU migration & the end of the Franco-German axis
Le Pen wants to restrict immigration to France severely, even within the EU.
She wants to make it more difficult for foreigners to access social benefits and radically restructure the European Union. At the same time, in the election campaign, she presents herself as a representative of the state.
She also wants to make the EU more accountable and pull back from some of the services from the french dependency on the EU.
Her rhetoric resonates similarly to Nigel Farage about Brexit, 'Why should the French pay so much and get so little back'
………………………………….
Le Pen:how she "softened her image" to make it to the runoff means centrist Macron may find it hard to make criticism of his far-right opponent's racist stick in the next roundhttps://t.co/leQYctU7MR#eunews #europelatestnews #france #Macron #JeVote #marinelepen2022 #lafrance pic.twitter.com/DWufNJzVbG

— EU NEWS 🇪🇺 (@wtx_EU_news) April 12, 2022