PMQs Live – Northern Ireland protocol, Starmer goes soft on PM
Prime Ministers' Questions has ended and it wasn't as lively as some expected – Labour focused more on policy areas than the PM's character following the Confidence vote (though there were some digs). The BBC said "there were questions on energy costs, Ukrainian refugees and passport waiting times – a reminder that Johnson doesn't lack challenges outside of party politics. Discontent with his leadership hasn't gone away. But perhaps, for now, he's got a bit of breathing space after he survived this week's confidence vote."
What happened at PMQs?
Prime Minister's Questions has just drawn to a close and Boris Johnson and many other MPs are leaving the chamber. – (BBC)
What did we learn from today's session?
The prime minister insisted "absolutely nothing and no-one is going to stop" him delivering his agenda of "delivering for the British people".
In a long political career so far – barely begun – I've of course picked up political opponents all over and that is because this government has done some very big and very remarkable things which they didn't necessarily approve of. – Boris Johnson
Sir Keir Starmer joked about the division within the Conservative Party but focused his questions on problems in the NHS including waiting lists claiming things were "getting worse" under Boris Johnson's leadership.
Pretending no rules were broken didn't work, pretending the economy is booming didn't work, and pretending to build 40 new hospitals won't work either. They want him to change – but he can't. – Keir Starmer
Boris Johnson defended the government's handling of the NHS, criticising Labour's record when in government. He insisted the government was focused on levelling up, offering tutoring, expanding home ownership, and cutting costs for business.
Meanwhile, the SNP's leader in Westminster Ian Blackford MP reiterated his call for Boris Johnson to resign, calling him a "lame duck prime minister".
No amount of denial will save the prime minister – for once in his life he needs to wake up – it's over, it's done. –  Ian Blackford MP
---
Breaking the Northern Ireland protocol? 
Colum Eastwood, the SDLP leader, asks Johnson for a commitment that he will not break international law.
He is referring to the Northern Ireland protocol and this report about advice that disapplying parts of the protocol might be illegal.
Johnson says the reports Eastwood has seen are not true. – (Guardian) 
Scotland to be stuck with govt it hasn't voted for since 1955 
Ian Blackford says PM is a lame duck PM presiding over a divided party in a disunited kingdom. 
PM says he wants to thank Blackford for his "characteristic warm words." He says Blackford is a benefit to unionism. 
Blackford says PM is acting like the black knight in Monty Python saying it's just a flesh wound. He asks how is it democratic for Scotland to be stuck with a PM they don't trust and a Tory govt they haven't voted for since 1955. 
PM says Blackford wants independence, but our country is independent and that would only be reversed if we had "the disaster of a Labour/SNP government" taking the UK back into the EU.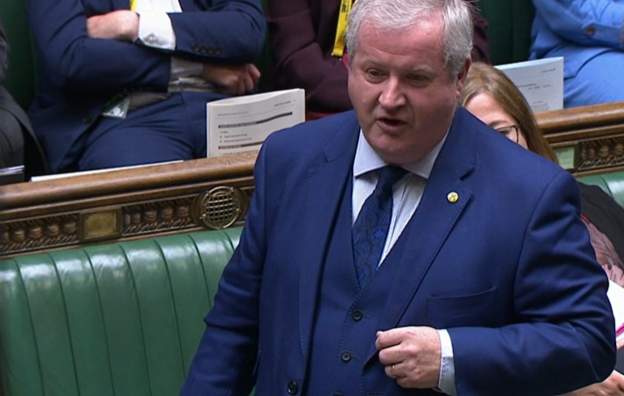 Concern over sewage flowing into streams
With a wry acknowledgement of the abrupt change of topic, and to laughter from the green benches, Conservative Sir Oliver Heald asks about sewage overflows into "precious chalk streams" in North East Hertfordshire.
Johnson says the government's sewage plan is leading to improvements, and water companies must do more to deliver on their obligations. – (BBC)
https://www.instagram.com/p/Cegy-byKNqo/
https://www.instagram.com/p/CehOtnlKHr4/
PMQs LIVE – NO big plan, cancer tests, failing NHS 
Starmer says "raising taxes because you have failed to grow the economy isn't a plan for the NHS". Things are getting worse, he says. But the government is changing the rules to cover this up.
He says he spoke to a footballer who had to crowdfund for an operation, because otherwise he would have to wait two years for an operation. And he says he spoke to someone whose mother died while they waited for an ambulance. The government is "utterly unable to improve the NHS".
Johnson says MPs will feel sympathy for these people. But the government is making colossal investments in the NHS, he says. He accuses Starmer of not retracting his claim that the UK had the worst Covid record in the EU. The mission of the government is to unite and level up the whole country, he says. He mentions his tutoring programme, his literacy targets, plans to expand home ownership, and making the UK the entreprise centre of Europe. He will get on with his job, he says, and he hopes Starmer gets on with this.
Some Tories are shouting "more", but it does not sound very authentic. – (Guardian) 
---
"Oh dear," says Starmer. He says pretending no rules were broken did not work. Pretending the economic is moving won't work. And pretending 48 new hospitals are being build won't work either.
He says Johnson wants to change the NHS contract, so patients can wait two years, not one year, for treatment.
Why won't the PM scrap his plans go green light inadequate NHS standards?
Johnson claims Starmer's line of attack is not working. He says standards in the NHS have been raised. Waiting times have been cut for those who have to wait the longest. The government is using its economic strength to invest in the NHS. The government is on target to recruit 50,000 new nurses thanks to the investments Labour opposed. – (Guardian) 
---
Starmer says cancer waits have been rising for 10 years. SO PM cannot blame the pandemic. 
He says PM claims "paint jobs and refurbs" were the same as new hospitals. 
Patients are at risk because of the failure to fix inadequate buildings. 
PM says attack is "satirical". Labour was the author of the PFI scheme that bankrupted hospitals. He claims he is building 48 new hospitals, the biggest capital programme in the history of the NHs, he says. But Labour opposed the health and social care levy, he says.
---
Starmer quotes from the letter from Tory MP Jesse Norman which said the govt lacks a big plan. He says loyal Tory MPs are now not believing the PM. 
He says its not just access to GPs there is a problem with access to cancer services, he says. He says 135,000 extra people are waiting for cancer tests. Is there a better description of this service than "wanting and inadequate."? 
PM says diagnostic hubs have cut the times for cancer tests. More staff are being hired because of the investment he made. 
---
Starmer says PM seems to agree with Dorries. PM promised 6k more GPs. But health secretary says that won't happen. People cannot get to see GPs. If GP access was wanting before the pandemic, what is it now? 
PM says Starmer is wrong. He says there are record numbers of doctors in training. There are more nurses this year than last and 72,000 in training. That is because of investment put in that was opposed by Labour. 
---
Keir Starmer says he does not know if the noise that greeted Johnson when he arrived was cheering or booing.
Why did Nadine Dorries say the NHS was unprepared for the pandemic.
He is referring to a Twitter thread from Dorries attacking Jeremy Hunt.
PM says all over the world governments were not prepared for the pandemic. But it had the fastest vaccine rollout in the world, he says. – (Guardian) 
---
Johnson claims he has alienated 148 of his Tory MPs because his government has done 'big, remarkable things'
Angela Eagle (Lab) says this week's events have shown how loathed the PM is – "and that's only in his own party".
"If 148 of the PM's own backbenchers do not trust him, why on earth should the country?"
PM says in a long political career "I have of course picked up political opponents all over". That is because the government has done some "big, remarkable things", he says.
He says nothing, least of all Eagle, will stop him delivering for the British people. – (Guardian)