PMQs Live: PM going ahead with tax cuts for the rich – Starmer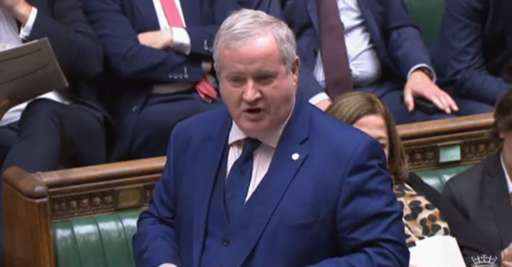 Tory incompetence & scapegoating the Bank of England – Blackford
SNP's Ian Blackford says he would have thought Truss would have said that benefits will be uprated in line with inflation. 
He mentions the rise in interest rates, saying it is hitting average families with mortgages with an extra £450 a month.
"Thirty-seven days into the job this is literally the cost of the PM's incompetence," he says.
He asks if she will give up her plan to save her chancellor by scapegoating the Bank of England? 
The PM responds by saying the action the government is taking means families are not facing "gargantuan energy bills" 
She says Blackford and Scottish MPs could help by building nuclear power stations and helping get more gas from the North Sea in order to deliver a more secure energy future.
Blackford responds by saying the PM is "ignoring the damage of the chaos of the mini-budget and is worried about saving the chancellor's job".
"Many families are now worried not just about heating their homes but keeping their homes.
"The scale of this Tory crisis is frightening.
"100,000 household a month are up for mortgage renewals – people can't afford to pay an extra £4,500 a year in interest."
Truss responds by saying the government is helping people heat their homes and would like to see more support delivering energy security. 
"Interest rates are rising globally and they are a decision for the independent Bank of England."
Truss going ahead with tax cuts for rich – Starmer
Starmer says PM is going forward with her £18bn of tax cuts for the richest and "those who live off stocks and shares." 
He asks why the PM expects working people to pick up the bill for unfunded tax cuts for those at the top?
He also asks if she will stick to a pledge during the Tory leadership contest that she is "not planning public spending reductions."
Truss responds with: "What our budget has delivered is security for families for the next two winters.
"It's made sure we're going to see higher economic growth, lower inflation and more opportunities.
"The way we'll get our country growing is through more growth, more jobs and more opportunities – not through higher taxes, higher spending and his friends in the union stopping hard working people get to work."
PMQs Live – Liz Truss faces Keir Starmer in first Prime Minister's Questions since mini-budget disaster
Starmer won't support energy guarantee – Truss
Truss responds by saying Starmer is refusing to confirm whether he supports the government's energy guarantee. 
"The opposition has said people should be supported for six months – does he think in six months pensioners should be facing very high energy bills?
"Because that's what will happen if he doesn't support our energy guarantee."
Freezing energy bills Labour's idea – Starmer
Starmer reminds Truss that freezing energy bills was Labour's idea. He says Truss previously said the government were not planning public spending reductions and asks, "is sh going to stick to that?"
Unclear of Labour's policy – Truss
Truss said that "Labour supported bringing down national insurance"
"I am genuinely unclear as to what the Labour Party's policy is on our energy price guarantee," she says.
"It was the biggest part of our mini-budget. Are the opposition saying they want to reverse it and they want to see people facing energy bills of £6,000?
"Is that what he's saying?"
Economy in turmoil – Starmer
Starmer says the economy is in turmoil and there isn't time to descend into "nonsense attacks" on each other.
He says Tories went on a "borrowing spree" and people are worried. He asks Truss when the government will reverse their "kamikaze budget."
PM 'ducking the question' – Starmer
Starmer slams the PM for "ducking the question" and says it shows why investors have lost confidence in her government.
Truss says "when I came into office people were facing energy bills of up to £6,000 per year".
"We're seeing interest rates rising globally in the face of Putin's appalling war in Ukraine and we're helping people with lower stamp duty, lower energy costs reducing inflation with our energy package and keeping taxes low," Truss says.
She says Starmer has refused to confirm whether or not he backs the energy price guarantee for two years which "protects families this winter and next winter".
Was UK market mess sparked by mini-budget? – Starmer
Starmer asks the PM if Jacob Rees-Mogg's comments that the UK market turmoil wasn't sparked by the government's mini-budget.
The PM responds by saying the government has taken "decisive action to make sure that people are not facing energy bills of £6,000 for two years."
"We've also taken decisive action to make sure that we are not facing the highest taxes for 70 years in the face of a global economic slowdown," she says.
"As a result of our action… we will see higher growth and lower inflation."
Liz Truss commits to scrapping no-fault evictions
The Prime Minister kicked off PMQs with a tribute to Sir David Amess – on the first anniversary of his murder.
When asked by an MP if she will commit to getting rid of no-fault evictions the PM says she will commit to that.