PMQs ends 
This week's PMQs ends –  the cost of living, Scottish independence and the strikes are the hot topics for this round. 
Watch all the action below
……………………………………………………
Sexual violence survivors silenced 
Lib Dems Layla Moran asks about cases where survivors of sexual violence have been silenced through NDAs and gagging clauses by their universities. 
Will the government back her bill to ban the use of NDAs in cases of bulling and misconduct? 
Raab says he will look very carefully at her proposals and says "we've got to do everything we can to protect woman and girls in this country".
He says he's relieved that the volume of rape convictions this year is up two-thirds.
……………………………………………………
Women's rights under attack – Labour 
Labour's Rosie Duffield says British women are under attack – in the form of assaults and participation in elite sport and asks for the government to enshrine " a women's right to choose" into law. 
Raab says the UK law is that women have a right to choose and he doesn't want to see the UK follow the USA down the path of litigation in courts. 
……………………………………………………
Scotland wants independence – Blackford
Ian Blackford starts by stating Nicola Sturgeon has set the date and started the campaign for Scottish Independence. 
He says the Westminister govt is breaking international law and dealing poorly with the issues of the day. 
Raab says "it's not the right time for another referendum, given the challenges we face as one United Kingdom". He says the people of Scotland want "their two governments to work together".
Blackford says the government doesn't have the right to stop Scottish democracy. 
Raab claims Blackford is "airbrushing history" and that Scots suffer a "huge tax burden" and Scotland has worse-performing schools than England and Wales. 
PMQs Live -'Champagne socialism back in Labour'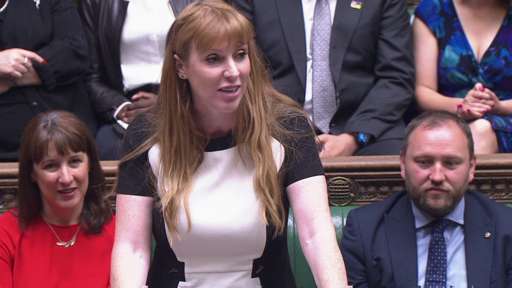 PM's plans to stick around until 2030 
Rayner quotes a Tory MP who said the PM has 'lost the plot' over the PM's comments that he planned to stick around until 2030. Another Tory MP said the country would be better off under new leadership. 
Now the PM is at war with his own defence secretary after confirming he will break his manifesto pledge in increasing defence spending, she says. 
She says under this govt the country will have less troops, less planes, less ships. 
Raab hits back saying spending on defence is rising to the highest levels in Europe and won't take lessons from Rayner on this issue. 
……………………………………………………
UK protest laws 'militant' 
Rayner says the government is "acting in a militant way" and "while they should have been at the negotiating table, they were at the banqueting table squeezing hundreds of thousands out of their donors".
She highlights the changes in protests laws and how it shows that the government "don't like it when the public say what they think of them".
She quotes Tory MPs who have been critical of Boris Johnson's leadership, saying the PM just wants to save his job. 
……………………………………………………
'Champagne socialism back in Labour' 
Dominic Raab says if Labour wants to help working people they should stand up against the strikes. 
Raab accuses Rayer of flip-flopping on the rail strikes and points out that during the first strike Rayner was attending the opera. 
"Champagne socialism is back in the Labour party," the deputy prime minister says.
……………………………………………………
Private jets and foodbanks
Rayner says Raab pretends to emphasise those struggling but he spent over £1m in 12 months on private jets. 
At this rate, by 2030, a million people will be using food banks, and asks how many people will be pushed into poverty by the PM before he says enough is enough. 
……………………………………………………
Taxes rising for how long – Rayner 
Labour's Rayner says she'd "revel in the opportunity" to allow the British public to decide what they think of the current government, urging for a general election. 
Rayner says working people will pay £500bn in tax hikes by 2030 and asks how long this can go on. 
……………………………………………………
Labour has no plan – Raab 
Rabb defends the government's record in response to Rayner's comments, saying they will cut taxes next month. 
"Their plan is no plan," he says, referring to Starmer reviewing Labour's policy and quoting Tony Blair who said there is a "gaping hole in Labour's policy offer" and says Rayner is "playing political games." 
……………………………………………………
By election wins show PM losing the country – Rayner 
Labour's Rayner references the winners of the two by-elections the Lib Dems and Labour won last Friday.  
"The prime minister isn't just losing the room, Mr Speaker, he's losing the country," she states.
She asks if Raab thinks the cabinet will "prop up" Boris Johnson into the 2030s. 
Dominic Raab moves away from rail strikes to highlight Labour divisions. 
……………………………………………………
Tributes to Dame Deborah James 
Dominic Rabb has kicked off PMQs by paying tribute to Dame Deborah James – he says the thoughts of the whole house are with her friends and family. 
Angela Rayner echoes Raab's tribute to Dame Debs and offers up condolences to the family of the Zara Aleena – the young woman killed on the streets of London.