PMQs Live – 06/07 – PM faces tough questions over Chris Pincher
Starmer: 'Sinking ships fleeing the rat?'
Starmer says it sums the PM up that he tolerated "awful behaviour, unacceptable in any walk of life".
The Labour leader derides those ministers resigning now after defending so much previously.
He asks: "Isn't this the first recorded case of the sinking ships fleeing the rat?"
……………………………………………………
Stamer wants PM to apologise for Pincher
Starmer sticks to the issue of Chris Pincher. He says when a young man complained about Pincher to a government whip she asked if he was gay. And apparently, she said that him being gay means it's not straightforward. 
Starmer says this comment is sickening. 
He asks the PM for an apology. 
The PM responds: "I regret very much that the member for Tamworth continued to hold office after the complaint was made against him in the Foreign Office."
"It was resolved in the Foreign Office," he says.
He says in hindsight he should have realised Pincher would not change. 
"We want to help people with the things that matter to them, like cutting their taxes," he says.
……………………………………………………
Starmer presses on Pincher allegations
Starmer reads a testimony about one of the allegations against Pincher – the whole of the Commons falls silent. 
Starmer makes clear, the whole of the government's front bench is to blame for defending the PM for promoting Pincher. 
Starmer then asks the PM whether he described Chris Pincher as "Pincher by name, Pincher by nature". Yes or no?"
The PM refuses to answer saying he is "not going to trivialise what happened … because very serious complaints have been raised against [Chris Pincher]. 
He says that a complaint was raised and resolved while he was in the FO and that the fact Pincher remained in government is a massive regret for him. 
……………………………………………………
The PM says Chris Pincher no longer has the Tory whip and when he found out about the allegation, Pincher lost his status as a Tory MP and now is the subject of an independent investigation. 
The PM says he abhors bullying or abuse of power.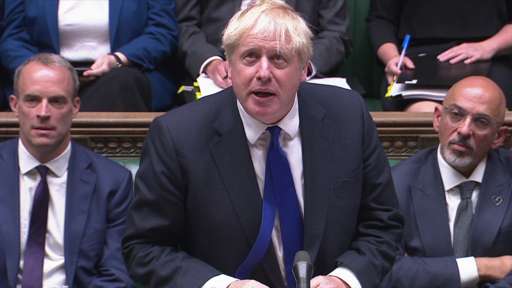 ……………………………………………………
Why was Chris Pincher given position of power? 
Labour's Keir Starmer kicks off by referring to Chris Pincher (arguably the man who may be the downfall of the PM). Starmer goes on to list the allegations against Chris Pincher, saying it's a reminder to those "propping up" the PM how serious the situation is. 
He says the PM promoted Pincher despite knowing the allegations and asks why Pincher was put in a position of power despite knowing the allegations. 
……………………………………………………
The PM kicks off this week's PMQs.


He begins by saying the government is implementing the "biggest tax cuts for a decade" – he says 13m people in the UK will benefit from it. He adds a typical worker will be £330 better off each year. 
He wishes the best of luck to the England and Northern Ireland teams competing in the Women's Euros. 
When the PM mentions having ministerial meetings later today – the opposition benches let out some big laughs.