The Kanye West drama has hit new terrifying heights – but 'Cult Kanye' isn't backing down as his fans continue to defend his actions. 
The ongoing Kanye West and Kim Kardashian divorce saga took a dramatic turn over the past few weeks – as Kanye's behaviour quickly escalated from slightly amusing to harassment and stalking of his ex-wife Kim Kardashian and her rumoured new flame comedian Pete Davidson. 
Ye – formerly known as Kanye West – has spent the past few weeks harassing young famous women online, for which he has apologised, but is it too late? His erratic behaviour has been turned into memes, and fans online seem to be egging him on. 
Ye can't hide behind mental health forever – it's not an excuse for bad behaviour. His recent antics have been terrifying to watch and fans and spectators can only hope the threats don't turn physical for those concerned. 
In this latest deep dive, we look at Ye's recent behaviour, why it's concerning and what comes next. 
"Former pair are a litmus test for behaviours the public views as healthy or unhealthy"
The situation is uncomfrotable and it should be
The breakup of Kim Kardashian and Kanye West has been uncomfortable to watch. It's been almost a year since the shocking news Kim had filed for divorce and whilst she has remained relatively silent on the split and divorce, her ex has been intensely public, writes USA Today. 
They were one of the biggest couples in the world and their split is playing out in exaggerated ways due to their status. But "the public's interest in their relationship may reflect more than preoccupation with celebrity culture." USA Today speaks to mental health experts who say the "former pair are a litmus test for behaviours the public views as healthy or unhealthy, and may also be shining a spotlight on behaviours of ex-partners that are troubling at best and dangerous at worst". 
Kanye West's heartbreak is relatable, but experts say his attempts at manipulation can be dangerous.
Ye has a well-documented history of mental health struggles, but it remains unclear how these issues factor into his recent behaviours, according to Carla Manly, a clinical psychologist, "there is still something universal about his grief" as it's rare that both people agree it's time to let go when a relationship ends. His celebrity status adds further complications, adds Manly, who says when someone receives attention for acting out, it can reinforce bad behaviour – the attention can be intoxicating.
Kanye's behaviour can reflect grief but can also veer into obsession. Natalie Lue, founder of the self-help blog Baggage Reclaim says Ye has repeatedly attempted to control Kim's narrative and re-attach himself to her. Lue says people's egos tell them they matter, and Kanye has a large ego. 
The behavioural differences between Ye and Kim are what makes it so uncomfortable to watch – Kardashian's choice to try and disengage from the relationship publicly suggests she's coping differently with the end of her marriage.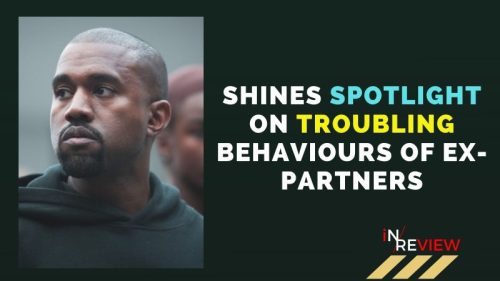 Since the split, Kanye has dated actress Julia Fox – with the pair putting on a very public display of affection, and the rapper engaging in what some claim is 'Love Bombing' – a dating tactic whereby a suitor immediately showers a new partner with gifts and attention in order to make them feel both dazzled and secure. Julia has, since the split, come out and said Kanye encouraged her to publicise their romance to make Kim jealous. 
Kanye's relationship with Julia adds to the uncomfortable viewing – the rapper's desperate attempts to win Kim back have left many feeling uneasy. Ye has also shared private messages from Kim, threatened Pete Davidson and sent a truckload of red roses to Kim on Valentine's Day – Kim has made it clear this relationship is over but Kanye appears to just ignore it. 
How dangerous is Kanye's behaviour really?
Kanye West has made plenty of public jabs at his soon-to-be ex-wife and her boyfriend Pete Davidson over the past few months, but in recent days his behaviour has escalated, writes MIC.com.  
The article says the escalation from the "public declarations of love to the invasive screenshots, stalker-like captions, and the bizarre truck of roses — all of it is tipping the scales from messy pining to legitimate harassment and potential abuse." If it wasn't for the fact these two are celebrities, most would be calling for Kim to get a restraining order.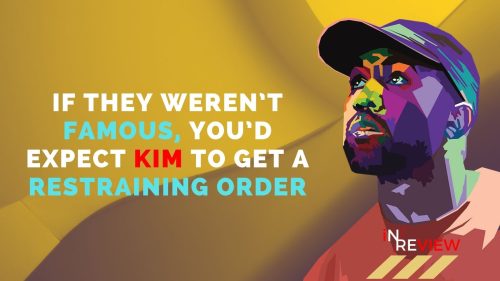 The article notes in the now-deleted Instagram posts, Ye provided memes about Kid Cudi – who he's now publicly feuding with, Billie Eilish (the 20-year-old he threatened to quit Coachella over if she didn't apologise for something he perceived as offensive) and Pete Davidson – who he falsely accused was involved with Ariana Grande while she was with Mac Miller (RIP) and perhaps the most concerning is all the "screenshots of private messages he had with Davidson and a frightened Kim."
Cult Kanye – deluded fans threaten violence 
Kanye's fans' behaviour is equally as disturbing, in many of the now-deleted posts, his fans had made threats against Pete's life. This led to Kim texting Kanye asking him to stop (a text later shared by Kanye), proving Kanye won't stop attempting to control and manipulate the narrative. 
Whilst fans are making excuses for Kanye's behaviour – it's not enough to say "Kanye is being Kanye". And the public must stop letting a chaotic persona excuse a pattern of seriously concerning behaviour.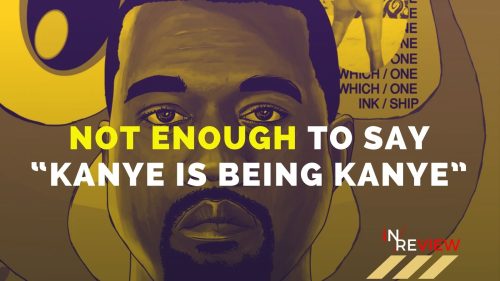 Kanye has a history of questionable actions regarding young women, with many of his disturbing controversies starting from 2016. His troubles over the years have run "through a cyclical mixture of shock, sensationalism, and concern over his mental health" but his behaviour is not new. He publicly bullied and harassed his ex-partner Amber Rose for 10 plus years, in an interview on the popular podcast No Jumper, she said West has "bullied" and "slut-shamed" her. Kanye had once said he had to take "30 showers" after dating Rose. "That's what narcissists do," Rose said." 
His infamous storming of the stage when a young Taylor Swift won an award he felt Beyonce should have won is a moment in pop culture history. He was called a "jackass" by then-president Barack Obama and received widespread backlash for his behaviour. His public spat with Taylor continued over the years, hitting a high when Ye and Kim publicly bullied her, and once again, Kanye has dragged Taylor Swift back into his drama. Taylor has not responded. 
Following his recent ultimatum to Billie Eilish and his vitriol aimed at Kim – people are speaking a little louder about a disturbing pattern in Kanye West's public outbursts against women. 
In an article from Mercuynews.com,  the writer notes that whilst Kanye has his "die-hard defenders" others might agree with rapper Azealia Banks, who accused Kanye of being an "abusive psychopath" who has benefited from "people making way too many excuses" for him. 
"Kanye continues to be an abusive jerk to women everywhere," tweeted writer Molly Knight. A mental health specialist also wrote: "Kanye West on to bullying another woman. Y'all still don't see the pattern?"
"Kanye West on to bullying another woman. Y'all still don't see the pattern?"
Kanye's own daughter North, 8, has faced painful public statements from her father – including how he and Kim considered aborting her and his highly public disapproval of her using (supervised) TikTok. 
The danger of Kanye's behaviour not only lies in the physical threats and potential harm but also in the mental health of those he keeps attacking.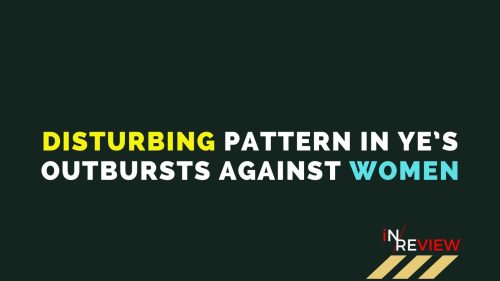 Kanye's defenders insist he doesn't necessarily target women but he's "famously outspoken and known for his beef with a variety of people, including other male artists," the article writes. But Banks argued: "I have never once seen Kanye have this much smoke for any of his male adversaries."
Kanye's fans also peddle the conspiracy that Ye is the victim of "behind-the-scenes machinations by Kardashian, her powerful manager and mother, Kris Jenner, and the rest of the Kardashian family." 
Ye apologises for 'harassing Kim'
"The reality is, the media can be culpable and truly damaging people's lives"
The responsibility also lies with those around Ye
Who's to blame? - stop treating this as comedic fodder
Ye has recently apologised for his recent behaviour – in a message that looks more likely to have been written by someone in his team rather than him. In the apology, he said "I know sharing screen shots was jarring and came off as harassing Kim. I take accountability. I'm still learning in real time."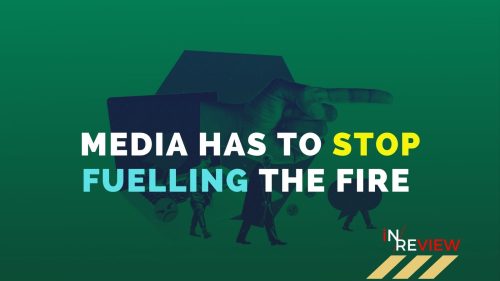 The saga has started to slow, Kanye's tactic of posting and deleting meant he likely avoided breaking the Instagram Community Guidelines, as most of his posts were up for a few hours at most. He knew fans would take screenshots and the posts would live on forever, without him having to be suspended online. 
He found a way around the social media rules with his harassment, but the traditional media also needs to shoulder some responsibility in how this is being handled. 
"The reality is, the media can be culpable and truly damaging people's lives," says Andrea Bonior, a clinical psychologist. "And when the media frames it as entertainment or a public spectacle, we make it acceptable to talk in this way about any human who is suffering."
It's unknown if mental health is playing a part in Kanye's current saga but if the media stops treating his posts as comedic fodder he may just stop behaving in this way. 
USA Today says treating Kanye's posts as entertainment downplays safety concerns for Ye, Kardashian and others his behaviour has been directed at. 
"I don't want to totally blame the media, but I do think it's a matter of fueling a fire, and there's a fine line between newsworthiness and 'Let's go after the clickiest headline at someone else's expense,'" Bonior says.
The responsibility also lies with those around Ye – for years, his fans, label and collaborators have treated him with more compassion, patience and understanding than he deserves, writes the Independent. 
His juvenile behaviour is sad and it is time people held him to a higher standard.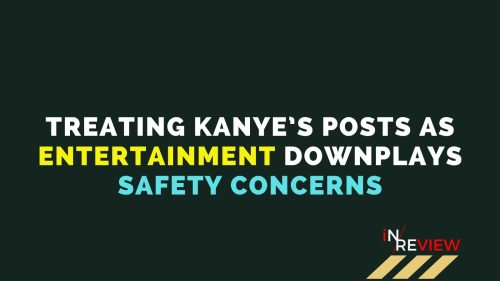 Fact-checking & Additional resources: