New Zealand beat England by one run in second Test
In one of the most memorable finishes to a Test match in Wellington, England suffered a heartbreaking defeat to New Zealand by a single run. On the final day at the Basin Reserve, England's last man, James Anderson, was caught off Neil Wagner when they needed two runs to win. Anderson had come to the crease with seven runs still required, joining Jack Leach who had added 36 runs with Ben Foakes for the ninth wicket. Foakes departed for 35, caught at fine leg, leaving England with an uphill task.
In a tense moment, Anderson managed to fend off a dangerous bouncer from Wagner before striking the next ball for four runs. After Leach saw off an over from Tim Southee, the stage was set for Anderson to potentially win the game for England. However, Wagner's fourth wicket saw England all out for 256, prompting a huge roar from the crowd.
England had needed 258 runs to win the match and series, but their pursuit got off to a poor start, slipping to 80-5. A partnership of 121 runs between Joe Root and Ben Stokes briefly revived their hopes, but England's batting collapsed again, losing three wickets for just 14 runs. Despite the valiant efforts of Foakes, Leach, and Anderson, England suffered a Test defeat after enforcing the follow-on for the first time, only the fourth such defeat in Test history.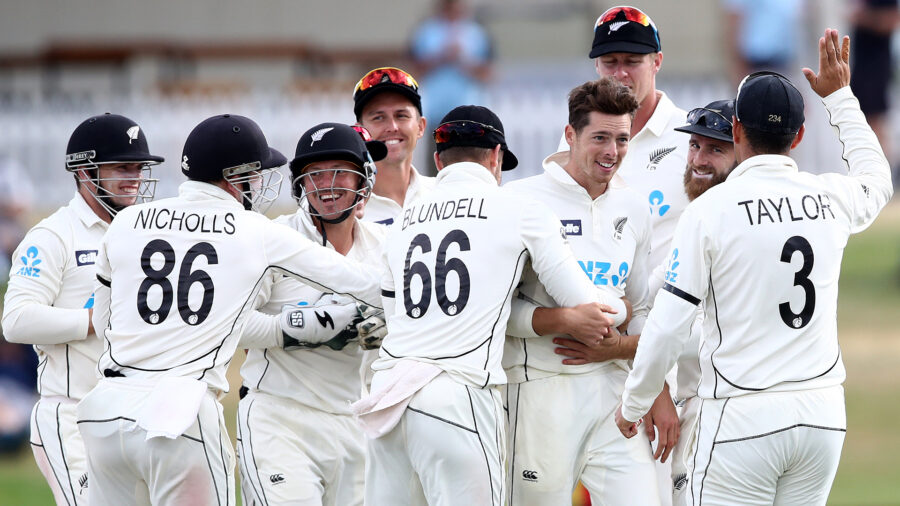 This loss brings an end to England's six-match winning streak and denies them a seventh straight win, a feat they last achieved in 2004. On the other hand, New Zealand's victory, their first after following-on, earned them a 1-1 draw in the series and preserved their unbeaten home run since 2017.
England's next Test is against Ireland at Lord's on June 1st before they begin their Ashes campaign on June 16th. Meanwhile, a separate England squad will start a white-ball series in Bangladesh on Wednesday.
Scrappy Kiwis' remarkable comeback in unforgettable second Test
The conclusion to this unforgettable Test played at the Basin Reserve was nothing short of breathtaking, with the crowd treated to a thrilling display of cricket.
Although England often emphasises their commitment to making Test cricket entertaining, this match did not go according to plan. Despite being in a commanding position after captain Stokes enforced the follow-on on the third morning, New Zealand mounted a spectacular comeback led by Kane Williamson's elegant century. Their total of 483 was the fourth-highest by a team following on against England.
Starting the fifth day at 48-1, England were favourites on a pitch that was still good for batting until they suffered a disastrous collapse of four wickets for 27 runs. Root's aggressive approach and Stokes' resilience, taking 116 balls for his 33, seemed to have regained control, but the game swung once again.
Foakes survived a close call when he hooked just over Michael Bracewell at deep mid-wicket, and New Zealand's short-ball plan became increasingly erratic. The tension grew as the target neared, and when Foakes finally made an error, the dramatic sight of 40-year-old Anderson walking to the crease added to the theatre.
Although it appeared that Anderson would score the winning runs for the first time in his illustrious Test career, England suffered only the second one-run defeat in Test history.
This loss will not affect England's preparations for the upcoming Ashes series, as their style is established, and they have come a long way from their one-win run in 17 Tests just a year ago. However, concerns about Stokes' fitness arise as he often hobbled and only bowled two overs in the match.
---
What is Test cricket?
Test cricket is the longest and oldest form of international cricket. It is played between two international teams, each consisting of eleven players, over a period of up to five days. During this time, each team gets two innings to bat and two innings to bowl. The team with the most runs at the end of the game wins.
Test cricket is called so because it is played at the highest level of skill and endurance, testing the skills, temperament, and endurance of both batsmen and bowlers. It is considered the ultimate form of cricket, and matches are played only between the full members of the International Cricket Council (ICC), the governing body for cricket. Test cricket is regarded as the pinnacle of the sport, and success in this format is highly valued by players and fans alike.