A rare Israeli-Arab summit convenes in Israel on Monday and was attended by U.S. Secretary of State Antony Blinken, who sought to reassure the U.S. allies over Washington's diplomacy with Iran.
However, no mention of Palestine and the Occupied West Bank took place, in what local analysts have said, was 'agreed' before the meeting, that the Palestine issue would not be mentioned during the summit.
Concerns were raised after Israel targeted multiple sites in Iran earlier this month with targeted drone strikes. Iran accused the 'Israeli state' of provocation.
The venue for the foreign ministers' meeting is Sde Boker, where Israel's founding father and first prime minister, David Ben-Gurion, retired and is buried.
The remote Negev desert farm collective has long been a symbol of Israeli innovation but to Arabs, it is seen as a symbol of tyranny and occupation.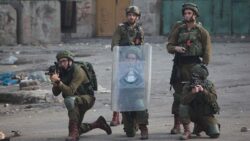 Israeli-Arab summit convenes
Sde Boker may also have provided an uncontroversial alternative to Jerusalem, which Israel considers its capital – a status not recognised by most countries in the absence of a resolution to Palestinian claims on the city.
The issue is likely to dominate the two-day gathering, which includes foreign ministers from three Arab states that normalised ties with Israel in 2020, even as peacemaking with the Palestinians remained stalled.
Washington's diplomacy with Iran
Blinken's visit comes as some U.S. allies in the region question President Joe Biden administration's commitment and brace for fallout from an Iranian nuclear deal and the Ukrainian crisis.
The nuclear talks had been close to an agreement several weeks ago until Russia made last-minute demands of the United States, insisting that sanctions imposed on Moscow over its invasion of Ukraine should not affect its trade with Iran.
Restoring a 2015 nuclear deal "is the best way to put Iran's nuclear programme back into the box it was in", Blinken said.
Blinken is also expected to press Arab allies to step up support for Ukraine to fend off Russia's invasion as several Gulf nations have so far stopped short of providing meaningful assistance.
Israel strengthens its military blockades of the West Bank
Israeli media quoted a statement from the occupation army, in which it said that it was decided,
"following the security deliberations, to reinforce its forces in the occupied West Bank and along the Green Line with four battalions of the (Border Guard); stressing that it is conducting a continuous assessment of the situation"
Middle East analysts have said the blockade comes into force every year during Ramadhan, to provoke and disturb the Muslim residents during their holy month.
……………………….
What was Israel before 1948
Before 1948 Isreal did not exist and belonged to the Palestinian Arab people who lived in the Levant region, who were Arabs.
Israel was created following the aftermath of the Second World War, mainly by the UK and US governments. And years later was supported by the UN.
The original creation of Israel is considerably smaller than todays. Since its creation the Palestinians have seen their lands shrink by 70%.
At the time Churchill's remarks suggest they chose the middle east to house the Israelis because he wanted them as far as possible from London.
Anti-Islam rhetoric in French election risks 'spiral of hatred', says Paris mosque rector
#TheGuardian – Anti-Islam rhetoric in French election risks 'spiral of hatred', says Paris mosque rector#france #paris #islam #mosque https://t.co/q4wqCyemjN

— EU NEWS 🇪🇺 (@wtx_EU_news) March 28, 2022