Is Boris Johnson heading back into No10?
Liz Truss's 44 days as prime minister was completely disastrous but the thought of Boris Johnson back in No10 may prove to be the move that collapses the Conservative Party.
Boris Johnson was ousted as prime minister by his own government just three months ago. And now he's in second place to replace Truss. 
A second Boris Johnson premiership would be an extraordinary turnaround for British politics as no PM has returned after resignation since William Gladstone, 140 years ago. 
Johnson won a landslide victory in 2019- but was forced out by his own MPs after three years in office, following many scandals including Partygate. 
Boris Johnson resigned from government after a mass exodus of his ministers.
He remains under investigation by the Parliamentary Standards Committee – which could see him suspended from Parliament and kicked out as an MP. 
Will Boris Johnson return?
Boris Johnson has not yet confirmed he is even planning to stand but many of his loyalists have said he will – they also claim he has already passed the 100 thresholds of support needed for the next round. 
His loyalists argue that Boris Johnson is the only person with the mandate from the public (his landslide 2019 win) and therefore he should return to No10. They also use the tagline – 'he got the big calls right' – pointing to Ukraine and vaccines.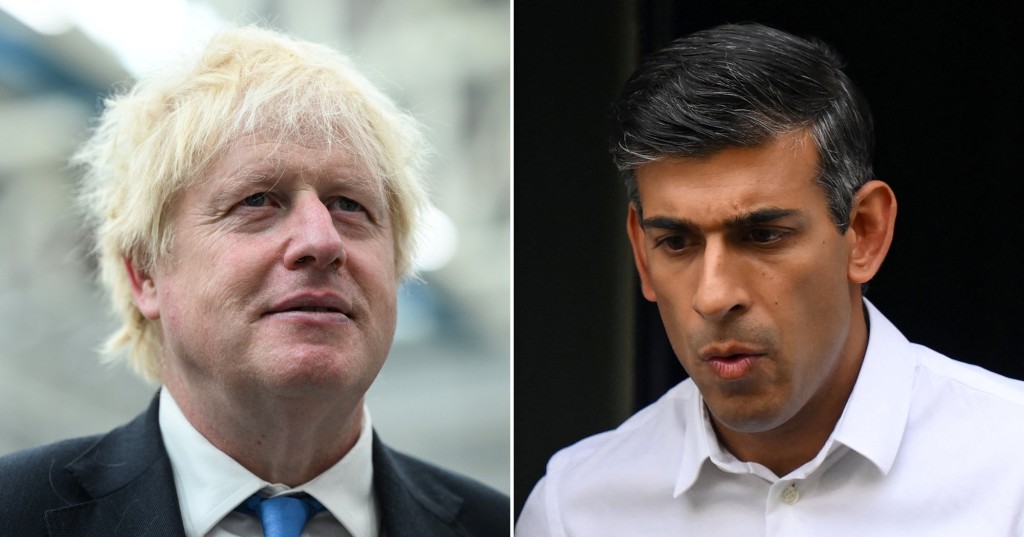 Many MPs and members of the public have been horrified at the possibility Boris Johnson could return to No10. With Labour's Sir Keir Starmer telling MPs to remember why they ousted him and calling for an immediate general election.
Leadership hopefuls will need the backing of at least 100 Tory MPs by Monday 14:00 to stay in the race.
Publically, Rishi Sunak has the support of 124 MPs, Boris Johnson has 57 MPs and Penny Mordaunt has 23 MPs, according to Sky News. However, these are only MPs who have publicly supported their chosen candidate and many MPs may want to keep who they're backing private. 
Team Johnson has told many news outlets that Boris Johnson has already passed the threshold.
But Team Rishi has its doubts that Johnson has passed 100. He did have 148 of his colleagues vote against him in a confidence vote in June – then almost 60 ministerial resignations one month later. 
Why was Boris Johnson ousted?
Boris Johnson won the 2019 general election by a landslide. But three years later, he was out. 
He was ousted following a string of scandals – including Partygate and the Chris Pincher scandal. He left fairly disgraced with very low approval rates amongst the public.
But following Liz Truss's disastrous 44 days, it appears plenty of Tories have forgotten all about the mess that was Boris Johnson's government. 
Boris Johnson has a real chance
Rishi Sunak is the favourite to become the next prime minister according to many betting sites.
But if Johnson makes it to the final two, where it will then be put to the Conservative Party members to vote online, polls show Boris Johnson is the favourite to succeed Liz Truss.