Greece train crash: Angry protests erupt after disaster
Protests have swept Greece following the deadly train collision that claimed the lives of 43 people. Many protesters feel the accident was always likely to happen due to the neglect of Greece's railway system. 
Rioters clashed with police outside the headquarters of Hellenic Train, the company responsible for maintaining the railways. Protests were also held in Thessaloniki and Larissa, near where the disaster occurred.
The government has announced that an independent investigation will be conducted to ensure justice is served and a three-day national mourning period has been declared. 
The passenger train's front carriages, mostly carrying students in their 20s returning to Thessaloniki after celebrating Greek Orthodox Lent, were heavily damaged, with many being destroyed.
'Crash due to human error'
Prime Minister Kyriakos Mitsotakis says the tragedy is due to "tragic human error." 
A 59-year-old station master in Larissa has been charged with manslaughter by negligence, though he denies any wrongdoing and blames the accident on a technical malfunction.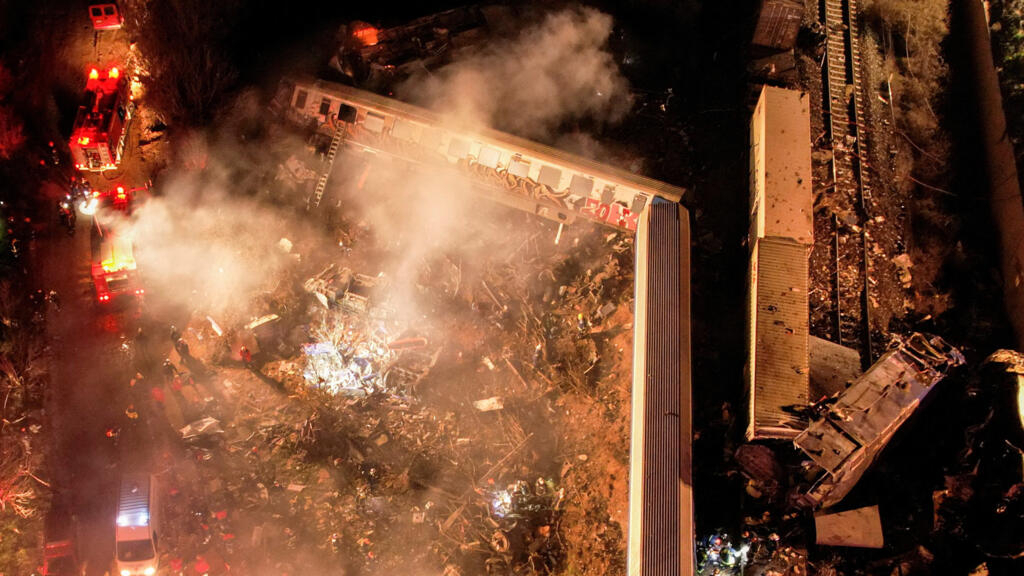 Rail union members allege that safety systems were not functioning correctly, with numerous warnings about this being ignored over the years. Rail workers plan to strike in protest and mourning on Thursday, citing official neglect of the railways.
Transport Minister Kostas Karamanlis resigned over the disaster, accepting responsibility for the authorities' "long-standing failures" to fix a railway system that he says is unsuitable for the 21st century.
Vigils held for victims of crash
Demonstrators have hung banners outside hospitals where bodies of the victims were brought, claiming that any systemic failings will be covered up during the official investigation.
A silent vigil was held in Larissa to commemorate the victims, with one demonstrator remarking that the tragedy was inevitable due to the railway system's deteriorated state and underpaid staff.
In Athens, a vigil was held outside the offices of Hellenic Train, which later turned violent when protesters threw stones and lit fires in the streets.
Trying to identify missing
Rescuers continued working through the night at the site of the worst train crash in the country's history.
Families have been giving DNA samples at a nearby hospital to identify their missing loved ones, but this process will become increasingly difficult as more remains are retrieved from the front of the passenger train that bore the brunt of the collision and ensuing fire.
The temperature inside the first carriage reached 1,300C (2,370F), making identification of the victims inside challenging.
---