Get to know the squad: Player profile | Mary Earps – England's No.1 goalkeeper
England's number-one goalkeeper Mary Earps captained England's last match before the 2023 World Cup kicks off. She is a key player in the national squad, and at age 30, is considered one of the most experienced players.
With England's regular captain Leah Williamson out of the World Cup due to injury, it's widely expected England boss Sarina Weigman will turn to senior players like Earps to help guide the team through the tournament, and hopefully to victory.
A lot of well-known England players are out of this year's World Cup due to injury and England's last two games have ended in a loss (the first under Sarina Weigman) and a draw.
But England has a lot of talent and depth in its squad, and this summer you'll be able to see just how much talent the Lionesses have on and off the bench. So don't fear that they'll be no Leah Williamson or Fran Kirby. England have one of the best squads in the world and can win their very first World Cup.
We want you to get to know this England squad and throw your support behind the Lionesses this summer, helping them secure more silverware.
So here is everything you need to know about Mary Earps, one of the key players in the team. The player that will no doubt help steady the ship during any difficult times.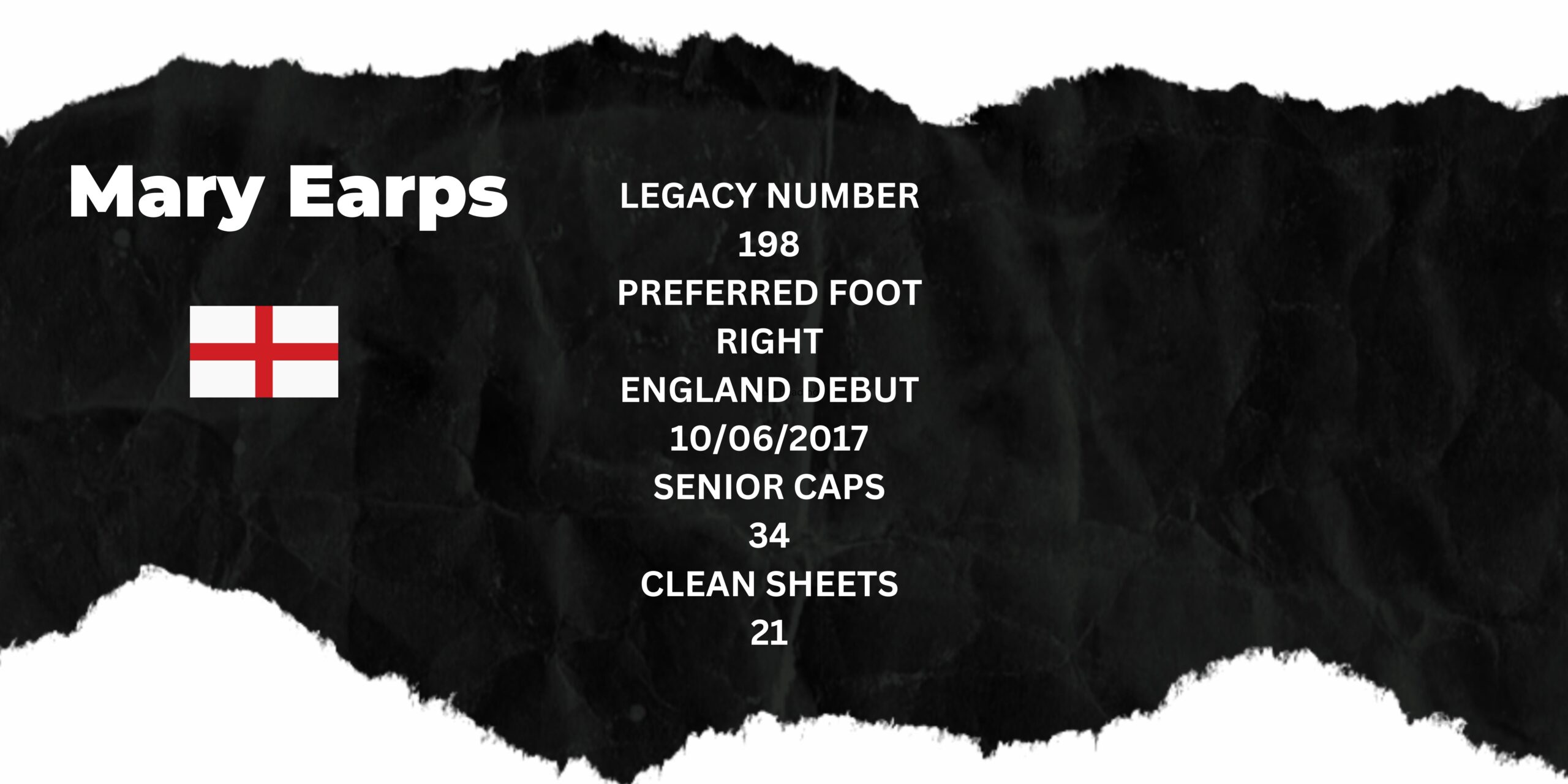 Earps has undergone a significant career turnaround over the past few years.
After almost heading into football retirement to becoming England's number one goalkeeper and playing a significant role in the Lionesses winning the European championship and Finalissima tournament. There's little doubt Earps will be vital in this World Cup.
Mary Earps shone during the UEFA EURO 2022 and was key to England winning the Euros as well as the first-ever Women's Finalissima.
It's expected Earps will be vital to an England World Cup win.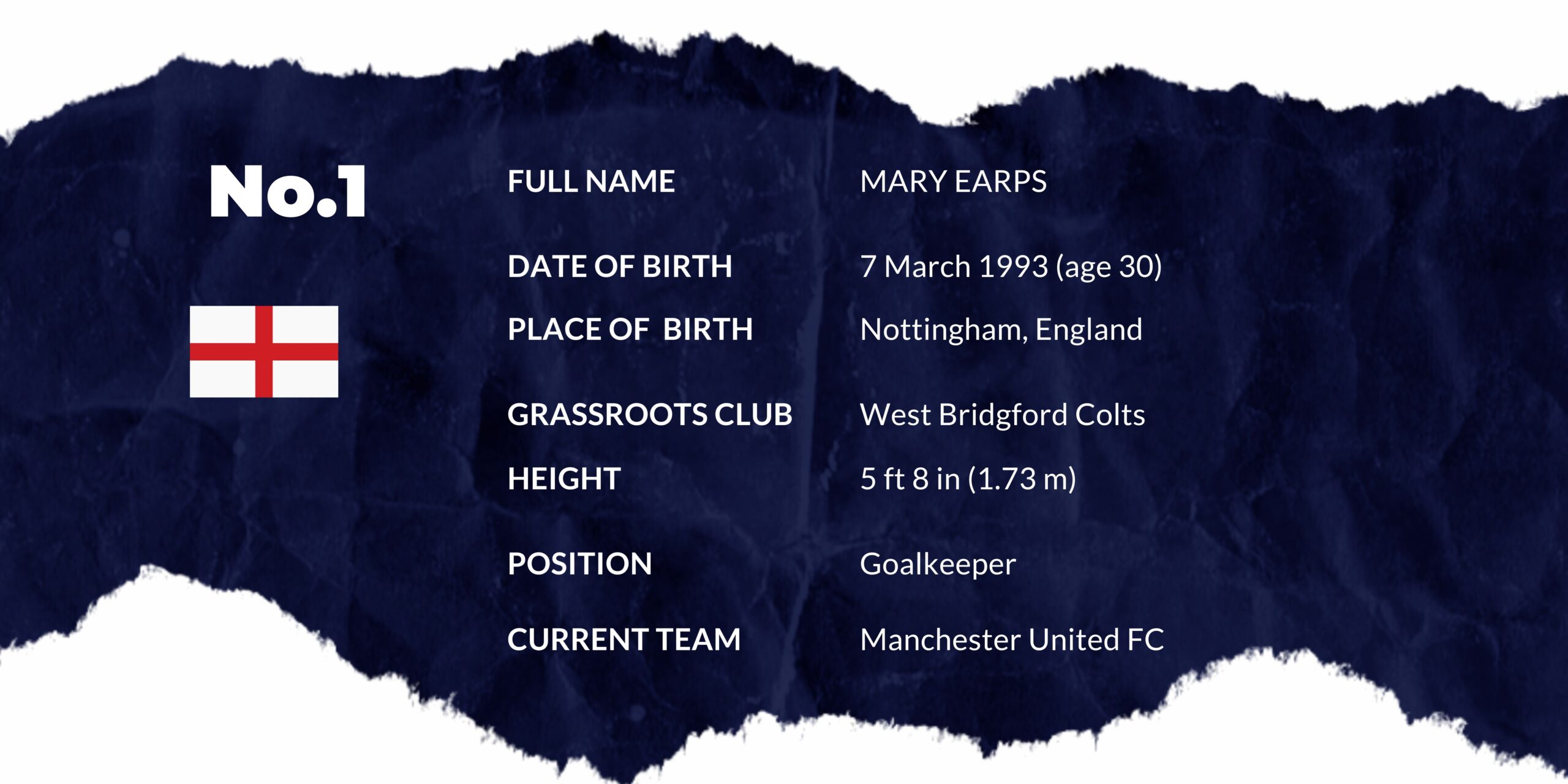 Earps waited for years to play for the senior England team, which finally happened in June 2017 in Switzerland. She soon became a regular fixture in the Lionesses squad and was named in a major tournament squad for the second time in a row for the 2019 World Cup.
She competed for the goalie No. 1 spot with the more experienced Karen Bardsley and Carly Telford. But under then-boss Phil Neville, she managed to get three starts.
Earps started the game against Germany in November 2019, in front of 77,768 fans at Wembley Stadium. But she would then have another two-year wait to get another cap for the national squad.
In early 2021, Earps was considering retiring from the sport when her Manchester United contract was coming to an end and she wasn't offered enough money to live on. During this time it also seemed unlikely she'd ever play for the national squad too.
But at the last minute, Man Utd offered her a contract extension and Sarina Wiegman was brought in as England manager, reigniting Earps' international career.
Earps went on to start the first seven of Wiegman's games in charge and became a key fixture in this new England squad.
She started all six games at the EUROS and quickly became a fan favourite.
Under Weigman, the Lionesses have won the Euros and Finalissima. They now eye up the World Cup, and with Earps in between the sticks, it feels a World Cup win is on the table.