Football roundup: Premier League action this weekend – Man City thrash United, Harry Kane's halfway goal, Bellingham shines in El Clasico, England face Belgium in Nations League, New Women's stadium
The Premier League was back in action this weekend, with a spicy Manchester derby to close out the weekend's action. Jude Bellingham and Harry Kane continue their winning streak in the European leagues and Brighton have big news for their women's team.
Premier League weekend round-up
Manchester United 0-3 Manchester City
The big game of the weekend saw the Manchester derby in action as City travelled to Old Trafford to give the home team a real thrashing. Although Manchester United have made strides under the leadership of Erik ten Hag, the gulf between the two sides was easy to see. City are miles ahead and United look nowhere near capable of closing the gap. 
Liverpool 3-0 Nottingham Forrest
Luis Diaz was the Liverpool player on everyone's mind after reports emerged his parents had been kidnapped in Colombia. But whilst the team's thoughts were with Diaz, they still we able to focus well enough to win 3-0 against Forest. The team's midfield is starting to gel together well. Dominik Szoboszlai dazzled yet again, with his deft touches and creativity contributing to the second and third goals, while Ryan Gravenberch's surging runs offered a different threat, and balance, on the left. 
World Cup winner Alexis Mac Allister was at the heart of the game. His growing influence in the defensive midfield role and in his ability to find space and time helped break an ultra-defensive Forest unit.
Chelsea 0-2 Brentford
It continues to fall apart for Chelsea as the issues for Mauricio Pochettino continue to build up. A defeat at home to Brentford means Chelsea have now lost eight Premier League home games in 2023, their most home league defeats in a calendar year since losing 10 in 1986.
Chelsea have had a lot of changes, rewinding to the first of Brentford's three PL wins at Stamford Bridge 18 months ago; of the 14 players Chelsea used that day, only Thiago Silva and Reece James, remain.
Crystal Palace 1-2 Tottenham
Tottenham have moved five points clear at the top of the Premier League table and continued their superb start to the new season with a win over Palace. James Maddison was once again key to the win and proving to be a great fit for Spurs. Crystal Palace boss Roy Hodgson gave a damning verdict about his team's performance, specifically the impact of his three substitutions in the game. Asked whether he had been disappointed by his side's performance, Hodgson surprisingly turned on Jesurun Rak-Sakyi, Naouirou Ahamada and Matheus França – the Brazilian, 19, making his home debut – after their introductions off the bench in the second half. "There was no disappointment today," he said. "Maybe the young substitutes, who we like to think we can believe in and help us to a different level, didn't show that. They didn't do anything for us at all, really. We became much weaker when I made the substitutions."
Arsenal 5-0 Sheffield United
Misery continues for Sheffield United, but it's happy days for Arsenal. Emile Smith Rowe returned to being a starter after more than 500 days. Whilst his performance was not show-stopping, Arsenal fans hold a soft spot for the man who joined the club at just 10 – and it certainly made the fans happy. Kai Havertz is struggling still to impress, so there is a route back to regular starting football for Smith Rowe. 
Wolves 2-2 Newcastle
The biggest news from the match was Wolve's Pedro Netro being carried off the pitch after 77 minutes with a hamstring problem. It's been reported that he was "moving around" in the dressing room and there is hope his absence won't be for too long. Wolves will be weaker without him. But the draw means they've extended their unbeaten PL run to five matches. Newcastle, who haven't lost in their last six league games, twice led through Callum Wilson goals, but Wolves came from behind to secure a point. Newcastle have had a strong start to the season, but injuries have left them a little light and they were due a slip-up in their season. 
Bournemouth 2-1 Burnley
Bournemouth got their first Premier League win of the season against fellow PL strugglers Burnley. A stunning strike from Philip Billing secured the three points. Vincent Kompany said his team Burnley were "nowhere near Premier League standards" during their Saturday loss to Brentford. 
Burnley have now lost three top-flight games this season after scoring the opening goal – more than any other side. At present Burnley are 19th in the table – and appears to be stuck in the relegation section. 
European football
England stars Harry Kane and Jude Bellingham are continuing to light up the European leagues, it had many asking – Do England have the best two players in the world right now? 
German Bundesliga
Bayern Munich 8-0 Darmstadt
England captain Harry Kane scored a remarkable goal from his own half, bagging a hatrick as well as Bayern Munich thrashed Darmstadt 8-0. His start in the German league has been incredible and he has now scored 12 goals in nine games. 
Spanish La Liga
Real Madrid 2-1 Barcelona
Fellow Englishman Jude Bellingham is also continuing to make a splash in European football, with the 20-year-old scoring an incredible equaliser and a 92-minute winner to help his team come from behind to win his first El Clasico. Bellingham now has 14 goals in 16 matches for club and country this season.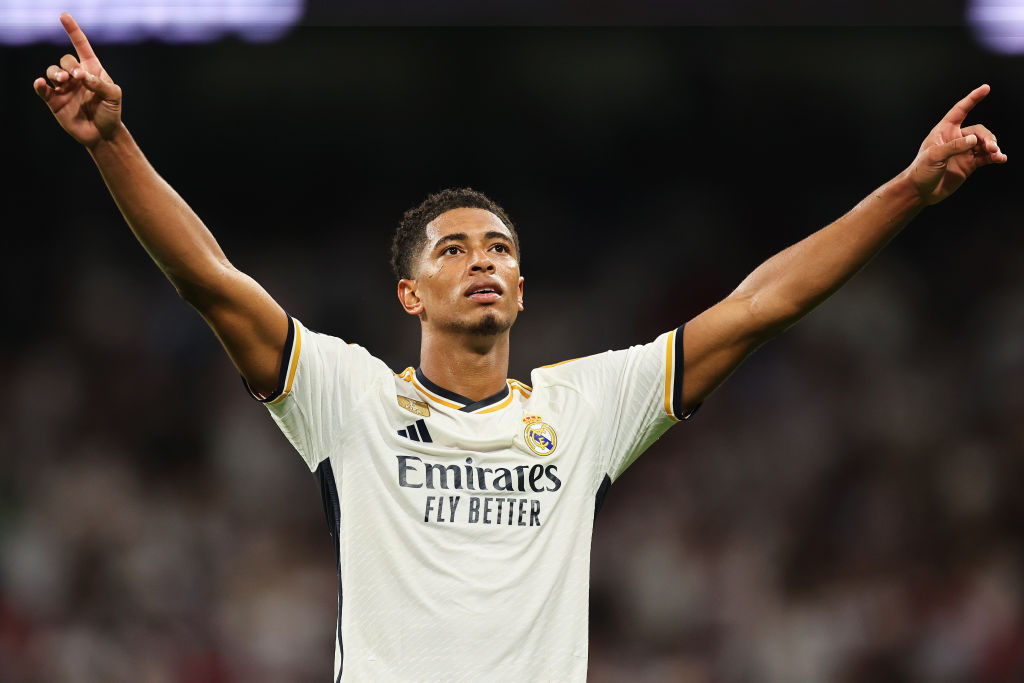 WSL – Super League action
The Super League is on an international break, as the latest round of Nations League games are on. England beat Belgium 1-0 in front of a sold-out home crowd. They head to Belgium to play again on Tuesday.
Brighton to build women's stadium
Brighton received the go-ahead in principle to find a site for a stadium purpose-built for women's football. It's an important move – not just for the club but the women's game. It would be the first ever ground in England specifically for a professional women's team.
Since 2018, Brighton have shared Crawley's Broadfield Stadium, more than 20 miles from the city centre. They have been playing in the Women's Super League for six seasons, having been a founding member of England's restructured top tier in 2018-19.
Ballon d'Or clash with Nations League matches
Monday night's Ballon d'Or in Paris will be without many of its nominees as football's award ceremony clashes with the Women's Nations League fixtures. England's Georgia Stanway has expressed her frustration at the scheduling. She is one of the female players nominated but won't be able to attend due to the fixture with Belgium in Leuven on Tuesday. 
Luis Rubiales banned from football for three years
Luis Rubiales has been banned from all football-related activities for three years, following a Fifa disciplinary committee investigation into his conduct at the Women's World Cup final. The former president of the Spanish Football Federation (RFEF) received a 90-day suspension six days after the final, during which he planted a kiss on the lips of Spain forward Jenni Hermoso during the medal ceremony – an act she says was not consensual. He claims it was. He was also seen grabbing his crotch in celebration and carrying Athenea del Castillo over his shoulder following Spain's win.