Everything Everywhere All At Once sweeps SAG awards
Everything Everywhere All At Once was the big winner at the Screen Actors Guild (SAG) Awards, solidifying its position as the frontrunner for the Oscars. The film won four awards at the ceremony, including Best Film Cast and individual acting awards for Michelle Yeoh and Ke Huy Quan. 
Brendan Fraser won Best Actor for his role in The Whale and Jamie Lee Curtis won Best Supporting Actress, despite being considered an outsider. The film's victory at the SAG Awards and Producers Guild of America (PGA) Awards makes it a strong contender for the Best Picture award at the Oscars. The awards ceremony took place in Los Angeles and was voted for by fellow actors.
Michelle Yeoh beats out Blanchett
The multiverse adventure took home the best film cast award at the ceremony, along with individual accolades for several of its stars.
Michelle Yeoh was named best actress, beating out top contender Cate Blanchett, and delivered an emotional acceptance speech dedicating her win to "every little girl who looks like me."
Her co-star Ke Huy Quan became the first Asian actor to win best supporting actor, while Jamie Lee Curtis was surprised in the supporting actress category.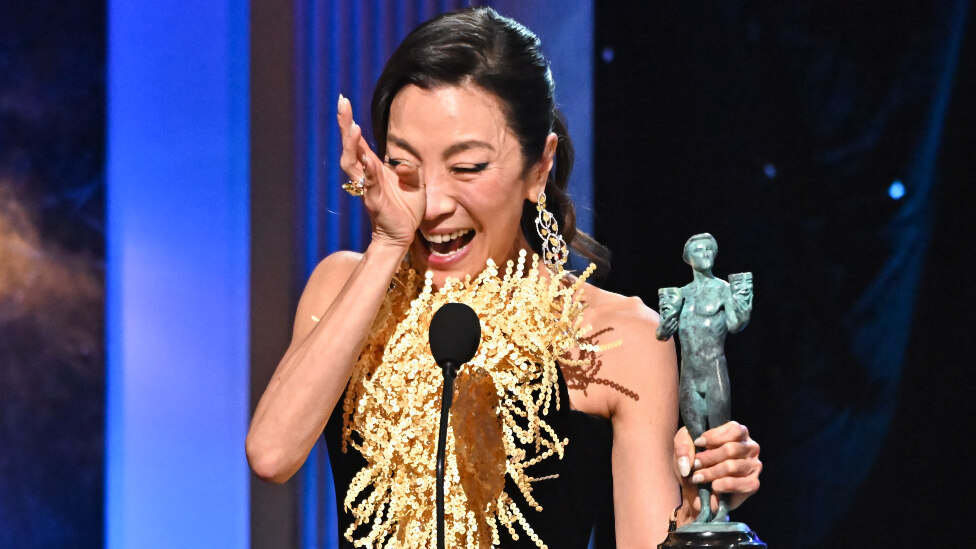 Everything Everywhere All At Once tells the story of a laundrette owner, played by Yeoh, who must access alternate versions of herself from different universes to save the world.
With these significant wins, the sci-fi adventure has gained considerable momentum leading up to the Oscars on March 12th and appears to be the clear favourite to take home the best picture award. Its four SAG awards mark the highest number of awards won by a single film in the history of the ceremony.
In her speech, Yeoh told the audience – which was largely made up of fellow actors – that "we're here because we love what we do, we will never stop doing what we do".
"Thank you for giving me a seat at the table, because so many of us need this, we want to be seen, we want to be heard, and tonight you have shown us that it is possible," she said.
As there is no best picture category at the SAG Awards, the award for best film cast is considered the most prestigious. The ceremony is held annually in Los Angeles, and winners are selected by fellow actors through voting.
Veteran actor James Hong, 94, who plays Yeoh's father in Everything Everywhere, vowed to return to the ceremony when he was 100 years old.
"I got my first SAG card 70 years ago. Back in those days… producers said that Asians were not good enough and they are not box office – but look at us now," he said to cheers from the audience.
Brendan Fraser continues comeback
Brendan Fraser won the best actor award for his portrayal in The Whale, surpassing Austin Butler, who had previously won at several other awards ceremonies for his portrayal of Elvis Presley in Baz Luhrmann's biographical film.
"I will treasure this but never more than what I used to keep in my wallet, which was my SAG card, that I earned in 1991," Fraser recalled, becoming visibly emotional. "It made me feel like I belonged. If you told that guy back then, that I'd be standing here right now, I would not have believed you."
In the TV categories, winners included Jessica Chastain for her role in George & Tammy, Jason Bateman for Ozark, Sam Elliott for 1883, and Jean Smart for Hacks.
The awards for best drama series and best comedy series in television were given to The White Lotus, a satirical take on wealth, and Abbott Elementary, a sitcom set in a school environment, respectively.
No clear Oscars winner
While both the SAG Awards and the Baftas are usually indicators of Oscar success, this year, there was no overlap among the major winners. The Banshees of Inisherin and All Quiet On The Western Front dominated the Baftas, while Everything Everywhere only won one of its 10 nominations. As a result, the Oscars race remains wide open, with no actor winning their category across the Golden Globes, Critics Choice, SAG Awards, and Baftas.
---
What is the SAG awards?
The Screen Actors Guild Awards, is an annual awards ceremony that honours outstanding performances in film and television. The awards are presented by the Screen Actors Guild-American Federation of Television and Radio Artists (SAG-AFTRA), a labour union representing actors, journalists, and other media professionals.
The awards are considered an important precursor to the Academy Awards (Oscars) and are often seen as an indicator of which actors and films may receive Oscar nominations and wins. The winners of the SAG Awards are selected by members of the guild, which includes over 160,000 actors and media professionals.