The secret behind the Khloe Kardashian photo scam – the free app they use (or failed too) that led to the scandal
The Khloe Kardashian photo scandal has brought questions over unrealistic body standards once again. Khloe says she edits her pictures due to fan pressure and body shaming but failed to acknowledge the Kardashian family have played a massive role in setting unrealistic beauty standards.
The Kardashians are some of the most followed celebrities on social media with billions of followers combined. 
The family have been catching heat over editing their photos to make themselves look more appealing to their followers – exaggerating their bodies and faces. But they've all been caught out in their editing / photoshopping fails. 
So what's the secret behind the Khloe Kardashian photo scandal? We saw her natural self, without the help of a little app that modifies her face.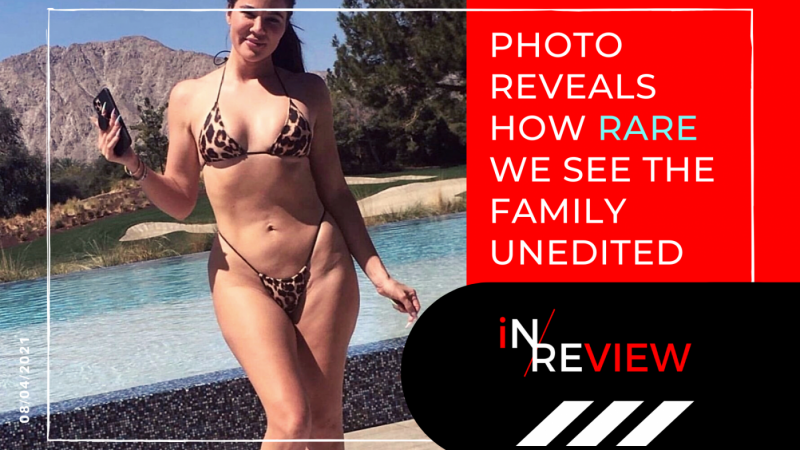 So what app do the Kardashians use to edit their snaps?
Kardashian fans are able to keep up with their faves on almost every social media platform. The sisters are not shy at flaunting their lavish lifestyles, promoting exclusive content and giving them snapshots into their lives. 
It's widely believed the reality TV stars use an app called Perfect365 to edit their photos before posting them. 
And they've definitely used a little photoshop too. 
What is Perfect365?
Perfect365 is a photo makeup refinement application that allows you to touch up, makeup, and enhance facial images. Perfect 365 is also integrated with social networking sites so that you can instantly share perfected images via Facebook, Twitter and Flickr.
What editing app does Kim Kardashian use?
How to get your Instagram looking like Kim Kardashian's? It seems like Kim uses quite a few photo editing techniques to achieve the retro look on her photos. Apps like Perfect365, VSCO, and Huji Cam are a few photo editing and photo filter apps that you might want to use to help you add Kim Kardashian-Esque effects to your photos. 
VSCO has several filters you can also add to a photo to give it a nostalgic vibe. For the most part, when editing, you'll want to increase the "grain" of your photo to give it more of a vintage feel. To mimic the effect on some of Kim's photos, adjust the contrast to draw out the darkest colours in the photo.
Khloe Kardashian photo 2021 – Fan reaction
Fans have been extra critical of the Kardashians under every photo they share, often pointing out editing fails and accusing them of changing their identity online.
Khloe Kardashian has faced intense backlash from fans, with some even claiming that she "changes her face" in every photo she posts due to an over-edit.
Apparently Khloe Kardashian is trying to scrub this unfiltered photo of her off the internet bc they want us to think they're gods or something 🙄 pic.twitter.com/7SQvYPsSF5

— shilvia (@sublimesilvya) April 8, 2021
khloe kardashian & the rest of that family tryin to figure out why ig beauty standards are so toxic pic.twitter.com/NMn8cRaafE

— valhime (@valyonce) April 8, 2021
One fan wrote: "What happened to her nose!!!!"
Another said: "I wish she would leave her face alone."
On the latest – and final – series of Keeping Up With The Kardashians, Khloe told her on-off boyfriend Tristan Thompson that criticism of her face had devastated her. 
She said: "My soul is at a breaking point in regards to the public thinking they're allowed to talk about my weight, my face, my personal life." 
"Actually, I don't want to hear this any more. I've always been incredibly open with this show and my life, but I just don't think I have it in me anymore. It's not healthy for my spirit," 
The Kardashian family
The Khloe Kardashian photo 'scam exposed'
Billionaire Kim Kardashian bags $220 million in 6 months 
The decade the Kardashians took over our lives
……………………
FOLLOW US ON SOCIAL MEDIA AND SHARE WTX NEWS WITH YOUR FRIENDS AND FAMILY:
Facebook – Please like our page
Twitter – Twitter updates available in English and Arabic. Please follow us and we would love to hear from you
Instagram – Follow our pages in English and Arabic
Leave a comment