Dubai news - from the heartbeat of the UAE
The latest news from Dubai news – the heart of the United Arab Emirates
Dubai is undoubtedly one of the most interesting and captivating regions in the middle east, if not the world.
Breath-taking beauty and magnificent architecture blend the landscape which has been transformed from sandy desert lands to opulence. 
And let's not forget the magnificent Dubai weather; which is perfect for holidaymakers in the Autumn and Spring months but could be too hot for some of you in the Summer. Where temperatures can reach 45 degrees Celcius.
With a culture of nationals and international literally from every corner of the world. It is developing into a mix of people, consumed with wealth and ambition.
News in Dubai – from investment to wealth management
It is no surprise that the news from the region is followed by so many people. With so much wealth invested in the region, millions of people are invested in the news in Dubai. 
Expats have settled in Dubai from all over the world, Russians, Arabs, Europeans and Brits have all moved and settled in Dubai.
There is also a huge influx of Filipinos, Indians, Pakistanis and Bangladeshis who provide the manual labour to the country's ambitious growth sector. 
Comprehensive Dubai latest news coverage:
We produce news for mass consumption, however, we don't sugar coat our stories for the audience.
Other news sources in Dubai
There are multiple sources of news outlets operating in the region. The likes of the Gulf News, BBC world service, CNN, Arab News and Sawt Asharq news – all of whom are established and respected. However, they offer a perspective which does not always bear the truth. 
WTX News and Dubai news are raw, unfiltered and unbiased. We don't serve a government agenda and are the only truth medium in the country.
We provide the truth, raw and real and offer perspective. 
Our opinion and journalism are based on local and global perceptions and analysis from industry professionals and seasoned presenters. 
That is what stands Dubai news apart from its rivals. We don't create propaganda we create unbiased unfiltered news. Where you can follow our sources to verify the story yourself.
"I was looking for a Social Media news to expand my horizon. A friend of mine suggested to learn from WTX News online and it really worked for me."
"A fantastic and very engaging news website. All of the information offered by Dubai news was completely practical, relevant and presented in an easy, digestible and interesting way."
"This course was a breakthrough in my knowledge of how to use global news to advance my business. Now i can create content is comprehensive and of great quality, engaging and interactive."
The latest from Dubai news – the heart of the United Arab Emirates
Dubai is undoubtedly one of the most interesting and captivating regions in the middle east, if not the world.
Breath-taking beauty and magnificent architecture blend the landscape.
With a culture of nationals and internationals literally from every corner of the world. It is developing into a mix of people, consumed with opulence and ambition.
It is becoming the centre of the Arab world with a major significance on investment and global leadership.
The latest news from the Arab world centres around Dubai and the Emirates.
The Skyline in Dubai is breathtaking.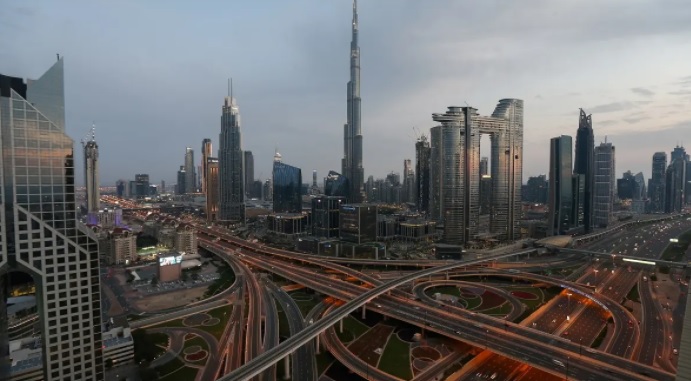 Introduction to Dubai City
This is a short introduction describing the city's current affairs and history. The terms "Dubai" and "United Arab Emirates" need to feature here, ideally near the start of the sentences.
Key facts about Dubai
What do we need to know about Dubai, what is it like, and is it safe?
Dubai Flag
First, let's have a look at Dubai's flag – So you know why the locals love the colours. Red – Green White and black.
In all fairness, it is very similar to a lot of the countries in the Arab world. Using a lot of the same colours to represent their shared history. 
Dubai weather
Dubai weather is something we all wish we had – it is spectacularly hot in the summers and incredibly warm during the winter months. Perfect for holidaymakers.
Dubai currency
Dubai currency is the UAE dirham. And you can find the latest exchange rates at WTX Business news. 
> Dubai language
Dubai landmarks
Where do we start with the landmarks in Dubai? 
Burj Khalifa
Burj Khalifa is the tallest tower in the world and it's one of the top attractions to visit in Dubai. The Burj Khalifa known as the Burj Dubai prior to its inauguration in 2010, is a skyscraper in Dubai, United Arab Emirates. With a total height of 829.8 m.
Burj Al Arab
Burj Al Arab is Dubai's most iconic hotel and a global icon of Arabian luxury. Explore the jewel of Jumeirah and enjoy its private beach and iconic landscape. 
It is a 6-minute walk from the beach. Situated on its own island, Burj Al Arab Jumeirah features suites overlooking the sea.
Dubai Expo 2021
Expo 2020 was a World Expo hosted by Dubai, in the United Arab Emirates, from 1 October 2021 to 31 March 2022. Originally scheduled for 20 October 2020 to 10 April 2021, it was postponed due to the COVID-19 pandemic.
Expo 2021 in Dubai is a global event that links innovation, technology, art, and culture to offer a great experience. Different parts of the world mark their presence to share new ideas.
The Dubai Skyline
The spectacular skyline is built from Downtown all the way along Shaikh Zayed Road to Jumeirah.
The landmarks have now almost stretched from Dubai central to Abu Dhabi, the two cities are being connected by a high-speed rail network.
We describe these landmarks in Dubai and attractions available in our Travel section, including information on landmarks, importance, opening hours, entrance fees, local tips, when's best to go etc. 
Some of the most iconic parts of Dubai.
1) Burj Khalifa
2) Burj Al Arab
3) The Dubai Mall
4) Palm Jumeirah
5) Palm Islands
6) The Dubai Fountain
7) Dubai Museum
8) Dubai Marina
9) Dubai Gold Souk
10) Al Fahidi Historical District
Dubai plan 2040: 5 areas to see massive development
Dubai culture (including advice for foreigners)
The culture in Dubai is derived from its Islamic heritage. Visitors should know and respect the local laws.
Weekly PCR test made mandatory for all staff at Dubai schools and universities
You should not take for granted that British or American passports will give you a license to do whatever you want. 
Dubai history
You can read all about Dubai. history in our Dubai section. 
…
---
Optional sections to include in a slower time:
Dubai shopping, dining and relaxing
Dubai parks and beaches
Dubai political system and administration