Cyclone hits New Zealand, state of emergency declared amid flooding and landslides
New Zealand announced a national state of emergency on Tuesday after Cyclone Gabrielle lashed the country's north.
The storm is the country's biggest weather event in a century, according to PM Chris Hipkins, as some residents were forced to swim to safety from flooded homes.
It's only the third time in New Zealand's history that a national state of emergency has been declared.
At least 225,000 people were without power on Tuesday.
A firefighter remains missing after being caught in a landslide in Muriwai, west of Auckland.
The damage caused by the storm has been most extensive in coastal communities on the far north and east coast of the North Island – with areas Hawke's Bay, Coromandel and Northland among the worst hit.
Nearly one-third of the country's population lives in affected regions.
Residents swimming to safety
Local media have reported that some residents in Hawke's Bay had to swim to safety as waters flooded their homes. People in the area have been warned they could be without power for weeks.
Images show residents on rooftops waiting to be rescued.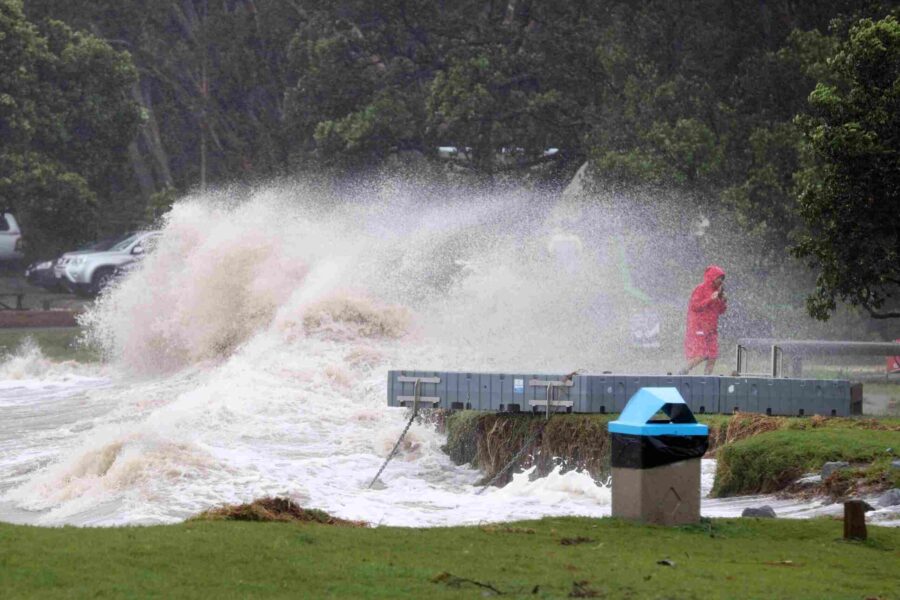 The damage from the storm includes uprooted trees, bent street lights and poles and flooded homes.
"The severity and the damage that we are seeing has not been experienced in a generation," Mr Hipkins said on Tuesday.
"We are still building a picture of the effects of the cyclone as it continues to unfold. But what we do know is the impact is significant and it is widespread."
He has pledged NZ$11.5m (£6m; US$7.3m) in aid to support those affected by the disaster.
'Scale of disaster due to climate change'
By declaring a national state of emergency, the government has the ability to streamline its response to the disaster. It has been applied to the Northland, Auckland, Tairawhiti, Tararua, Bay of Plenty, Waikato and Hawke's Bay regions.
The government has attributed the scale of the disaster to climate change.
"The severity of it, of course, [is] made worse by the fact that our global temperatures have already increased by 1.1 degrees," said climate change minister James Shaw.
"We need to stop making excuses for inaction. We cannot put our heads in the sand when the beach is flooding. We must act now."
The cyclone hit New Zealand just weeks after heavy rain and flooding in the same region, which killed four people.