Chaos ensued on the streets of Bristol as angry protesters have attacked police after thousands of people turned up to a demonstration that officers had "strongly advised" against attending.
Police Officers suffered in the attacks, in what are the most violent scenes on British streets for years. Police officers suffered broken bones and police vans were set alight as angry scenes unfolded in Bristol city centre.
The atmosphere took a marked turn when the first police vehicle was set on fire. Huge plumes of black smoke rose up from Bridewell Street.
A small number of protesters jumped on to the roof of a second police van, thumping on the glass as the officers tried to reverse.
Objects were being thrown by protesters into the crowd and the immense pressure and ferocity of the attacks forced the police to move from their positions.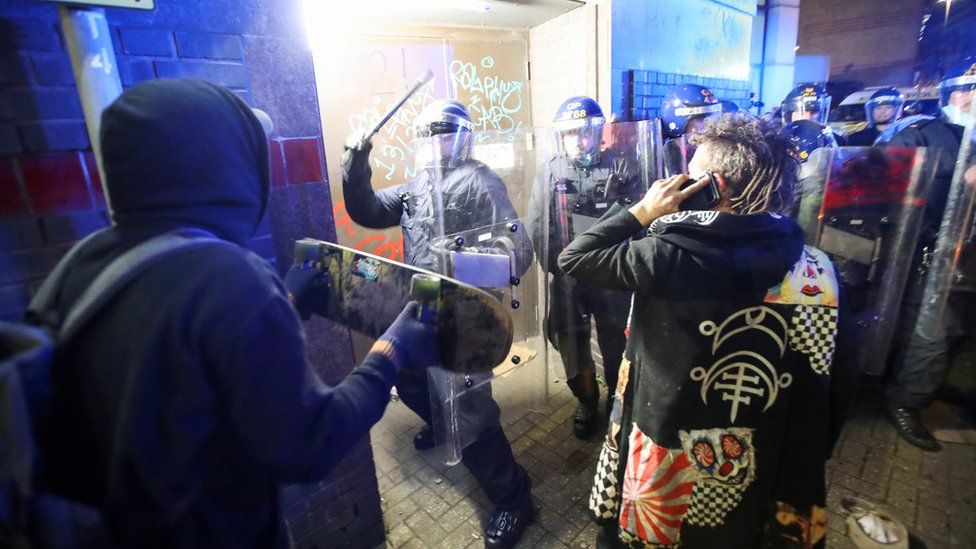 Kill the Bill in Bristol
At the beginning of the night, the mood was generally lively but not aggressive.
Crowds had gathered for the Kill the Bill demonstration in opposition to the Police and Crime Bill.
Home Secretary Priti Patel described the events as "unacceptable".
"Thuggery an111d disorder by a minority will never be tolerated," she said. "Our police officers put themselves in harm's way to protect us all."
Avon and Somerset Police said what had started "as a peaceful protest" had been "turned by a small minority into a violent disorder".
Two police vehicles were set on fire, the damage was caused to a police station, one officer suffered a broken arm and another suffered broken ribs, the force added.
Why are people protesting in Bristol?
People are angry at the extra powers given to the police in the Police and Crime Bill. A move pushed through by Priti Patel and her department, it is designed to give the police more when encountering non-violent demonstrators.
More than 60 MPs and peers have challenged the bill and wrote to the home secretary calling for laws to be changed to allow peaceful protests during the 22221lockdown.
Liberal Democrat leader Sir Ed Davey blamed the scenes at the Clapham event on a lack of clarity putting police "in an impossible position", adding that the right to protest was a "basic freedom".
Yesterday thousands of people have attended anti-lockdown demonstrations in London after MPs urged the government to allow peaceful protest during the lockdown.
Crowds marched from Hyde Park to Westminster, with at least 33 arrests by police, mostly for Covid breaches.
…………………………………….-