British man found dead in Florence hotel named as ex-rugby league player
Authorities have confirmed the British man found dead in a luxury Italian hotel room has been named as former pro rugby player Ricky Bibey. 
Bibey died on Saturday at the four-star Hotel Continentale in Florence, Italy after an apparent erotic game gone wrong.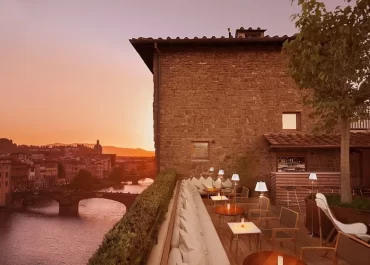 The 40-year-old had retired from rugby in 2012. 
Police say Bibey died after a night of "extreme sex and erotic games" went wrong. Police were called to the hotel early Saturday morning after guests reported hearing screams from inside the couple's room.
The authorities discovered "some objects that would corroborate the hypothesis of a sexual game to the limit," according to local newspaper La Nazione.
Police were at the hotel when Bibey was discovered after a 44-year-old woman, believed to be his girlfriend, pleaded with hotel staffers for help in the hotel corridor. Police intervened and called an ambulance. They cordoned off the room with crime scene tape.
It is said she was rushed to hospital after losing "a lot of blood" and was reportedly covered in cuts and bruises. She underwent surgery for internal bleeding on Sunday, according to local press reports. 
Police believe Mr Bibey died of a heart attack, although there is no official cause of death just yet. An autopsy was performed on Monday and depending on what they conclude police will decide whether or not to press charges against the woman in connection with her lover's death. 
The couple checked into the luxury hotel the day before Mr Bibey's death and were seen returning to the hotel at 3 a.m the morning he died. The couple was reportedly in "high spirits" when they returned to the hotel. 
Tributes were shared for the ex-pro rugby player including the team he once played for who said they were "deeply saddened" by the news. 
https://www.instagram.com/p/CgMIhedA-Cc/