PMQs LIVE – End of the union? calls for indyref2 & general election
Satire is dead: Tory MPs applauding the PM they dumped.

That picture should be on every Labour election leaflet.#PMQs

— Kevin Maguire (@Kevin_Maguire) July 20, 2022
Do you want to know what makes Lindsay Hoyle angry? Other MPs holding the Conservatives accountable. He's responsible for enabling Johnson's reign of terror.#PMQs

— Supertanskiii (@supertanskiii) July 13, 2022
Windrush justice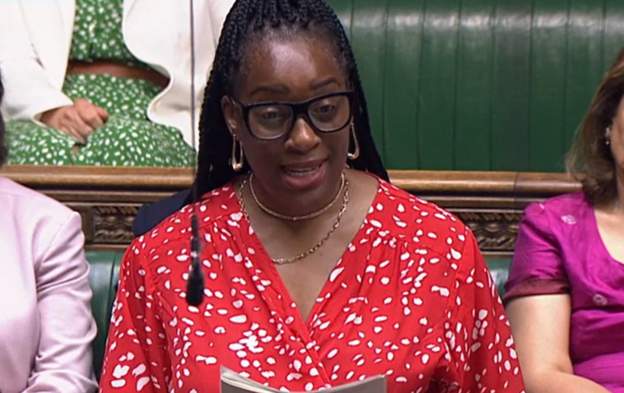 Labour's Kate Osamor says the Windrush compensation scheme has seen just one in 4 applicants receive their compensation and at least 28 have died. 
She asks if its time the government made the scheme was made independent of the Home Office and to provide justice before it's too late. 
The PM renews his apologies to the Windrush generation for what they have suffered. 
"We have greatly increased the compensation available," he says, adding that more than £51m has been paid out and the government is working with voluntary groups to ensure everyone gets what they're entitled to.
He says Labour has never apologised for its role in the Windrush scandal. 
Lib Dems call for general election 
Lib Dem Sir Ed Davey says the candidates in the Tory leadership race promise to bring a fresh start but asks if a clean break should require "a new mandate from the British people" in a general election. 
PM says if there was a gen election the Lib Dems will be thrashed and the Tories must prevent a "crackpot coalition" between Labour, the Lib Dems and the SNP which the Conservatives "must prevent".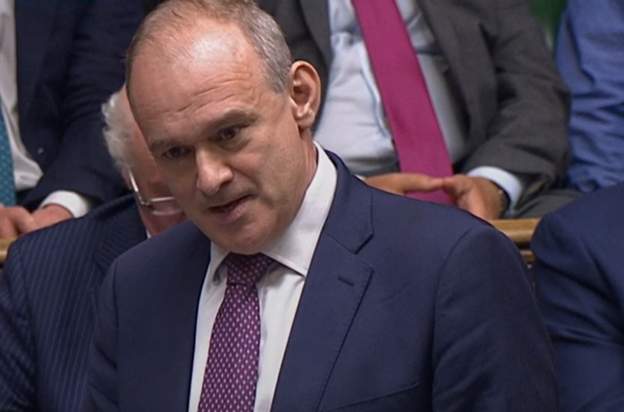 PM breaks up union, Blackford calls for indyref2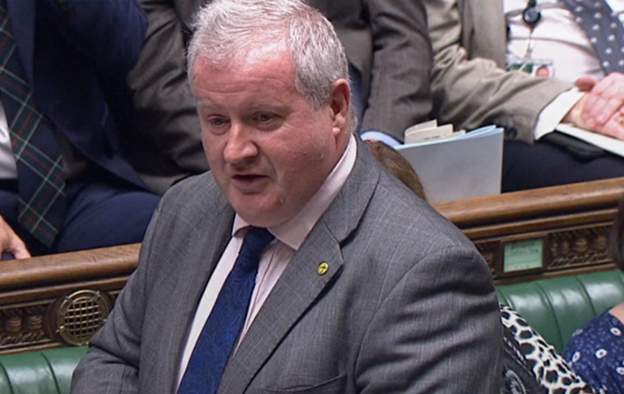 Ian Blackford: "As well as a record breaker, the PM is a rule breaker. Illegally shutting down parliament, partying through the pandemic, handing out PPE contracts to cronies, unilaterally changing the ministerial code…Downing Street is no place for a law breaker" #PMQs

— Edward Hardy (@EdwardTHardy) July 20, 2022
Ian Blackford lists PM's "record-breaking efforts in office" 
Tory Brexit cutting £31bn from the economy

Biggest fall in living standards since the 1970s

Pay falling

Worst economic growth forecast in the G20 (outside Russia) and highest inflation in 40 years. 
The SNP leader asks if this has "paved the way" for Scottish independence and the end of the union? 
PM responds to Blackford by listing what he says is his achievements – vaccine rollout, low unemployment and fastest growth in the G7.
PM attacks SNP's record in Scotland, referring to drug addiction numbers in the country. 
PMQs LIVE – Why did Sunak and Liz pull out TV debate?
Tory contenders can't say anything good about the government & PM says no one knows a single Labour policy. 
Starmer quotes Liz Truss saying in a TV debate that the current economic policy can't go on. 
He asks what message should the public take from the fact the contenders can't say anything decent about the PM or his govt. 
Johnson hits back saying no one can even name a Labour policy – apart from putting up taxes. 
He describes Stamer as a "pointless plastic bollard". 
He says the government is "getting Brexit done… and fixing social care when they have no plan and no ideas of their own".
"We've restored our democracy and our independence, we got this country through Covid". He says he is "proud to say" that the UK is dealing with climate change and helping Ukraine.
PM thanks his "friends and colleagues on these benches" – gesturing behind him to take in Conservative MPs – for all that they have done.
…………….
Covid loan fraud claim
Starmer says among the mud-slinging of the Tory leadership debates there was an important claim about Covid laon fraud. 
Kemi Badenoch said she raised her concerns over fraud claims in Covid loans with Rishi Sunak when he was leading the Treasury – which Starmer says cost taxpayers £17bn. 
He asks the PM if Badenoch was telling the truth? 
…………….
PM slams Starmer as 'human bollard' 
PM says his govt is investing £600m in tech and skills. 
He says govt passed £39bn health and care levy to increase funding to the NHS, while Labout opposed it. 
PM describes Starmer as a "human bollard".
Johnson destroying any myth of being a great communicator with awful puns and not giving straight answers to direct questions. Blair, Brown, Cameron, May – at least they all made sense and believed in public service#PMQs #PoliticsLive

— Damian Low (@DamianLow3) July 20, 2022
…………….
Economic difficulties result of pandemic
PM says economic difficulties stem from the pandemic, and goes on to talk about the success of the vaccine rollout. 
He praises how his government dealt with covid and says they not have the "fiscal firepower" to issue tax cuts. 
…………….
Where government plans wrong? 
Starmer says every spending pledge Labour has made is costed, repeating his claims that Tory leadership contenders have made over £300bn in unfunded commitments between them. 
He notes the PM doesn't agree with his Sunak and that Liz Truss was "withering" about the government's economic record.
Starmer then asks if the government's plans were wrong, why haven't we seen these policies at the Treasury?
'Fantasy economics'
Starmer suggests candidates pulled out of the debate because of the "disaster" that unfolded in the previous two. 
He asks if Sunak's comments that other contenders' tax plans are "fantasy economics." 
…………….
PM not following contest 
PM says he's not been following the contest that closely. 
"My impression is there's been quite a lot of debate everywhere.
"The public are having ample opportunity to view the talent," he says.
…………….
Stamer asks why Tories pulled out TV debates
Stamer joins PM in wishing the lioness all the best. He sends his best wishes to the PM and his family for the future. 
He asks the PM why Rishi Sunak and Liz Truss pulled out the Sky News tv debate. 
PMQs begin 
Boris Johnson opens this week's PMQs – pays tribute to "heroic firefighters" and wishes the Lionesses well for tonight's Euro match.
He makes a joke that this will be his last PMQs from this despatch box – or any other, he jokes.