Belgium compulsory monkeypox 21-day quarantine  – first country to do so, will the UK and US follow? 
Belgium has introduced a mandatory 21-day quarantine for monkeypox patients as cases of the disease start to spread across the globe. 
The measures were introduced following the third case of the virus in the European nation. As of Monday, Belgium has recorded four local cases, and confirmed global infections are currently around 100. 
Belgium's measures apply only to patients with a confirmed infection and close contacts are not required to self-isolate but have been told to remain vigilant. 
"Infected persons will have to go into contact isolation until the injuries have healed (they will receive concrete instructions about this from the treating doctor)," a translated version of the government announcement said. 
UK monkeypox guidelines – 21-day isolation 
In the UK, officials have said those who have a high risk of catching the disease should self-isolate for 21 days. It includes household contacts or medical professionals who may have come into contact with an infected patient. 
Level three – High risk
These are people who have unprotected direct contact or high-risk contact with those with monkeypox.
For people in this situation, health chiefs advise:
Self-isolation for 21 days, including exclusion from work
No travel permitted
Avoid contact with immunosuppressed people, pregnant women, and children aged under 12 where possible
The document states that those who fall into this contact are most likely to have had "household contact" and "sexual contact" with the person with monkeypox.
They are likely to have direct exposure to a patient's broken skin, bodily fluid or items such as clothing or bedding without wearing PPE.
Level two – Medium risk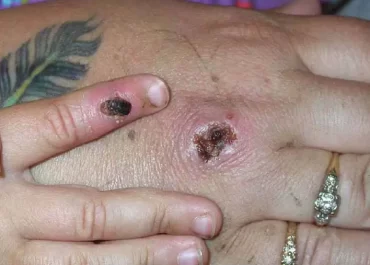 These are people who have not had contact with broken skin or sores, but may still have had physical contact or who could have contracted the virus through droplets.
They include those who have touched with unbroken skin or have been within a metre of someone with monkeypox – such as a person directly next to them on a plane.
While they are not required to isolate, health protection teams are required to make daily contact for 21 days after exposure to check if they are showing any symptoms.
They are advised not to come into contact with immunocompromised people, pregnant women and children under 12.
The guidelines state that they can be excluded from work for three weeks if their job requires contact with anyone who falls into these categories.
Level one – low risk
This group includes people who have had close contact with monkeypox patients while wearing PPE, or those who have been within one and three metres of a case.
These include people sitting within three rows from an infected person on a plane.
They are not required to live under any restrictions but are told to contact their local health protection team if they display any symptoms.
US monkeypox – no need to quarantine 
President Biden said Monday that he did not believe a quarantine to prevent the spread of monkeypox in the United States would be necessary, saying there are sufficient vaccine doses available to combat any serious flare-up of the disease.
But in the United States, "I just don't think it rises to the level of the kind of concern that existed with covid-19, and the smallpox vaccine works for it," Biden said at a news conference Monday.
The president said he believes the United States has a sufficient supply of smallpox vaccine to "deal with the likelihood of the problem."
What is monkeypox? 
Monkeypox is a rare disease caused by the monkeypox virus – part of the smallpox family. 
Symptoms include rashes, fever, headaches, muscle ache, swelling and back pain.
It is usually less severe than smallpox. There is concern about the genesis of a recent outbreak, starting in early May, in countries beyond Central and West Africa. 
Health authorities in the US and UK have said they have noted a concentration of cases among men who have sex with men and urged gay and bisexual men, in particular, to be aware of any unusual rashes or lesions.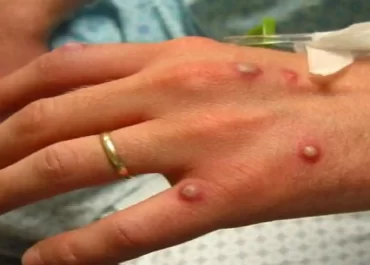 The WHO reported on Saturday that cases in 12 countries have been found – the US, UK, Canada, Australia, Germany, France, Italy, Spain, Sweden, Belgium, Portugal and Netherlands. 
The recent cases had no links to travel from endemic African countries – which is unusual for the disease. It usually spreads via human-to-human or human-to-animal contact. 
"Epidemiological investigations are ongoing, however, reported cases thus far have no established travel links to endemic areas," the WHO said in a statement posted on its website Saturday.
"Based on currently available information, cases have mainly but not exclusively been identified amongst men who have sex with men (MSM) seeking care in primary care and sexual health clinics," it added.
More monkeypox cases expected 
There is likely to be a wider outbreak of cases. 
"To have it appear now — more than 100 cases in 12 different countries with no obvious connection — means we have to figure out exactly what's happening," Seth Berkley, CEO of global vaccine alliance Gavi, told CNBC Monday. 
"The truth is we don't know what that is and therefore how severe it's going to be. But it's likely that we're going to see more cases," he said.
Monkeypox cases are usually mild and resolve within 2 to 4 weeks. There is no proven vaccine and the smallpox vaccine is 85 per cent effective in preventing the infection.
UK to announce more monkeypox cases as efforts ramp up to contain outbreak
Monkeypox: UK set to announce more cases as high-risk close contacts told to isolate for three weeks
…………………
FOLLOW US ON SOCIAL MEDIA AND SHARE WTX NEWS WITH YOUR FRIENDS AND FAMILY:
Facebook – Please like our page
Twitter – Twitter updates available in English and Arabic. Please follow us and we would love to hear from you
Instagram – Follow our pages in English and Arabic