3 perfect hangover fighting recipes 
Pubs are back! And to avoid the excoriating hangover, learn to cook up some of MOB Kitchen's best hangover-friendly recipes.
These hangover fighting recipes will not only soak up the leftover alcohol in your system, but are also easy to make! 
Halloumi breakfast bap recipe 
Salt is a great hangover fighter. This halloumi breakfast bap is one of our favourite recipes on the MOB Kitchen website. The bap has spice, fried eggs and butter. This recipe serves four but you can easily halve it.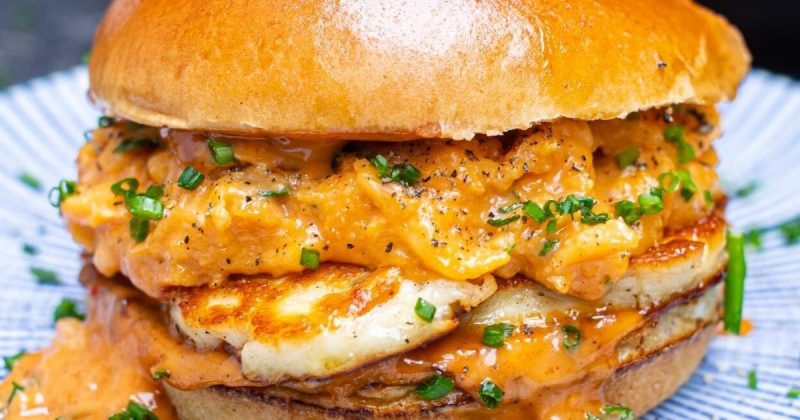 Ingredients
Bunch of chives
5tbsp mayo
1 heaped tsp chilli jam
1 heaped tsp chipotle paste
2 blocks of halloumi
8 eggs
4 brioche buns
Large knob of butter
Method
Finely chop the chives and set aside.

Prepare the burger sauce. Add the mayo, chilli jam and chipotle paste into a bowl and stir together.

Slice the halloumi into even chunks and add into a bowl along with a drizzle of olive oil. Season with salt and pepper and toss together.

Heat a glug of oil in a pan and fry the halloumi until golden brown. This will take a few minutes each side.

Get a bowl and crack in your eggs. Add in a generous pinch of pepper and whisk it up.

Melt a big knob of butter in a pan. Once melted, add in your eggy mixture. Keep stirring as it begins to scramble. You want to make sure the eggs stay nice and liquidy. Whack in the chives (saving some for garnish) and a pinch of salt, then mix together and remove from the heat.

Slice your buns in half and lightly toast them.

Time to load up. Start with a big dollop of your chilli mayo sauce, followed by 3 slices of your halloumi and finally a spoonful of your scrambled egg. Scatter over your leftover chives, season well and tuck in!
Bacony packet noodles
This recipe for bacony packet noodles takes a tad more effort than tossing a flavour sachet into your dehydrated ramen, creating your own sauce from scratch out of peanut butter, soy sauce, rice vinegar and chilli oil is super simple and incredibly satisfying.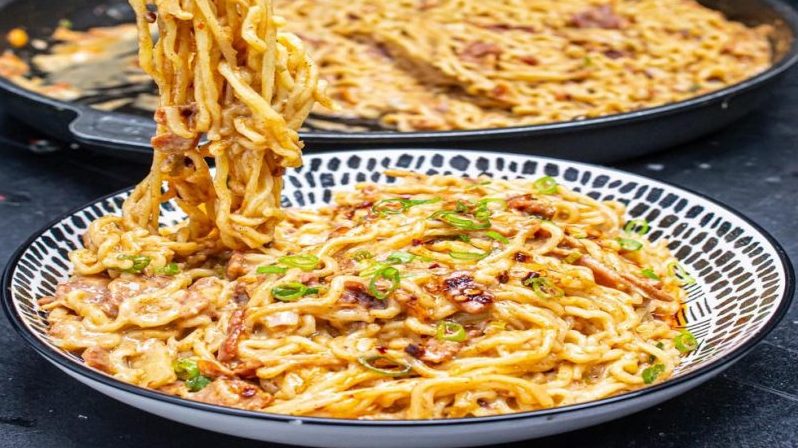 Ingredients
450g smoked bacon
500g packet noodles
2tbsp peanut butter (we use ManiLife)
2tbsp soy sauce
2tbsp chilli oil
2tbsp rice vinegar
1½tsp five-spice
Knob of ginger
10 spring onions
Method
Spoon your peanut butter into a bowl and mix together with your soy sauce, chilli oil, rice vinegar and 2 tablespoons of water until you get a thick, creamy, rich sauce. Then set aside.

Chop your bacon into chunks and fry in a non-stick pan until crispy.

Meanwhile, finely chop your spring onion (setting aside a handful for garnish) and ginger. Add to the pan along with your five-spice for an aromatic kick, then stir together.

In another pan bring your noodles to a boil. Simmer for about 3 minutes then add to your bacony pan. Set some of the noodle water aside.

Next, take your peanut sauce and toss it through the noodles until they are evenly coated – add a splash of the noodle water to loosen it.

Plate up and garnish with a sprinkle of spring onion and a teaspoon of chilli oil then you're ready to dig in.
Chorizo and charred spring onion rigatoni
Grease is one of the most effective means of curing a hangover. For a greasy solution to your hangover then try the chorizo and charred spring onion rigatoni recipe. It's both spicy and creamy.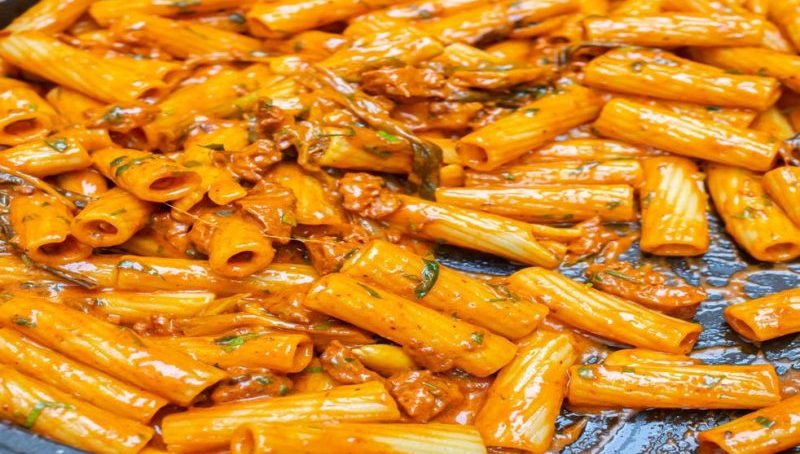 Ingredients
1 chorizo ring
18 spring onions
50g jarred roasted peppers
2tbsp red wine vinegar
1 heaped tbsp tomato purée
2tbsp crème fraîche
450g rigatoni
Bunch of parsley
Salt
Pepper
Method
Start by placing the almonds into a measuring jug and fill it with boiling water. Leave for 5 minutes to loosen the skins.

Peel the skin off the chorizo and roughly break it apart into small chunks. Then chop the spring onions in half.

Add the chorizo into a non-stick frying pan on medium heat without any oil and let the juices render out.

Meanwhile, remove the almonds from the water and peel away the skins.

Once they have all been peeled and the chorizo is beginning to crisp, add the almonds into the pan along with the spring onions and peppers. Fry on a high heat for a couple of minutes until charred.

Pour in the red wine vinegar and mix together.

Add in the tomato purée and stir so that everything is coated.

Whack in the crème fraîche and stir together making it nice and creamy. Once all mixed together, season with salt and pepper and turn it down to a low heat.

Get your pasta on and salt the water. After about 5 minutes of boiling, take ½ a cup of pasta water and add it into the sauce. Mix together to loosen it up then continue to simmer.

Once your pasta is ready, drain and toss it through the sauce.

Finely chop your parsley and whack a handful into the pasta (saving some for garnish). Mix together and you're good to go. Serve it up in bowls and scatter over the leftover parsley. Enjoy!
Recipes
Nigel Slater's recipe for halloumi with pickled slaw
Recipe: Clodagh McKenna's rock buns
Nigel Slater's recipe for beetroot remoulade with blood orange
……………………
FOLLOW US ON SOCIAL MEDIA AND SHARE WTX NEWS WITH YOUR FRIENDS AND FAMILY:
Facebook – Please like our page
Twitter – Twitter updates available in English and Arabic. Please follow us and we would love to hear from you
Instagram – Follow our pages in English and Arabic