Kazakhstan protestors silenced as all forms of communications, the internet including 4G and telephone calls have been turned off in Kazakhstan.
Communications have been turned off in Kazakhstan
In a sweeping move, the communications have been turned off in Kazakhstan.
People trying to connect with their families are in despair, not knowing if they're safe. One user on our WTX News Twitter account said he was trying to contact somebody in Kyzylorda but he couldn't connect with anyone for the last 12 hours.
"I'm in Denmark and have been trying to call my girlfriend who lives in Astana. It sounds like the call is being picked up on the other side after ringing a few times, but all I hear is static noise and then it hangs up after about 30 seconds. I'm feeling so worried and helpless that I can't reach her."
'Dozens' of Kazakhstan protesters killed by police overnight
Russian paratroopers arrive in Kazakhstan as unrest continues
Protestors storm government buildings
The government have switched all forms of communication to stop the protestors from communicating and sharing videos and pictures with the outside world.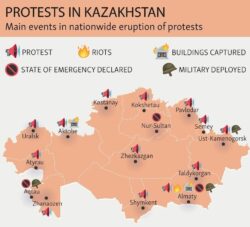 Earlier on Wednesday, protestors storm government buildings and offices in Almaty in order to take control. The police responded by using live rounds and stun grenades to abate the protests.
A map of the civil unrest in Kazakhstan shows the extent of the protests in Kazakhstan and how quickly the protesters have galvanised around the country. and explains why the President requested Russian support so quickly.
Leave a comment