PALESTINE will declare statehood over all of the West Bank and Gaza, with Jerusalem as its capital, and push for global recognition if ISRAEL goes ahead with plans to annex land it occupies, the Palestinian prime minister has said.
Speaking from his office in Ramallah to an audience of foreign media organisations, Mohammad Shtayyeh said that the Palestinian Authority would unilaterally declare an independent state along with the 1967 partitions, with Jerusalem as its capital.
Mohammad Shtayyeh described the possible step pledged by the Israeli leader, Benjamin Netanyahu, as an "existential threat" to a decades-long international effort for Israelis and Palestinians to reach an agreement that establishes two states side by side.
He said Palestine would not continue to wait on statehood just to honour previous agreements made with Israel if it broke them by annexing territory. "It takes two to tango."
'@BernieSanders addresses the thousands of Palestinians & Israelis protesting in Tel Aviv against Israeli annexation of occupied Palestinian territory: "The plans to illegally annex any part of the West Bank must be stopped. The occupation must be ended". pic.twitter.com/r2ALQnelCL

— Joseph Willits (@josephwillits) June 6, 2020
"If Israel is going to annex after July 1st, we are going to go from the interim period of the Palestinian Authority into the manifestation of a state on the ground. That is where we will be heading in the next phase. This authority cannot continue to be an authority without any authority," Mr Shtayyeh said.
Shtayyeh said he was leading a concerted push to gather diplomatic pressure against Israel and wanted world powers to threaten sanctions on Netanyahu's government so that "Israel does not get away with murder".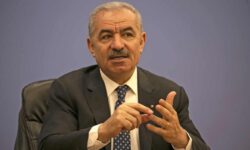 Palestine Recognition
Palestinian leaders have declared statehood in the past, including Yasser Arafat in 1988. In 2012, Palestine gained UN observer state status. However, with the Palestinian territories remaining occupied by Israel, and in the absence of an agreement, there has not been full international recognition.
Shtayyeh, for example, is the prime minister of the Palestinian Authority, a body created in 1994 and intended to be a pre-state interim government.
"The fruits of peace have never actually materialised since the signing of the agreement," Shtayyeh said.
With Israeli forces in control of the Palestinian territories, any declaration of statehood would be largely symbolic. However, Shtayyeh's government might hope that growing international unease over Israel's annexation plans could encourage governments to formally back Palestinian claims.
In a phone conversation last week with James Cleverly, the UK's minister for the Middle East and North Africa, Shtayyeh called on London to recognise Palestine as a state.
Cleverly had told parliament in May that the UK would not support Israeli annexation of parts of the West Bank because it would make a "two-state solution" harder to achieve. The UK has not recognised Palestinian statehood.
Shtayyeh, however, said he was optimistic that European governments would consider recognising Palestine as a response to annexation. "I think the British government and all European governments are really looking at this very seriously. The tone I have heard was very different, too," he said.
PM Benjamin Netanyahu menace, thousands of protesters
Israeli Prime Minister Benjamin Netanyahu has repeatedly threatened to apply Israeli sovereignty to Israeli-Jewish settlements which are within the geographical area of the West Bank.
More than 700,000 Israeli Jews now live in settlements, ranging from small village outposts to large city-like developments, on land allocated to Palestinians as part of the Oslo Peace Accords in 1993. The settlements are considered illegal under international law.
Mr Shtayyeh, educated in the UK and a veteran of the Israeli-Palestinian peace process, said the design of the Oslo Accords was based on a process of "incrementalism" in which the Palestinian areas, including the West Bank and Gaza, would over time become a Palestinian state.
Thousands of Israelis gathered in Tel Aviv Saturday evening to protest Prime Minister Benjamin Netanyahu's pledge to begin annexing parts of the West Bank next month.
Thousands of Israelis chanted "Stop the occupation!" during protests against Israel's annexation of the occupied West Bank.
Hey Indians, when will you chant the slogan "Stop the occupation" to protest India's illegal annexation of Kashmir?
pic.twitter.com/wBaWNoV9oU

— Muhammad Raafi' (@MohammadRaafi) June 7, 2020
The demonstration was organized by the left-wing Meretz party and the communist Hadash faction of the majority-Arab Joint List, along with several other left-wing rights groups.
MK Nitzan Horowitz, the head of Meretz, told the crowd that annexation would be a "war crime" and would cost Israel millions as the economy is already reeling due to the pandemic.
"We cannot replace an occupation of dozens of years with apartheid that will last forever," shouted a hoarse Horowitz. "Yes to two states for two peoples, no to violence and bloodshed," he continued. "No to annexation, yes to peace."
……………………………………………
Leave a comment