Russia gives Ukrainian forces last warning to surrender. Russia has demanded Ukrainian forces still fighting to defend the besieged city of Mariupol lay down their weapons.
The offer comes as Russian forces prepare for the next wave of the 'special operation in Ukraine' focusing on the southeastern city.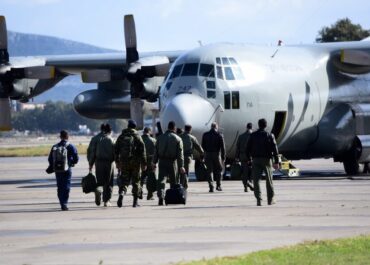 Russia says it will spare the lives of Ukrainian soldiers in Mariupol if they lay down their arms on Sunday morning before 1 pm CET.
Russian state media Ria reported that "without exception" all "Ukrainian armed units and foreign mercenaries" must exit from 6:00 a.m. to 1:00 p.m. Moscow time (same as local time) "without any weapons and ammunition,".
Russia gives Ukrainian forces last warning
Those who do will be treated in line with the Geneva convention on prisoners of war, a statement from Russia's defence ministry said.
The statement, issued hours ago, said Russian forces have been broadcasting details of the deal to their Ukrainian counterparts every 30 minutes overnight.
If they accept, Russia says, Russian forces will raise red flags at 06:00 and Ukrainians should raise white flags around the perimeter of the steelworks.
Ukrainian officials have given no sign that they plan to accept the offer.
The Ukrainian president calls the situation in Mariupol "inhuman," promises to rebuild the nation
In his latest video address to the people of Ukraine, President Volodymyr Zelensky addressed the situation in the besieged port city of Mariupol and promised a better future once hostilities are over.
Zelensky said "the situation in Mariupol remains as severe as possible. Just inhuman." and he promises to rebuild the nation.
"Russia is deliberately trying to destroy everyone who is there in Mariupol," he said.
An estimated 100,000 people remain in Mariupol and its immediate surroundings, which are largely under Russian control, with Ukrainian troops confined to pockets of resistance.
"There are only two ways to influence this," Zelensky said. "Either our partners will give Ukraine all the necessary heavy weapons, planes, and, without exaggeration, immediately… Or a negotiating path, in which the role of partners should also be decisive."
Zelensky said his government has tried every day to end the siege of Mariupol: "Military or diplomatic – anything to save people. But finding this solution is extremely difficult."
Following talks yesterday, Russia gives Ukrainian forces last warning in Maripol. This latest offer by Russian forces at least has the hope that some lives will be saved.
…………………………………………
⚡️🇺🇦 Russian troops set up booby traps in civilians' cars, houses before leaving Kyiv.

Andriy Nebytov, head of Kyiv police, reported a number of incidents that left locals injured & killed at least one person.

Ukraine's new superheroes = Dogs #EUNews #UkraineRussianWar #Kyiv pic.twitter.com/dmKdFTUzPw

— EU NEWS 🇪🇺 (@wtx_EU_news) April 16, 2022