Brief.
Me -
September 27, 2021 2:38 pm
Nasa's Perseverance rover in 'great shape' after Mars landing
BBC News says there's a new robot on the surface of Mars.
NASA has successfully landed its Perseverance rover in a deep crater near the planet's equator called Jezero.
"The good news is the spacecraft, I think, is in great shape," said Matt Wallace, the mission's deputy project manager.
Engineers at Nasa's mission control in California erupted with joy when the confirmation of touchdown came through.
The six-wheeled vehicle will now spend at least the next two years drilling into the local rocks, looking for evidence of past life.
……………….
Vaccine passport plan could help Britons holiday in Greece
The Guardian says restriction-free holidays to Greece could be on the cards for Britons who have been vaccinated, a Greek minister has said.
The Greek tourism minister revealed that his government is in "preliminary discussions" with the UK government over a potential travel agreement for Britons who have been vaccinated.
Speaking on BBC Radio 4's Today programme, Haris Theoharis said he was hoping for a "semi-normal summer" this year.
……………….
Belarus imprisons two journalists for covering anti-Lukashenko protests
France24 says a court in Belarus sentenced a pair of television journalists to two years in prison for covering a protest last year, the first lengthy jail term in a legal crackdown on independent news media.
Standing defiant in a cage, Katerina Bakhvalova, 27, and Daria Chultsova, 23, flashed V for victory signs as they smiled and blew kisses to the courtroom ahead of the verdict.
The two women were detained in November while filming one of the anti-government rallies that swept Belarus after strongman Alexander Lukashenko claimed victory in an August election that the opposition said was rigged.
……………….
US, Europeans urge Iran to keep allowing nuclear inspections
Arab News says top European and US officials are urging Iran to keep allowing UN nuclear inspections to salvage a 2015 deal between Tehran and world powers and to cool global tensions over Iran's atomic ambitions.
The foreign ministers of France, Germany and Britain met in Paris to discuss security in Iran and the region, and US Secretary of State Tony Blinken joined them by videoconference.
The minsters expressed their "shared fundamental security interest in upholding the nuclear non-proliferation regime," Britain said.
……………….
US: Severe cold, power outages in Texas turn deadly
Aljazeera says about 7 million people in Texas have been told to boil their water or stop using it entirely as homeowners, hospitals, and businesses grappled with broken water mains, burst pipes and power outages due to a sustained cold snap that has turned deadly.
Police in Houston, the largest city in Texas, said on Thursday that a woman and a girl died from carbon monoxide poisoning after sitting in a car in a garage with the engine running to keep warm.
Emergency medical authorities around the state also said that dozens of others have been treated for suspected carbon monoxide poisoning.
……………….
Myanmar protests focus on ending junta's economic support
TRT World say State railway workers in Myanmar have continued to strike despite a police rampage the previous night targeting them in a sign of the military junta's concern over growing civil disobedience by public workers protesting the coup.
Three-quarters of the country's civil servants are on strike, all private banks are closed and the protests have weakened the economy significantly, said Tom Andrews, the independent UN human rights expert on Myanmar.
Andrews said the protesters have weakened the economy significantly and are looking for the international community to act.
……………….
Democrats Launch Ambitious Immigration Reform Proposal
TRT World says reforming America's widely criticised immigration system has long eluded U.S. presidents of both parties. Now, with only slim Democratic majorities in both chambers of Congress, President Joe Biden is launching yet another effort to address the legal status of millions of undocumented immigrants, using the momentum of his first 100 days in office.
The effort is championed by some of his top lieutenants on Capitol Hill.
"We have an economic and moral imperative to pass big, bold and inclusive immigration reform that leaves no one behind," Democratic Senator Bob Menendez said Thursday, introducing the 2021 U.S. Citizenship Act.
UK WEATHER FORECAST
SUNRISE 07:07
Sunset 17:25
TODAY
Much of the UK will be cloudy and windy today with outbreaks of rain, these most prolonged over western areas. However, any rain over eastern and southeast England will be patchy.
Global Covid-19 figures
Coronavirus Cases:

110,876,133



Deaths:

2,453,568



UK
Europe
United States
Middle East
Asia
World
Two goals in the final seven minutes earned Rangers victory against Royal Antwerp – Read on
Australian Open: Salisbury & Ram beat Murray & Soares in men's doubles – Read on
Gut-Behrami pips Shiffrin to giant slalom gold – Read onIndia v England: How England can bounce back to win Test series – Read on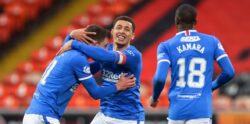 what happened at the capitol? 
On January 6, 2021, a mob of rioters supporting United States President Donald Trump's attempt to overturn his defeat in the 2020 presidential election stormed the U.S. Capitol, breaching security and occupying parts of the building for several hours.
After attending a rally organized by Trump, thousands of his supporters marched down Pennsylvania Avenue before many stormed the United States Capitol in an effort to disrupt the electoral college vote count during a joint session of Congress and prevent the formalization of President-elect Joe Biden's election victory.
After breaching police perimeters, they occupied, vandalized, and ransacked parts of the building for several hours. The insurrection led to the evacuation and lockdown of the Capitol building and five deaths. – Read on
what does brexit mean?
Brexit was the withdrawal of the United Kingdom (UK) from the European Union (EU) and the European Atomic Energy Community (EAEC or Euratom) at the end of 31 January 2020 CET.
To date, the UK is the first and only country formally to leave the EU, after 47 years of membership within the bloc, after having first joined its predecessor, the European Communities (EC), on 1 January 1973.
It continued to participate in the European Union Customs Union and European Single Market during a transition period that ended on 31 December 2020 at 23:00 GMT. – Read on
Finding something interesting ?
Made with Love by 💓 the WTX News Team!​
Leave a comment