A luxury trip to Italy's Amalfi Coast – 12 best things to do  
The Amalfi Coast is one of Italy's most memorable destinations. Here, mountains plunge into the sea in a nail-biting vertical scene of precipitous crags, cliff-clinging abodes and verdant woodland. – Lonely planet 
To say that the Amalfi Coast of Italy is beautiful is something of an understatement. With so many of the best things to do in the Amalfi Coast, you'll be spoilt for choice and will need to prioritise what and how you actually want to see. The Amalfi Coast isn't just one spot. It's a collection of different towns and villages, each of which has its own unique character and appeal. It's one of the top destinations for the rich and famous. 
Sorrento
This is the destination to either start or end on the Amalfi Coast and it's what makes it extremely popular during the summer. It is also beautiful and one of the easiest and best things to do in the Amalfi Coast.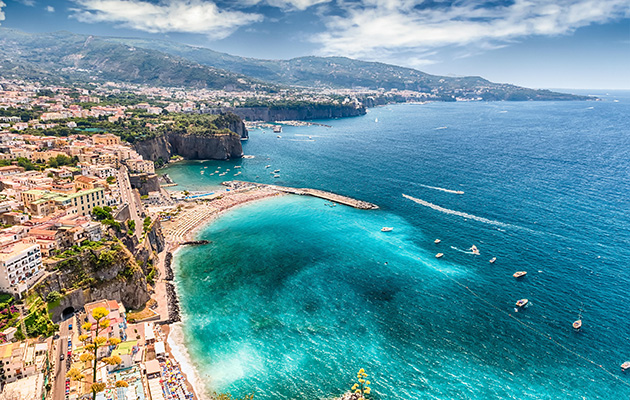 Technically the start/end is actually down at Punta Campanella. But the main roads for driving end around Sorrento and is probably the best option for your start/finish. 
In addition to the views of the ocean, diving, sea fishing and amazing food – it's also the birthplace of Limoncello so even if you're not staying here – be sure to grab a bottle during your visit.
It's pretty here and it's one of the bigger spots to visit here so you can arrive without any solid plans and still have an amazing time. 
Atrani
If you want a break from the busy towns and cities, head over to the beautiful Atrani. It's the ultimate place in the Amalfi Coast to just chill out and relax.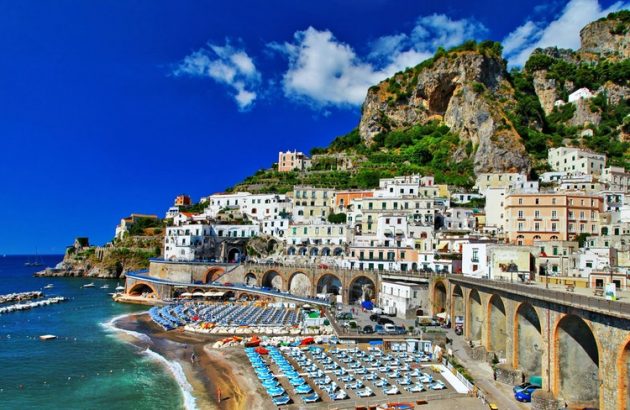 Even though it's close to Amalfi (the town) the vibe here is completely different and much more laidback. 
Now, if you plan to visit, make sure to leave the car behind and explore Atrani on foot. Once here, check out the medieval architecture, eat in one of the many trattorias and head over to the small black sand beach. 
For the best seafood, head to Ristorante Savo. 
Positano
Positano is the quintessential Amalfi Coast village with beautiful views and delightful pastel-coloured houses.
It has a beautiful sandy beach, busy seaside bars and an even busier nightlife and fancy boutiques. It's a spot to splurge a little and treat yourself.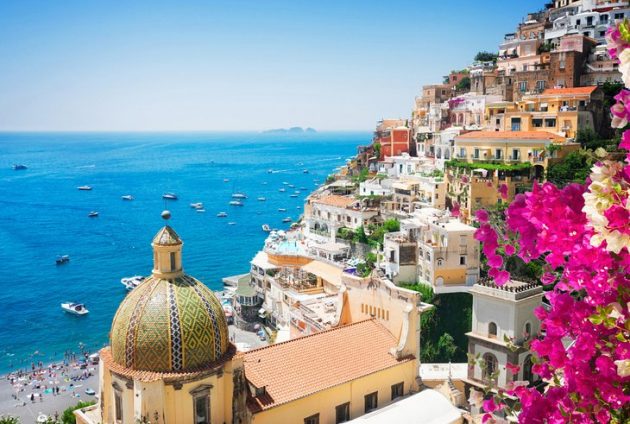 Start by booking a car service from Naples to Positano so you can see the UNESCO-listed ruins of ancient Pompeii on the way.
Be prepared to climb a lot of steps whilst you're here! 
Amalfi
A trip to the Amalfi Coast must include a stopover at Amalfi. It is a beautiful coastal town for you to relax and soak up some sunshine by the famous Marina Grande beach or head to the tiny cove of Santa Croce if the Marina Grande beach is too busy for you.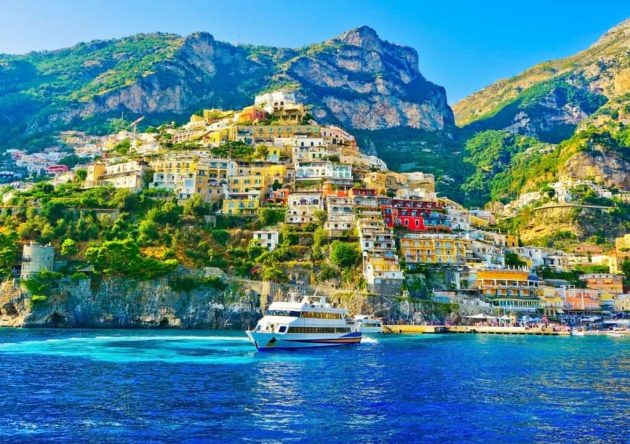 If you're looking for something more to do, head to the spectacular 11th Century Cathedral of Sant' Andrea or spend an afternoon at the Chiostro del Paradiso.
Don't forget to grab an espresso and some homemade cake for the complete Italian experience!
Fiordo di Furore
If you're looking to get away from the crowds, head to Fiordo di Furore, the only fjord in Italy.
This highly photographed beach is typically quiet and absolutely stunning! While not the easiest place to get to (steep stairs), it's definitely worth the effort.
Capri
It's not technically "The Amalfi Coast" however the glamorous and romantic island of Capri is a short day trip from the Amalfi Coast and an absolute must-visit when you're in the area.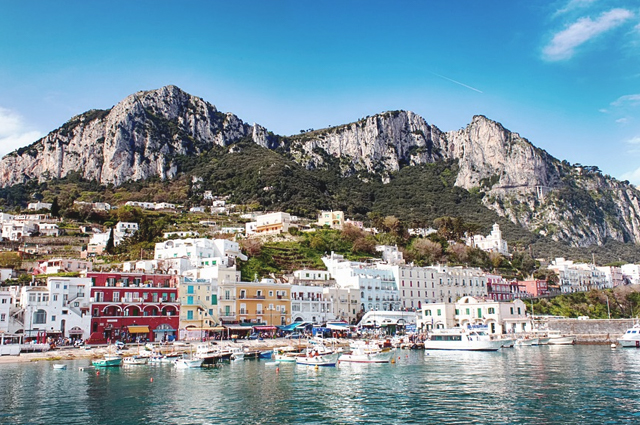 Ravello
Ravello is another one of those spots in the Amalfi Coast that's long been the playground of the rich and famous and it's easy to see why once you're there.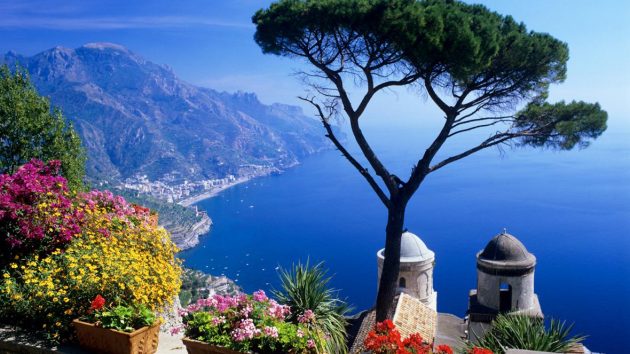 With fantastic views from the Terrace of Infinity, the fascinating gardens of Villa Cimbrone, and the fantastic atmosphere in Piazza del Vescovado, Ravello will easily find its way to the top of your favourite places to visit in Italy.
Praiano
Another more laid back village in the Amalfi coast is Praiano. It was once known for its silk production and a summer hangout of the Amalfi dukes, today it is a beautiful resort town as well as a centre for the arts.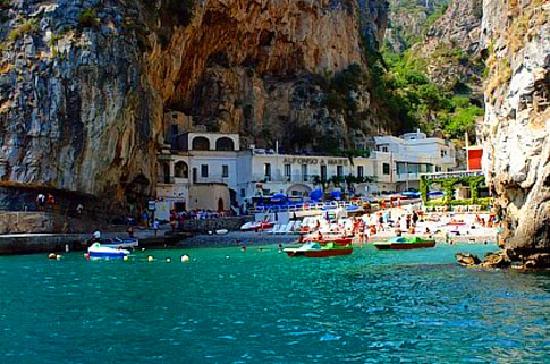 Head to the rocky beach of La Gavitella and take in the amazing views from there. Also, spend some quiet time at the church of Parrocchia Di San Gennaro.
Minori
If you love pasta you will love Minori! Once filled with pasta making factories, Minori, also called the "City of Flavour". Minori is a town and a comune in the province of Salerno, in the Campania region of south-western Italy. And since 1997 it is a UNESCO site and a must-visit during your holiday to the Amalfi coast.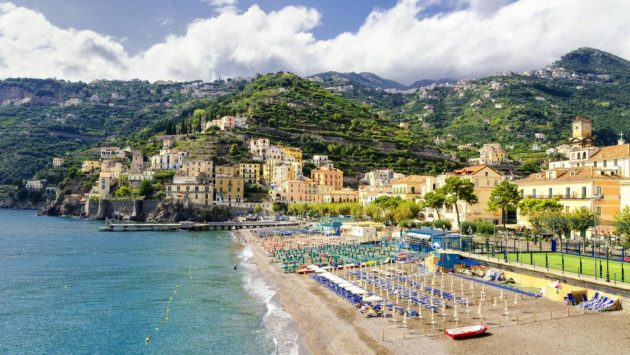 Something about its narrow alleys and old buildings, especially the 1st Century Roman Villa called the Convent of San Nicola (XI) will take you back in time.
Maiori
Maiori is a historic town with tons of character, so much so that Rossellini chose this town as the background for four of his films. Ancient towers, old castles, and amazing churches filled with art.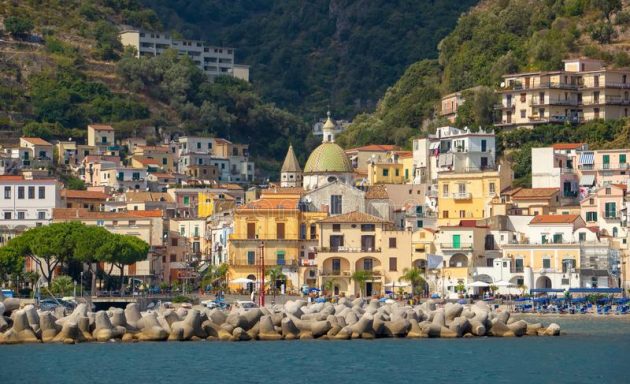 Maiori is also where you will find Amalfi Coast's longest beach and some amazing seafood.
If you're up for a spot of shopping – for souvenirs or otherwise, head to Corso Reginna, the main street which is full of fun, unique boutiques and stores.
Vietri sul Mare
Taking a walk through this town will make you feel like you're in an open-air museum. 
You'll see handmade ceramics everywhere, charming colourful houses, a stunning seashore and a beautiful majolica domed church.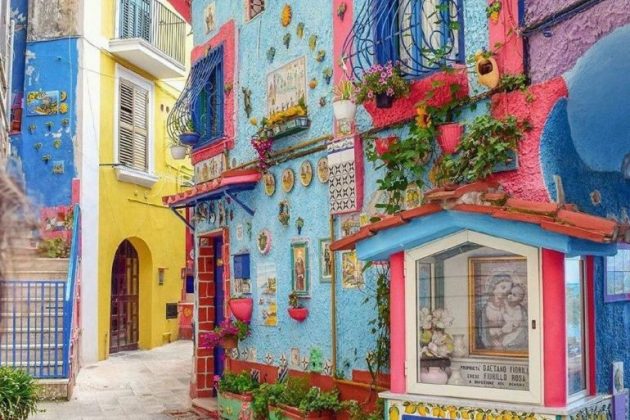 Sentiero degli Dei – 'The path of the Gods'
More popularly known as the "Path of the Gods", your journey to the Amalfi Coast is incomplete without experiencing this fantastic hike. Known for its spectacular views, this hike starts at Agerola and ends at Positano. It is not for the faint of heart but it sure is worth it!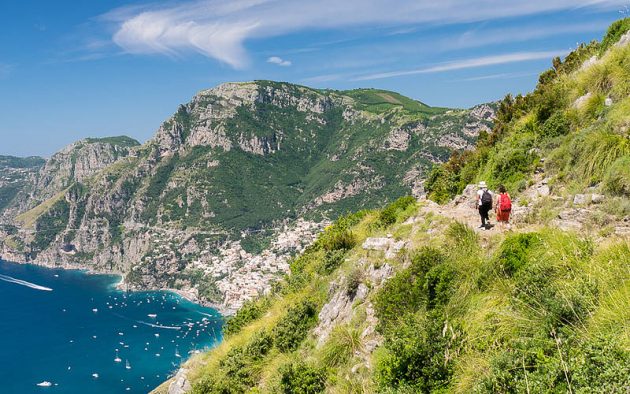 Afterwards, take a ride over to Cetara, too. Totally stunning. Cetara is a town and comune in the province of Salerno in the Campania region of south-western Italy. It is located in the same territory as the Amalfi Coast but has its own unique take on jaw-dropping scenic beauty. 
HOW TO GET TO AMALFI COAST
AIRPORT
The nearest airport is in Naples, Naples International Airport or Aeroporto Internazionale di Napoli which is approximately 60km from the Amalfi coast. Bari International Airport, Karol Wojtyla in Bari, named after the Polish Pope Karol Wojtyla, is the next closest but is at least a good three hours drive away.
AIRLINES FROM THE UK
British Airways flies direct to Naples. At the moment a lot of airlines are running skeleton schedules due to the pandemic but once the travel corridors are back up and operational, you will be able to catch a flight from one of London airports direct to Naples at a fraction of the price. 
– Pro Culture Tip
Additionally, you can travel to Bari which is the port city on the Adriatic Sea, and the capital of southern Italy's Puglia region. It is a 3-hour drive to the Amalfi coast but the drive itself is a stunning tour through the terrain of southern Italy. where you will pass through many idyllic villages and towns and experience Italian culture at its finest. If you really really wanted to, you could stop a few nights in Bari as well. #Justsaying – but that's what we would do.
TRAVELLING BY CAR
Amalfi Cars is a trustworthy and reputable car service based in Amalfi that offers airport transfers as well as being on-call to drive visitors around the surrounding areas, including Pompei, Positano, Siena, Portofino and Venice, in comfortable, air-conditioned cars. You can save lots of money by booking these in advance and if you have any Italian friends or can speak Italian ring the company directly and you will get a much better deal.
Luxury News
The ridiculous $1.4k luxury necklace, that looks like a telephone cord
10 Luxury brands skipping Fashion week
7 Ridiculous luxury items that actually exist 
……………………
FOLLOW US ON SOCIAL MEDIA AND SHARE WTX NEWS WITH YOUR FRIENDS AND FAMILY:
Facebook – Please like our page
Twitter – Twitter updates available in English and Arabic. Please follow us and we would love to hear from you
Instagram – Follow our pages in English and Arabic
Leave a comment