Another weekend of Premier League football, another Monday round-up! This weekend saw, mostly, closely contested fixtures that could end up being the difference for certain sides, especially those in the relegation battle.
Manchester City win – again
Saturday's Premier League kicked off with a great game between the runaway Manchester City and surprise top-4 hopefuls, West Ham United. Although this win meant City have now won 20 games in a row in all competitions, it wasn't their easiest win, with Pep Guardiola even admitting "we were lucky to get all three points".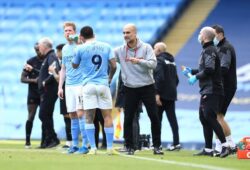 Whilst this is a huge compliment to David Moyes and his tough West Ham side, personally, I think it shows just how good City have been this season – even if they didn't play at their best. And that's what is so good about this City team. Even if they have off-days where they don't look as sharp as usual, they could still beat any team in the Premier League right now.
Sam Wallace from The Telegraph describes them perfectly – "the unstoppable force, determined to end the Premier League title race before Easter". I mean really, who is going to stop them? A weakened Liverpool? An inconsistent Tottenham? We may as well hand them the Premier League title already.
⭐ John Stones has scored 4 goals in all competitions this season, a new career best total in a single campaign. He's unbeaten in his previous 25 starts for Man City (W23 D2) dating back to December 2019 pic.twitter.com/YbRC8h8v7k

— Sky Sports Statto (@SkySportsStatto) February 27, 2021
Dodgy VAR and even worse refereeing
Saturday also saw more VAR controversy (pretends to act surprised) when Brighton's Lewis Dunk had his free-kick disallowed, then allowed… Then disallowed again.
Oh yes, as if VAR wasn't already ruffling enough feathers this season, this moment of madness from the West Brom vs Brighton game took all the headlines.
Supposedly, Dunk asked referee Lee Mason if he could take his free-kick early, to which he was allowed. However, as Mason blows his whistle and Dunk quickly takes the free-kick, before the ball goes into the net, Mason blew his whistle again as he noticed West Brom's keeper Sam Johnstone wasn't ready.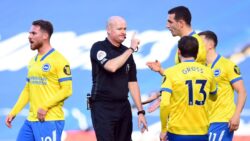 Sky Sports Soccer Saturday host Jeff Stelling said "this is a shambles. Lee Mason, what have you done?" before adding "this is a total, utter, shameful, disgraceful, piece of nonsense!"
Whilst I do feel somewhat sorry for Lee Mason considering all the abuse he was getting on social media as well as from pundits on TV, I have to agree with Stelling. You cannot be making this sort of mistake at a professional level, especially in the Premier League of all places. As a professional referee, he should have noticed that Johnstone wasn't ready, and even then, he shouldn't have given the goal if he wasn't sure whether he blew his whistle or not!?
"Why is VAR even involved, does Lee Mason not have control of his own mouth?" 🤨

"So are we saying that we need a camera to see if Lee Mason, a grown man, has blown a whistle?" 😳

We're as confused as you are 🥴 pic.twitter.com/TNEQTce3S6

— BT Sport Score (@btsportscore) February 27, 2021
The best Gareth Bale we've seen?
Sunday's Premier League action included Tottenham Hotspur's absolute demolition of Sean Dyche's Burnley in a comfortable 4-0 win that saw Real Madrid loanee Gareth Bale score twice.
Whilst there was no doubt that Bale played exceptionally well – arguably his best performance since returning to Tottenham on loan – José Mourinho went one step further, claiming that "he is better than ever". Uhh, you sure about that one José?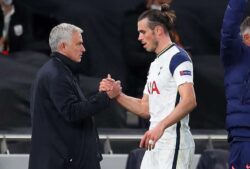 The self-branded 'Special One' seems to be forgetting about the Gareth Bale that was scoring screamers for fun in his last season during his first Spurs stint – the form that was so good that Real Madrid signed him? Or maybe he's forgetting about the Gareth Bale that scored that memorable goal against Barcelona in the Copa Del Rey, where he blitzed Marc Bartra on the wing before a calm and composed finish won Madrid – missing Cristiano Ronaldo that match – the game?
Despite being an Arsenal fan, I did feel sorry for Bale at Real Madrid and it does make me happy for him to see him scoring again. I just wish it wasn't for Tottenham.
Four goals and three assists in his last four games.

Gareth Bale is showing signs of his best 💪 pic.twitter.com/PdaiCEzrbe

— B/R Football (@brfootball) February 28, 2021
Are Chelsea one consistent striker away from contending?
Usually, when you see a Super Sunday game between Chelsea and Manchester United, you'll make sure you can watch it regardless of where you are. However, it seems those who missed the game were the lucky ones after all.
0-0. Both sides had over 10 shots each and it finished 0-0. Although Chelsea are still unbeaten in all 9 games under Thomas Tuchel with increased possession per game as well as a better defensive record, there's still one area that is troubling Tuchel.
That problem? Scoring goals. As Sky Sport's Nick Wright mentions, Chelsea's scoring rate, expected goals and shots on target have all decreased since Tuchel overtook Lampard as manager.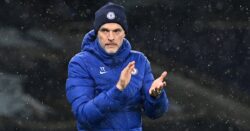 In fairness to Tuchel, Chelsea's strikers have been struggling all season, regardless of who is in charge. Timo Werner has yet to replicate the form he showcased at RB Leipzig, plus he's playing more on the left side now rather than up front. Tammy Abraham is wildly inconsistent, even being pulled off at half-time twice now under Tuchel. And Oliver Giroud is 34 and out of contract in the summer.
Nonetheless, everywhere else for Chelsea under Tuchel has looked solid, so there's no doubt a world-class striker will be on the top of their wish list this summer. But who will they go for? One thing is certain – they'll definitely have the money to buy whoever they want.
Thomas Tuchel is the first Chelsea manager to not concede a single goal in his opening four Premier League home games.

Not even José Mourinho managed it. 🤯 pic.twitter.com/tolCiJ6thw

— William Hill (@WilliamHill) February 28, 2021
Summary of Sunday's Premier League results – Gunners, Foxes, Palace, Cottagers
Saturday's Premier League results – City, Hammers, Baggies, Seagulls
Leave a comment