Liverpool Football Club are Premier League champions.
Following Chelsea's 2-1 victory over Manchester City, Liverpool FC have won their first league title in 30 years.
Jürgen Klopp had a simple yet emphatic message after Liverpool clinched the Premier League title on Thursday night: 'This is for you.'
Tell the world…

We are Liverpool, champions of England. pic.twitter.com/altgWn1Wda

— Liverpool FC (@LFC) June 25, 2020
And now you're gonna believe us…… ❤️ pic.twitter.com/rKwseNvmZR

— Jordan Henderson (@JHenderson) June 25, 2020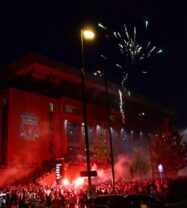 CHAMPIONS! 🏆😎 pic.twitter.com/VHTukA8lx0

— Virgil van Dijk (@VirgilvDijk) June 25, 2020
Absolute scenes at Anfield. ❤️ pic.twitter.com/5B7PwB0l5L

— Scouser Chris (@ScouserChrisLFC) June 25, 2020
30 years Reds! Let's enjoy it! 🏆 Honoured to be part of this team & this club #ynwa #champions#cantwaittocelebratetogether pic.twitter.com/wNbptyIcJw

— James Milner (@JamesMilner) June 25, 2020
At the end of a storm, there's a golden sky.. We did it!! Dreams do come true.. pic.twitter.com/9tBvflkHEM

— Virgil van Dijk (@VirgilvDijk) June 25, 2020
As the final whistle goes at Stamford Bridge the Liverpool players go wild in celebration, knowing their long-awaited wait is finally over.
In an unprecedented campaign, the club has claimed the championship earlier than any other side in Premier League history, doing so with seven games still to be contested.
The Reds equalled a top-flight record of 18 successive victories – and also set a new landmark for the number of consecutive league home triumphs, with the win against Palace their 23rd in a row.
Their record for the season so far stands at 86 points accumulated after 31 matches played, with 28 wins, two draws and one defeat.
https://twitter.com/SamanthaQuek/status/1276263410053926913
Jordan Henderson describing what it will it mean to you to lift the Premier League trophy?
"I could never in words describe the feeling of winning the Premier League, just like I couldn't describe winning the Champions League. It's a unique feeling and one that, again, I'm very proud of. I've been so honoured to be part of this football club right from the first moment that I came and to go on the journey to be with this manager, this group of players, these fans – it's been so special."
It is the first time the Reds have won the Premier League and their first top-flight title since 1990.
Congratulations to all at Liverpool FC on winning the Premier League.
……………………………………….
Leave a comment