Anti-government protesters in Pakistan blocked major roads and highways across the country on Thursday in a bid to force Prime Minister Imran Khan to resign.
Thousands of demonstrators joined a sit-in in Islamabad on Oct. 31 and camped there for about two weeks. And again, the anti-Government protestors have rallied for a second time, blocking major roads around the country. They are adamant and want The PM 'Imran Khan out'
The demonstrators — led by the leader of opposition party Jamiat-e-Ulema-e-Islam (JUI-F), Maulana Fazlur Rehman — have taken to the streets as the start of their "Plan B" to topple the government and ensure a general election after failing to push Khan out through a fortnight-long sit-in in Islamabad, which ended on Wednesday.
That same day, Rehman told his party workers to spread their protests to other parts of the country.
Former minister and JUI-F leader Asif Iqbal Daudzai told Dawn that the highway blockades would continue until party chief Maulana Fazlur Rehman issued new orders.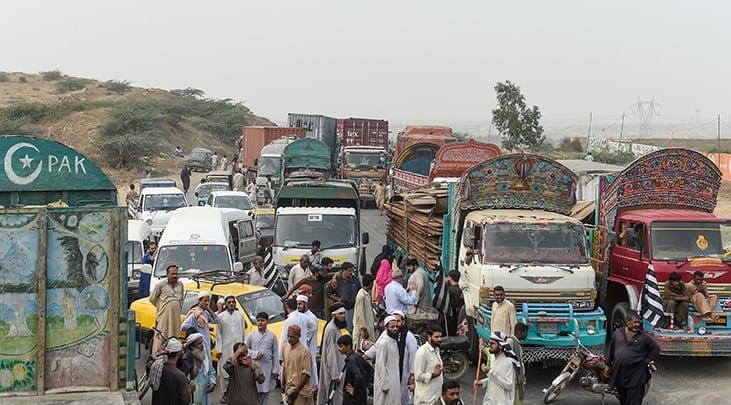 The JUI-F protesters also blocked other key routes in KP and a major highway connecting the provinces of Sindh and Balochistan. The party's Balochistan chapter also announced its intention to block the highway connecting Pakistan to neighbouring Iran.
PTI Party offered JUI-F leader a deal
Jamiat Ulema-e-Islam-Fazl (JUI-F) chief Maulana Fazlur Rehman ended his Islamabad dharna protest after arriving at an 'understanding' with the government, claimed Punjab Assembly Speaker Chaudhry Pervaiz Elahi on Friday.
In response to a question about the details of the 'understanding', Elahi said that he could not discuss details.
"Whatever we gave to Maulana Fazl is a 'trust' between us and him," he said. "I cannot betray that trust."
He did disclose that Fazl had accepted one demand of the government's negotiating team–to leave the capital without advancing. But since then PTI have failed to deliver on the deal and the JUI-F leader has moved onto plan B.
Pakistan in Deepwater
The JUI-F and other opposition parties have been trying to capitalize on the anger and frustration of the public against the Pakistan Tehreek-e-Insaf ruling party, which came to power last year promising 10 million new jobs for the youth, 5 million low-cost houses, and economic reforms to benefit the middle class.
Since then, Pakistan's economy has nosedived, witnessing double-digit inflation and rampant unemployment. The government signed a $6-billion bailout deal with the International Monetary Fund to stave off a balance-of-payments crisis.
Rehman is a veteran politician who was a member of the National Assembly for 20 years. He enjoys support in religious circles across the country. His party has yet to share a detailed plan regarding which roads will be closed when, or how long this new phase of protests will continue.
PTI official released a statement saying the government was closely monitoring the JUI-F protest and it, too, had the Plan A and Plan B regarding protests.
PTI officials are far too aware the power these demonstrations hold as Imran Khan-led multiple sit-ins and disruptive demonstrations in the Capital, Islamabad as well as other major cities around the country.
These are troubling times for Imran Khan, advisors close to him have suggested that he is beginning to realise that leading a country is much more difficult than captaining the national cricket team.
………………………………………..
FOLLOW US ON SOCIAL MEDIA AND SHARE WTX NEWS  WITH YOUR FRIENDS AND FAMILY:
Facebook – Please like our page
Twitter  – Twitter updates available in English and Arabic. Please follow us and we would love to hear from you
Instagram – Follow our pages in English and Arabic
Leave a comment