Why the 2020 loungewear trend leaves plus-size women out in the cold
By mid-2020, when the first six months of the year completely exhausted us, writer Amanda Richards asked "Who gets to be trendy?" in an essay for InStyle. Richards outlines how the perceived value of an outfit changes depending on who's wearing it. She argues specifically plus-size women are more likely to be criticised for wearing the same trendy outfit as a thin person who would be praised for it. 

2020's biggest fashion trend (or anti-fashion trend) is sweatpants, athleisure and all-around loungewear. So who gets to be comfortable? Loungewear plus size is virtually unheard of.
Speaking to Coveteur, Nicolette Mason, a brand strategist said: "Who is allowed to relax? Who is allowed to participate in self-care? Or who, by doing that, is perceived as lazy? When it comes to casual style, there's a bit of respectability politics at play."
"It's the way that some girls can wear a tank top and sweats and it's their 'off-duty look' and people think it's #fashiongoals, but if I'm wearing that same outfit, I'm described and perceived as sloppy," she added. 
She recalled one of the cruellest comments she's ever received after posting a picture of herself in a dressy outfit. 
"The basic sentiment was 'It's so crazy that you dress up like this all the time. You should just stick to sweatpants or something that doesn't have a waistband'. It's a damned-if-you-do or damned-if-you-don't," Mason said.
Adding it's not just that specific incident, but is a common theme that plus-size bodies are up for discussion — and criticism — for simply existing. 
"Either I dress up, and I'm apparently trying to distract people from the fact that I'm fat, or if I just wear the sweatpants, then I'm not put together and put no effort in or I'm a slob or lazy," Mason says. "All of these are stereotypes that people attribute to fat people, plus-size people. There just isn't the same leeway with plus-size people when it comes to style because people are going to project their attitudes onto them the majority of the time."
Stylish plus size loungewear doesn't exist
In her InStyle article, Richards explains it's not just an aesthetic thing. 
 "I don't think plus-size women are permitted the virtue of doing anything without being ridiculed or chastised or even silently criticized," she says. "For a long time, I performed femininity way more than I wanted to because I felt like all the traditional fashion indicators of femininity—belt it at the waist, create a slimline, wear a dress in an unassuming colour because you're already big—could make a larger body acceptable to the world."
But loungewear – all of it – bunks some of those indicators of femininity, it usually doesn't hug your curves or give you those clean lines.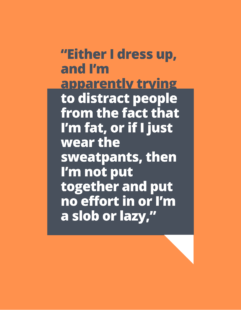 Recounting a story of a plus-size woman wearing sports clothes to walk her dog, @yrfatfriend tells the story of when "a stranger called out across the street, 'Good job, you'll get there!'" Assuming that all plus-size women and trying – and failing – to lose weight. 
Beyond the criticism, the clothing lines do not exist. It's difficult to find cute and quality loungewear like sweatpants, oversized tees and hoodies, bike shorts, crewneck sweatshirts anywhere other than the men's department.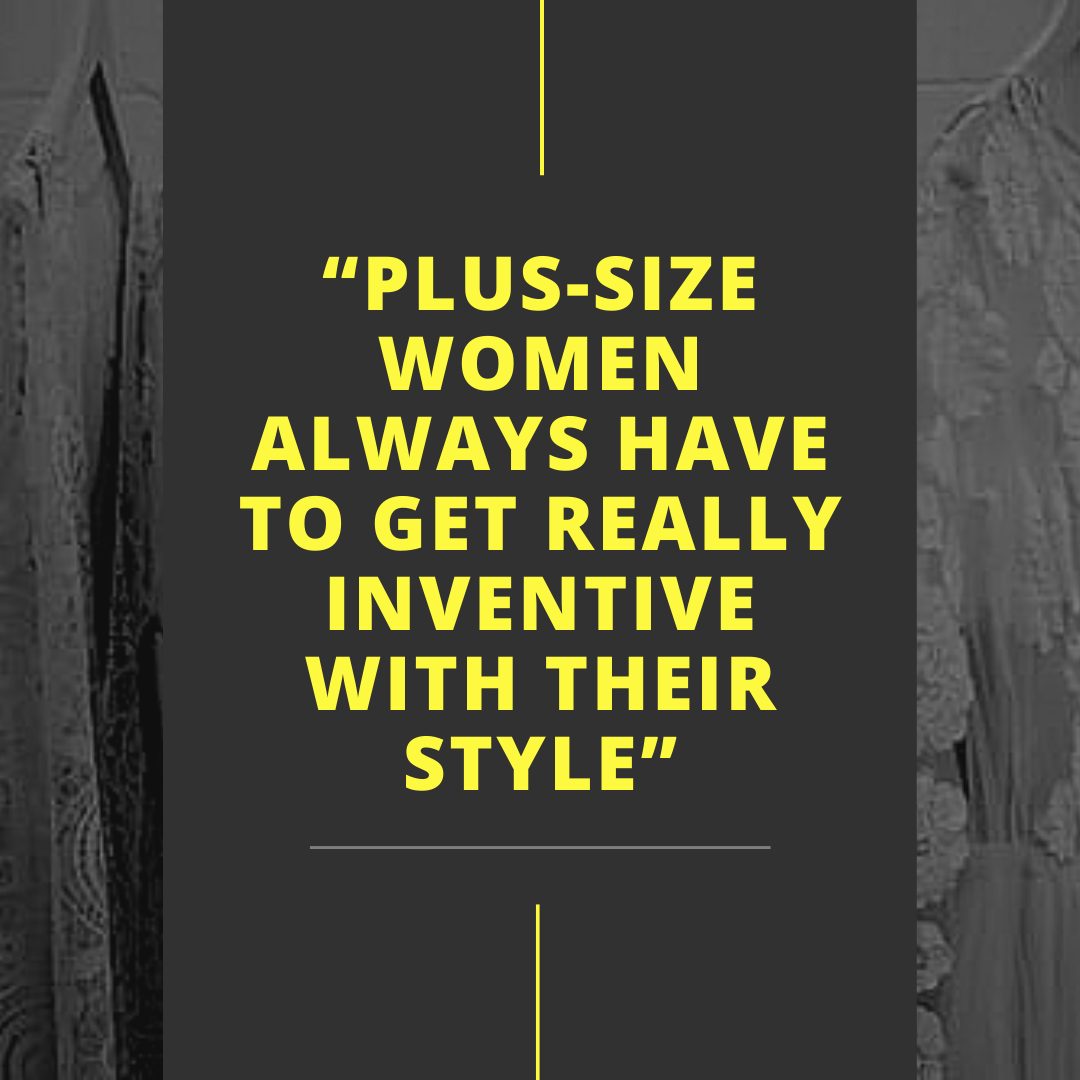 Cool-girl brand Pangaia – who's cult-fav sweats are only stocked in sizes between XXS to 2XL – currently only has 11 of more than 100 women's styles available in 2XL. 
 "We are currently working on increasing our size range across all products—for now, some of our products are XS-XL and others are XXS–XXL," the brand said in a statement to Coveteur. "This is a work in progress, and the aim is definitely to have more inclusive sizing moving forward."
"Plus-size women always have to get really inventive with their style," says Richards, who says that most plus-size clothing is hyperfeminine and certainly not on-trend for the current season. "They have to shop men's or thrift and basically just game the system to present the way they want to—especially if their style isn't super feminine or girly. The contemporary, feminine, luxe stuff exists now, and that's great, but good basics that are on-trend and fit the vibe are so hard to find. It's a challenge."

Universal standard loungewear
Universal standard loungewear? I think not. The lack of a universal size chart for all brands remains an issue – especially as consumers switch from in-person to online shopping. 
"Some brands say they go up to 7X, but when you look at the measurements, it's really much smaller," says brand consultant and content creator Kellie Brown, who founded her own line of merch after seeing a severe hole in the market for loungewear. 
She says fatphobia "absolutely" affected her style as a twentysomething navigating the world as "the biggest girl" in her friend group. "If we went out and everyone said they weren't getting dressed up, I'd do what they did and put my hair in a bun, put on some sweats-like clothing, and I'd look in the mirror and feel like shit. I'd feel not cute and not like myself. When you're bigger, you always have something to prove, so I would always make small adjustments to feel like me, and my friends would ask why I always had to look so good, and I would say, 'Honestly, I'd just rather [wear] cute stuff.'"

But there's a problem. There were no cute lounge clothes plus size for her to buy.  "The reason that I don't wear casual plus-size clothes is because they don't exist," she says, recalling a grey tracksuit from Mason's brand Premme which was sunset in 2019. "I don't want a batwing-sleeve sweatshirt, I don't want something with a cheesy saying like 'You Go Girl.' I want to wear the same cool sweatshirt that my thin friends would want to, but no investor believes that anyone above a size 12 has any desire to look cute or any money to spend on fashion. Even though the numbers say opposite, they can't get out of their own bias."

"I don't think every brand should or [should] have to make plus sizes because I don't want to pressure a brand to cater to people who look like me if they don't care about us," Mason says. "To care about it means to really do it well and pay attention to fit and invest in grading, not just doing it because people are pressuring. Unfortunately, when brands just succumb to pressure, they don't invest in developing and marketing it properly."
Plus-size models
"There was a period of time that any time a designer sent a relatively chunky girl down the runway wearing a body con, everyone was like, 'YES, this designer is committed to inclusivity!' It was such an echo chamber," Richards says.
 "It's an interesting paradox because when we put plus-size celebrities on covers when we think about how plus-size women are supposed to dress, we ultimately just think they should cover up in big coats, so you'd think the fall runway would have a lot more plus-size women. But to give plus-size women attention for being visible, it has to be sexualized; it has to be something that shows off their body because that's the radical act. But really, the next iteration of this thought is to put amazing clothing on plus-size bodies and have it have nothing to do with the body itself. Put me in an impeccably tailored coat, and send me on my way—who cares if you can't see that I have curves?"
Brown agrees, noting that plus-size celebrities are often posed half-naked in editorials: "Where's the fashion? It was all very salacious and performative, very 'look at this juicy body' and pushing the idea that a larger body can be sexy, rather than pushing the idea of fashion, which is just about the clothes."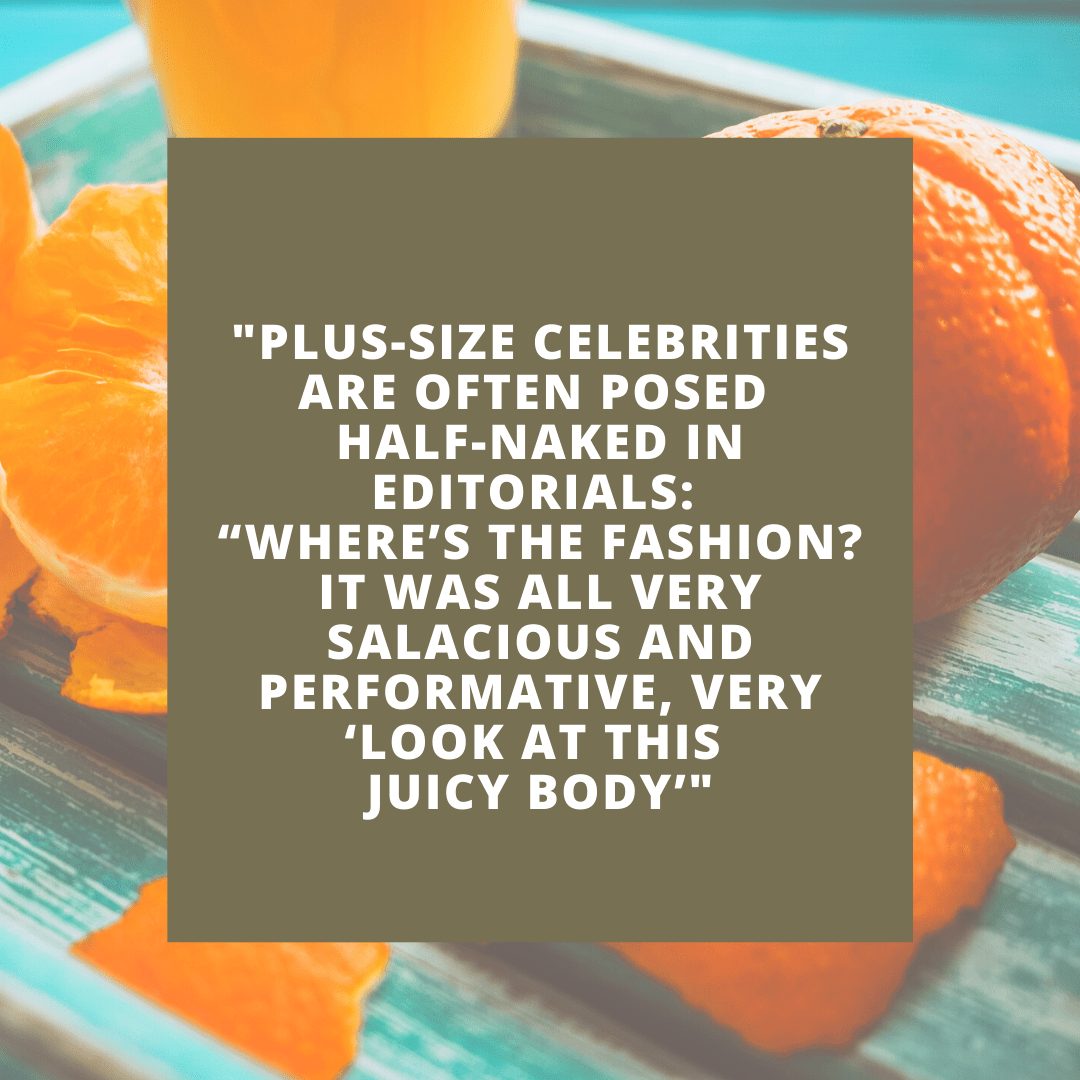 Mason likes brands like ASOS and Fabletics, she says they offer some great plus size activewear however there's no real consensus across the board. 
"The clothes I really want to wear all the time are Nanushka and Cult Gaia, so if I were 100 per cent dressing for myself, it would also mean having those pieces available in my size. There are a lot of barriers to self-expression."
Richards says that there aren't really any brands getting it right and notes the destructive effects fashion has on the environment and humanity. 
"But there could be more brands that are doing it proudly and unapologetically with quality in mind. Our job as consumers, and an underserved community, [is that] we can't ever rest on our laurels that a brand got it right. Fashion needs to do better for everyone."
……………………
FOLLOW US ON SOCIAL MEDIA AND SHARE WTX NEWS WITH YOUR FRIENDS AND FAMILY:
Facebook – Please like our page
Twitter – Twitter updates available in English and Arabic. Please follow us and we would love to hear from you
Instagram – Follow our pages in English and Arabic
Leave a comment