Gal Gadot, the Wonder Woman star has become involved in a row with Israel's Prime Minister Benjamin Netanyahu over the status of the country's Arab minority.
"Love your neighbour as yourself," the Israeli actress said, amid wrangling over the role of Israeli Arab parties in upcoming polls.
"Wonder Woman" actress Gal Gadot is defending a fellow Israeli celebrity in a clash with Prime Minister Benjamin Netanyahu. Gadot stood in solidarity with Rotem Sela, one of Israel's top models and TV hosts, after she was criticized by the prime minister.
In a call for equality with a fiery Instagram post on Saturday, Sela criticised Netanyahu's party. Her post came after Miri Regev, a top minister for Netanyahu's Likud party, said in an interview that if Netanyahu loses the election, his main challenger, Benny Gantz, will rely on Arabs to form a government.
"When the hell will someone in this government let the Israeli public know that this is a country for all its citizens and that every person is born equal. And also, that the Arabs are human beings," Sela wrote.
Mr Netanyahu caused a stir when he cited a "nation-state" law and responded to the star on Facebook shortly after, writing in part: "Dear Rotem Sela, I read what you wrote earlier. First of all, an important correction: Israel is not a country for all of its citizens. According to the law that we passed Israel is the national state of the Jewish people solely.
The Wonder Woman star defended the comments posted by Sela, who is reported to be a close friend.
"This isn't a matter of right or left. Jew or Arab. Secular or religious," she told her 28.3m followers on Instagram.
"It's a matter of dialogue, of dialogue for peace and equality and of our tolerance of one towards the other."
Netanyahu has continually warned that his opponents will receive the support of Arab parties and that they will make significant concessions to the Palestinians.
Netanyahu, under threat of indictment for corruption, is facing a tough challenge from a centrist political alliance led by former military chief of staff Benny Gantz and ex-finance minister Yair Lapid.
Palestinian Arabs, lived in Isreal long before Israel was created. Approximately 250,000 Palestinians still remain after the State of Israel was created in 1948, but have long complained of being treated as second-class citizens, violently abused and kidnapped by Mossad intelligence when the tensiosn rise in Gaza.
………………………………………………………….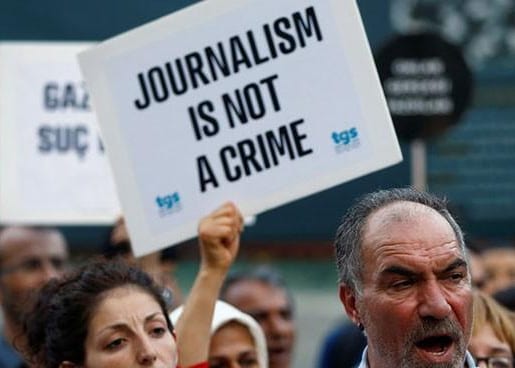 World Press Freedom – Support our free Journalism with a one-off donation – People like you make WTX possible – Thank you!
World Press Freedom Day being observed today – Support WTX News and others who work night and day to bring you the most compelling news stories like the Khashoggi murder, which we broke in the UK!
Leave a comment