Sean Connery the Scottish actor who played James Bond dies aged 90.
He was largely regarded as being the best actor to have played 007 in the long-running franchise, often being named as such in polls. 
The Edinburgh-born actor's career spanned decades and his awards including an Oscar, two Baftas and three Golden Globes.
His Oscar came in 1988 when he was named best supporting actor for his role as an Irish cop in The Untouchables.
His acting career spanned decades and his many awards including an Oscar, two Bafta awards and three Golden Globes. 
Sir Sean's other films included The Hunt for Red October, Indiana Jones and the Last Crusade and The Rock.
Born in 1930, Sean was the son of Joe, a truck driver, and Euphemia, a laundress.
2020 claims another. Rest in peace, Sean Connery. A great Bond.

— Justin Rowland (@RowlandRIVALS) October 31, 2020
Here are some of the most memorable lines from his movies
"Bond. James Bond."
—Dr. No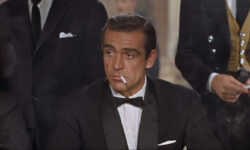 "You wanna get Capone? Here's how you get him. He pulls a knife, you pull a gun. He sends one of yours to the hospital, you send one of his to the morgue. That's the Chicago way. And that's how you get Capone!"
—The Untouchables
 "My dear girl, there are some things that just aren't done, such as drinking Dom Perignon '53 above the temperature of 38 degrees Fahrenheit. That's just as bad as listening to the Beatles without earmuffs!"
—Goldfinger
"The things I do for England."
—You Only Live Twice
"- Indiana Jones: How did you know she was a Nazi?
– Professor Henry Jones: She talks in her sleep."
—Indian Jones 
"There are laws that enslave men, and laws that set them free."
—King Arthur 
RIP Sir Sean Connery, 90.
The first James Bond.
The best James Bond.
What sad news. pic.twitter.com/nT3Cx4oShv

— Piers Morgan (@piersmorgan) October 31, 2020
The Scottish superstar retired from acting in 2006, and from public life entirely in 2011.
Not seen out in public for three years, Mr Connery became a virtual recluse, determined to have nothing to do with showbusiness or the fictional spy who made him both rich and famous.
He was a champion bodybuilder and it was once reported that legendary Manchester United manager Sir Matt Busby once offered him a football contract. But Sean Connery chose acting, and defined the role of James Bond. RIP 007.
……….
Leave a comment