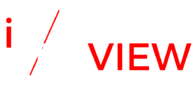 Floods, fires and heatwaves
The United States has so far this year faced some truly extreme climate-related catastrophes, including raging floods, devastating fires, thunderstorms and a seriously dangerous heatwave that has affected a third of the population. 
"A series of slow-motion disasters has gripped the country as it enters summer, with warnings of misery for months to come in some areas."
So far, an estimated 120 million people – roughly one-third of the US population, were under some sort of advisory this week as the heat wave scorched the Upper Midwest and the Southeast. 
"A dome of high pressure is expected to generate well-above-normal to record-breaking temperatures across the region both today and tomorrow," with heat indices "well into the triple digits in many locations," the National Weather Service said.
Parts of Indiana, Kentucky and Ohio were warned to expect the mercury to reach 43 Celsius.
NWS meteorologist Alex Lamers said the high-pressure dome was sparking extreme events around its periphery.
"A lot of times you get a pretty big heatwave and if you look around the edges of that you'll see thunderstorms and tornadoes, flash flooding, extreme rainfall," he told the AFP news agency.
Raging storms – flooding, roads swept away 
Violent storms were seen across the Midwest on Monday when the heat dome's northern edge, where high temperatures collided with colder air, created some raging storms. 
The storms left hundreds of thousands without power as they tore through the Midwest. 
That cold front was expected to bring more unsettled weather, with hail and damaging winds forecast.
The historic Yellowstone – America's oldest national park – was hit with record rain causing flooding and mudslides, which swept away roads and cut off the nearby community in the Wyoming state.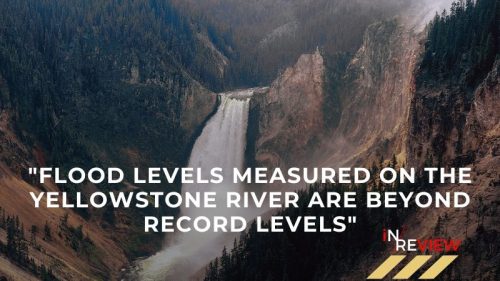 The devastation meant more than 10,000 visitors had to be evacuated and, in a rare move, the park was temporarily closed. 
The park covers parts of Wyoming, Idaho and Montana but the northern section was the most severely affected and is expected to remain closed for the rest of the summer, officials said.
Rangers warned of "extremely hazardous conditions" and told anyone still in the park to get out.
"Flood levels measured on the Yellowstone River are beyond record levels," the NPS said on its website.
"Preliminary assessments show multiple sections of roads throughout the park have been either washed out or covered in mud or rocks, and multiple bridges may be affected."
2022 wildfires 'very tough year ahead' 
In the west of the country, there have been serious warnings about excessive heat for places such as California and Arizona, which have been described as having 'furnace-like' conditions. 
These soaring temperatures as well as a really long drought have only worsened the country's seasonal wildfires.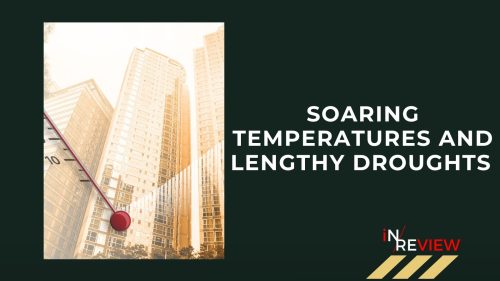 In New Mexico, two huge fires – each of more than 120,000 hectares continued to rage this week. Many other fires have sprung up throughout the western region. Dozens of other fires have sprung up throughout the region.
2022 is set to be an awful year for wildfires according to fire chiefs across the US. 
"Given the fuel conditions, the fire conditions that we're here talking about, I foresee a very tough four, five, six months in front of us," Orange County, California Fire Chief Brian Fennessy said last week.
Wildfires are predicted to increase by a third by 2050. Arizona and California have seen evacuations and structural damage recently as wildfires spread. In Arizona, officials estimate more than 24,000 acres of land have been devastated by wildfires burning in the north. 
Wildfires in Los Angeles saw blazes throughout more than 990 acres and hundreds were evacuated. 
Global heating underlying factor
Lamer, of the National Weather Service, said while it was difficult to conclude the changing climate was behind an individual episode, global heating was an underlying factor.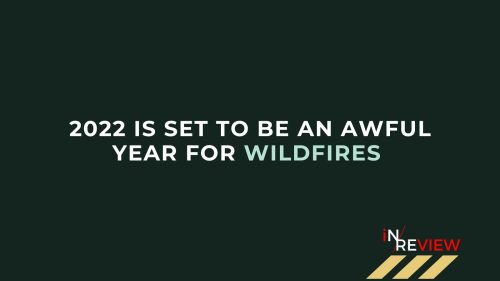 "Any weather event that you're looking, there's some combination of bad luck, the atmosphere has to be set up in a certain way," he said.
"But they all happen in the context of climate, and basically climate change loads the dice and makes more extreme outcomes more likely."
"But they all happen in the context of climate, and basically climate change loads the dice and makes more extreme outcomes more likely."
Millions told stay indoors
Over a third of the US population was urged to stay indoors amid the record-breaking heat this week and experts have warned that these extreme temperatures could become the norm amid the climate crisis. 
The record temperatures combined with humidity is a potential lethal combination and cities across the US are trying to find ways to cope with the killer heat. 
Las Vegas, Nevada saw temperature hit a high of 109F (43C) with the NWS warning the temperatures could rise higher. 
In Denver, Colorado, temperatures passed 100F (38C) – which ties records set in 2013. 
In Phoenix, Arizona, temperatures reached 110F (43C) for four consecutive days. At night the temperatures never dipped below 80F (27C).
In the midwest, government officials are trying their best to provide cooling options for vulnerable people. 
Three women died during last month's heatwave in Chicago – the city has opened cooling centres throughout as temperatures reached 100F (38C) on Tuesday. The city's public libraries were available to residents needing to cool down.
In Detroit, Michigan there are cooling centres available too as temperatures are expected to reach 100F and combined with the humidity it is expected to exacerbate heart-related illnesses. 
At least 14 schools in Minneapolis were forced to give remote lessons due to having no air conditioning, the city is preparing to face temperatures in the high 90s. 
"We've had some prior heatwaves this year but not as intense as this one or as long," said NWS meteorologist Alex Tardy in a video briefing.
Warning that hotter weather will continue into mid-June, Tardy said: "These are significant temperatures and temperatures that are dangerous to everyone if you don't take precautions."
Scientists and experts have repeatedly warned that recurring and intense heat waves could become the norm as the climate crisis intensifies.
"Climate change continues to cause unprecedented stress on California's energy system"
The crullest summer for California yet 
For California, this summer will see the menace of drought and rising temperatures threatening to derail the return to normal.
2022's extraordinarily dry, warm weather is stoking fears of a multitude of problems: increasing water restrictions, extreme heat, blackouts, wildfire and smoke – and it could all happen in 'one vicious swoop'. 
California knows all too well about climate volatility – it has joined the list of reasons why people want to move out of the state, along with soaring home prices, high taxes and traffic. Over the past two years, the state's population has dropped, before then the population had grown year on year for decades. 
"We have people say they're concerned about drought, they're concerned about wildfire," said Scott Fuller, founder of LeavingTheBayArea.com, a 7-year-old real estate company that helps people relocate. "We've had clients say this is literally the final straw."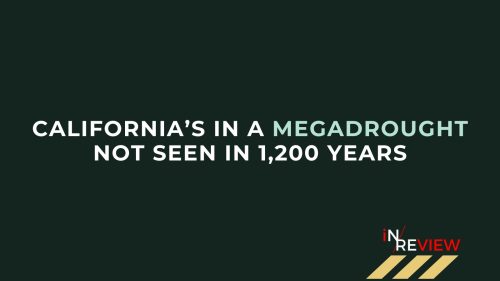 California is now in its third straight year of drought  – seven of the past 10 years have been dry. Some scientists say the state is in a megadrought not seen in 1,200 years. 
Reservoirs are now approaching historic lows – so low that bodies of murder victims from decades back, once hidden by its depths, have surfaced. 
Millions of Californians are once again having to limit their water use, not just for watering the grass but Gov. Gavin Newsom has instructed residents to limit their showers to five minutes and swap out baths for these short showers. 
Outdoor watering activities, such as hosing down driveways and filling up ornamental fountains have been banned. 
"We're going to have to change our lifestyles," said Richard Frank, professor of environmental practice at the UC Davis School of Law and director of the school's California Environmental Law & Policy Center. "We're seeing some of that (change) already, but more is needed. I don't think abandoning thirsty lawns and swimming pools in the backyards of middle- and upper-class neighbourhoods is too much to ask."
Frank says Californians 'tepid response' to voluntarily cut back on water usage over the past year means future water restrictions will have to be more stringent to protect supplies.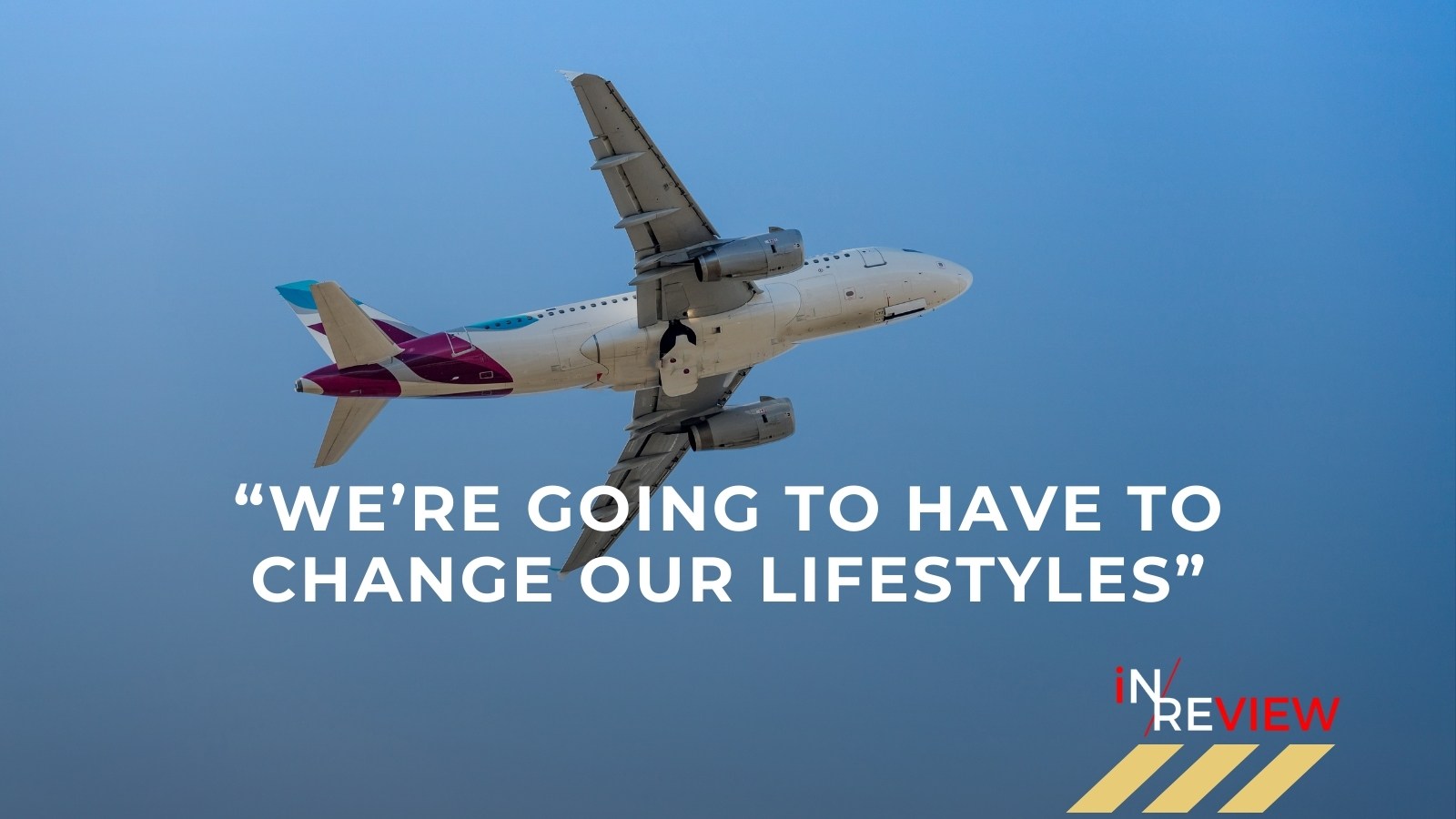 California hills primed for burning
Jan- March is usually California's wettest season, but this year has been the driest start on record for most of the state. And that's following two dry years that also sapped forest, grasslands and chaparral of moisture and fire resiliency.
The drought has left California's majestic hills and valleys primed for wildfires. 2020 and 2021 fire seasons were the biggest in modern California's history. A massive 2.5 million acres burned in 2021, whilst a year earlier 4 million acres were charred. 
The recent surge in wildfires is not just because of the changing climate but also the buildup of vegetation that's resulted from decades of misguided fire suppression. 
The power  grid
Extreme heat is the leading cause of weather deaths in the United States and has been for 30 years, another concern facing California this year is the fact that the combination of heat and drought is likely to cause a problem for the power grid. 
With less water in reservoirs, you can expect less hydropower this year. California energy officials are bracing for a shortage, with the hottest months seeing the power demands rise as people use their air conditions. Whilst California would ask people to buy power from out of state if supplies drop, if the heat wave is far-stretching, it could hamper energy sources elsewhere, too. Meaning some will be left with no choice but to go without. 
Two years ago, amid the August heatwave, which caused the grid to run low, power was halted to hundreds of thousands of people over a two-day stretch. 
"Climate change continues to cause unprecedented stress on California's energy system," wrote officials from the California Energy Commission, Public Utilities Commission and California Independent System Operator in a joint media report last month. "It continues to threaten reliability and put Californians at risk of additional outages."
"The US is the world's second-largest climate polluter, after China , the action it takes next matters a lot for the entire planet."
When President Biden stepped into office, he recommitted the US back to the Paris Agreeement almost immediately after taking office. 
But the US is doing 'a pretty horrible job' of keeping its promises made to tackle climate change, according to two US studies. A global ranking of countries completed by Yale and Columbia found the US ranks 43rd among 180 nations that Columbia and Yale evaluated in their most recent Environmental Performance Index (EPI). It's a major plummet for the US – which was ranked 24th in 2020. 
President Biden's commitments to eliminate enough pollution this decade to stop the world from careening into a much deeper climate crisis is way off track. In a recent paper published in the journal Science, it says the US is no where near its goal in reducing carbon emissions and it'll take a monumental effort to transform the nation's power and transportation systems for the US to get back on track.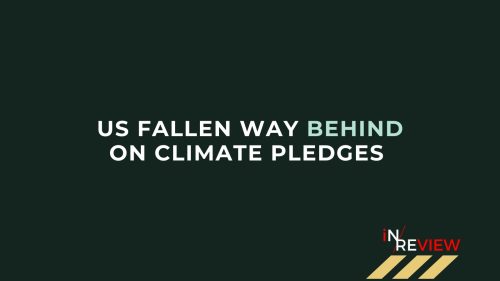 The president's efforts to pass legislation to move the US to clean energy quicker has been stymied in Congress. The US pledge to cut US carbon diocide emissions by at least 50 per cent from 2005 levels by the end of the decade is not in line with what's actually happening. Current politics are only project a cut between 6 and 28 percent by 2030, according to an analysis from the journal Science. 
The Biden administration has not been aggressive enough its approach to phase out gas-guzzling cars and whilst greenhouse gas emissions have fallen over time – thanks to the drop in renewable energy prices, the pace of greenhouse gas reduction in the US needs to be 3x faster to meet Biden's proposed 50 per cent reduction in carbon emissions. 
The US is the world's second-largest climate polluter, after China, the action it takes next matters a lot for the entire planet. 
Fact-checking & Additional resources: