Passport office workers to strike for 5 weeks over pay
The Passport Office will experience a five-week strike starting on April 3, with over 1,000 workers participating in England, Scotland, and Wales. 
The Public and Commercial Services union members are protesting over jobs, pay, and conditions, while the Belfast office is also considering a strike. 
This action could significantly impact passport delivery ahead of the summer season.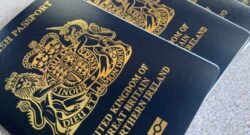 The strike involves approximately one in four of the more than 4,000 Passport Office employees across the UK, including those in Durham, Glasgow, Liverpool, London, Newport, Peterborough, and Southport.
The dispute is over a government-imposed 2% pay rise, which the union argues should be increased.
According to PCS General Secretary Mark Serwotka, the government has failed to hold meaningful discussions with the union despite six months of sustained targeted action. Mr Serwotka argues that 40,000 civil servants use food banks and that 45,000 claim benefits they administer, making it a national scandal and a stain on the government's reputation.
Months of strike actions across UK
The strike follows months of similar action by workers in various sectors, including rail workers, London Underground drivers, teachers, NHS staff, regional BBC journalists, university lecturers, and civil servants.
Meanwhile, healthcare unions in England have reached a final pay offer with the government, ending walkouts from health workers, excluding junior doctors.
---