U-kippered!
So will the rightwing British political party UKIP be on the lookout for its sixth leader in 18 months? The crisis was brought about by the latest leader who's girlfriend made racist remarks about black people and Meghan Markle, the fiancé of Prince Harry.
Clearly Henry Bolton wants to avoid such a crisis by dumping his new girlfriend 25-year-old Jo Marney. The glamour model did apologise "unreservedly" for the shocking language used in the messages, and insists they had been taken out of context but it was too little too late.
UKIP activists are already unimpressed by Bolton's behaviour following his decision to leave his wife for Marney. No doubt it will all be discussed in the usual rambunctious UKIP style when the national committee meets on Sunday.
Maybe they can answer the pressing question already posed by the Daily Mirror: Why do UKIP leaders have shorter careers than realty TV Big Brother contestants? The record is currently held by Diane James who managed only 18 days as leader for the anti-European party.
If Bolton quits – or is pushed out –  he will not have served as long as that managed by interim leader Steve Crowther who notched up four months which was marginally longer than Nigel Farage's brief return as acting leader from October to November 2016.
To prevent further mockery, let's not even discuss the leader who was fantasist Paul Nuttall.
The kindest thing to do would be to dismantle the party that helped win the EU referendum which brought us Brexit. Since it is now struggling to have purpose, perhaps it's time to call in Dignitas!
---
People power Tunisian style
It's hard to believe that it has been seven years since the departure of the vile Tunisian President, Zine al-Abidine Ben Ali – as his plane was hurtling down the runway to an unknown destination, I was standing in solidarity with friends outside the Tunisian Embassy in London.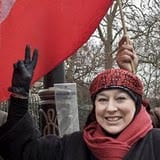 Today Tunisia still has its problems but at least the government appears to be listening to the people and has just announced a wave of social reforms following street demonstrations and protests by anti-austerity protesters across 10 towns and cities. Clearly it's a step in the right direction but the empowered Tunisians want more.
While 800 have been arrested in protests, the people's actions prompted emergency government meetings and empathetic words from President Beji Caid Essebsi who even visited a district of Tunis on Sunday, saying he understood everyone's suffering.
Arguing conditions have not improved since Ben Ali was forced out at the start of protests that triggered the Arab Spring, opposition parties urged Tunisians to take to the streets and they did.
While the tyrants and despots are still in control in large swathes of the Arab world, it's good to see the Tunisians still leading the way with gusto. If Essebsi has any sense he will issue a presidential pardon for the 800 arrested and have them released with immediate effect while delivering an improved offer of reforms.
---
Corbyn makes Labour position clear on Brexit
Labour leader Jeremy Corbyn says Labour will not support or call for a second referendum on Britain's membership with the European Union.
This finally makes clear to Labour members that he is not and never has been a Remainer. Corbyn also hit back at critics within the party calling for the UK to remain in the EU single market and customs union after Brexit. He said: "The single market is dependent on membership of the European Union."
The news will be a disappointment to Labour supporters, many of whom believed the party was in the Remain camp. A poll in December after leading pro-remain campaigners urged the party to clarify its stance on Brexit, revealed that a quarter might switch parties by the next election and more than half would oppose Labour backing Brexit.
Conducted by YouGov for the Best of Britain campaign group, around 24 per cent said they may change their minds before the next election, and two-thirds of those who voted remain said they would be angry if Labour backed Brexit. There has been opposing perceptions about the party's current stance on Brexit in recent months with 32 per cent believing Labour is "completely against Brexit" while a further 31 per cent of Labour leave voters believe Labour is "completely in favour of Brexit".
Corbyn has finally left no one in any doubt … Labour is a pro-Brexit party and will not oppose Tory Brexit plans despite 70 Labour councillors from south London urging him to give voters another say on Brexit.
---
Scotland: Here we go, here we go … again!
The First Minister of Scotland says she will decide on whether to back a second referendum on Scottish independence by the end of this year. Nicola Sturgeon said her decision will be made when the shape of a deal over Brexit between Britain and the European Union becomes clear in the autumn.
She fired warning shots across the bows of unionists during her appearance on the BBC's Andrew Marr show ahead of the publication of a Scottish government assessment on the impact of Brexit. The UK government has accused the SNP of trying to undermine the Brexit vote, but speaking to Marr she said would determine at that stage "if Scotland should then have a right to choose between whatever that new relationship with the UK is going to be or choosing to be an independent country."
So while the Tories and Labour are against a second vote on Brexit, it looks like the Scottish people will be able to have another referendum … something SNP voters will relish but I'd like to bet Brenda is glad she lives in Bristol and not Banff!
---
Brit of raucous behaviour at the awards
So all nation's young people are getting hot and bothered over this year's Brit's nominations with Dua Lipa already stealing the show with five awards including best album and best single for New Rules.  Meanwhile veteran pop meister Ed Sheeran is up for four, while J Hus and Rag'n'Bone Man have three each. They, along with Stormzy, are also all up for best British album.
But what's going to shake the teen world is the fan-voted best video category which sees a three-way fight with former members of One Direction. Liam Payne, Harry Styles' and Zayn Malik are all competing against each other along with some others I've never heard of, but I doubt we'll see fists fly.
One pop upstart I've never heard of called Jax Jones (I know, I'm positively Jurassic) reckons he's at the cutting edge of mayhem by threatening to make the Brits "raucous" saying: "I'm going to turn up with all my boys and we're going to fully deinstitutionalise the Brits." I had to laugh. It's hardly on the Richter scale of being naughty considering Keith Moon drove a Rolls-Royce into a society swimming pool or a Jimi Hendrix who set fire to his Fender Stratocaster in Miami in May 1968
If that's not mad enough Jax what about KLF who burned one million in cash on my favourite Scottish island of Jura as an "art" stunt. Bill Drummond and Jimmy Cauty also left a dead sheep outside the Brit Awards party in 1992, having already fired machine-gun blanks at the ceremony's audience.
That's real mayhem, madness and rock n'roll, Jax … now grow up bonny lad and don't make a show of yourself!
---
My tweet of the day
Big thank you to Scott Dworkin for making my day by showing a video clip of someone projecting the word "shithole" on to one of Donald Trump's hotels – simply hilarious.
The word "shithole" is being projected onto Trump's DC hotel. https://t.co/pq0b7b1BEW

— Scott Dworkin (@funder) January 14, 2018
---
And finally,  Jennifer Lopez is making lining up with Will and Grace again, Will be fabulous.
Video Report: Jennifer Lopez to join Will & Grace 
[wpvideo da75cGcP]
---
[simple-payment id="7912″]