For the second consecutive weekend, UFC Fight Night's main event on Saturday is a heavyweight bout, this time, between number 4 ranked Jairzinho Rozenstruik and number 7 ranked Ciryl Gane. Just like last weekend's UFC Fight Night main event between Curtis Blaydes and Derrick Lewis, this heavyweight match-up should also be an entertaining duel.
Ciryl Gane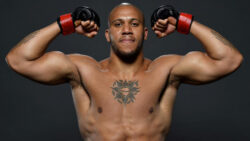 At 7-0-0, winning all 4 of his fights since entering the UFC, Ciryl 'Bon Gamin' Gane is not only an elite striker – being able to combine his powerful boxing and impressive kickboxing well – but he is also a 2x French Muay Thai champion. This versatility is proven, with 3 wins by knockout and 3 by submission in his MMA career.
Not only is his offence great, but Gane's defence has also looked sharp since entering the UFC, with his striking defence at 73% and takedown defence at 100%. This is displayed when you see Gane fight, where he uses strong wrist control in the clinch to avoid letting his opponent retaliate as well as having exceptionally quick and creative footwork for a heavyweight.
Jairzinho Rozenstruik
In the other corner, Jairzinho 'Bigi Boy' Rozenstruik has some of the deadliest striking in the UFC heavyweight division, emphasised by 10 of his 11 wins coming by way of knockout – 7 in the first round. Bigi Boy will be looking to utilise his dangerous left hook as well as throw some heavy kicks in order to get the better of Gane.
Although he did get knocked out badly by now-number one contender Francis Ngannou, Rozenstruik has shown he too can knock out some of the best the division has to offer, including Andrei Arlovski, Alistair Overeem and most recently, Junior Dos Santos.
Prediction – Gane's elite Muay Thai will be too much
Although I got my UFC heavyweight prediction wrong last weekend, choosing the wrestler over the striker, I feel somewhat confident picking the undefeated Muay Thai fighter to defeat the striker this week.
Whilst there's no denying that Rozenstruik has incredible firepower in his arms and legs, Gane can also strike efficiently and in devastating fashion, averaging more significant strikes per minute (5.61) than Rozenstruik (4.04).
Furthermore, Gane is a Muay Thai champion and has showed immense control once he gets his opponents in the clinch. Rozenstruik on the other hand, isn't known for his grappling game, and although he has 75% takedown defence, he can be taken down.
And that's where I worry for Rozenstruik. Yes, he's been training at American Top Team in Florida, who are known for their Brazilian Jiu-Jitsu. But, Gane's ability to control his opponent's wrists and read what his opponents are trying to do in clinch situations I feel will be too skilled for Rozenstruik to deal with. Then you add Gane's dangerous elbows and ability to submit his opponents into the mix, and boy, Bigi Boy has his work cut out for him if that's where the fight goes.
On the other hand, should Gane try to stand-up with Rozenstruik for some reason, or if Rozenstruik can defend takedowns and escape clinch situations, then Rozenstruik has way more chance of defeating his opponent. Especially since he loves to counter-punch, if he can stay patient and wait for Gane to shoot, he may be able to land that one punch knockout that Lewis defeated Blaydes with last weekend.
However, I'm going to have to go with the bookies favourite (-265) on this one.
Prediction – Gane TKO/submission 3rd or 4th round
Huge UFC upset as Lewis emphatically knocks out Blaydes
Usman's elite striking too much for Burns at UFC 258 – So What Next?
Leave a comment