Tottenham Hotspur once again cruised past RZ Pellets WAC (Wolfsberger) in a one-sided 4-0 win that sees them win 8-1 on aggregate and proceed to the next round of the Europa League. Dele Alli was the star of the show, with the Tottenham midfielder scoring 1 and assisting 2.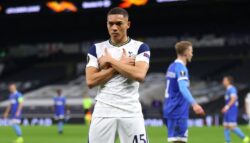 Fantastic performance by Dele Alli
Tottenham's first goal came after just 10 minutes when Dele Alli scored a superb bicycle kick (someone was watching Olivier Giroud last night). Right back Matt Doherty played a ball into the midfielder's feet inside the box, whose touch isn't the best, but it bounced up perfectly for Alli, who produced a fine overhead kick that beat Wolfsberger keeper Manuel Kuttin.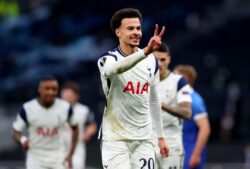 Tottenham's second of the game didn't come until the 50th minute, although Tottenham had been on top throughout the game. This time, it started from Dele Alli on the left wing, whose deep cross to the back post is found by striker Carlos Vinícius. His header bounces down off the ground and beats Kuttin at his near post.
The third of the game was scored by the Welsh international, Gareth Bale. After Wolfsberger tried to play it out from the back, Tottenham win back possession just inside the half. Alli is once again at the heart of the action, as his through ball to an open Bale on the right side of the box is emphatically finished first time into the top corner, giving the keeper no chance.
10 minutes later and Tottenham scored again to further solidify the thumping. Once more, Wolfsberger are caught out trying to play it out from the back. This time, 16-year-old (feel old yet?) Tottenham substitute Dane Scarlett tackles defender Gustav Henriksson at the edge of Wolfsberger's box. His challenge causes the ball to fall perfectly for Vinícius, who unleashes a first-time strike past Kuttin's right side.
This dominant showing from José Mourinho's men will surely catch the eye of fellow Europa League teams hoping to win the competition and gain entry to next year's Champions League.
⭐️ @dele_official | MotM – @SpursOfficial 4⃣-0⃣ Wolfsberger

🏹 Shots – 2
⚽️ Goals – 1
🔐 Key passes – 3
🅰️ Assists – 2
🦶 Tackles – 2
🤤 Dribbles – 1
📈 Rating – 9.63

🏆 It was the best rated performance by a Spurs player in the Europa League (excl. qualifiers) in 2020/21 pic.twitter.com/5sqEN7ehY7

— WhoScored.com (@WhoScored) February 24, 2021
Europa League Round of 32 first leg match reports: A mostly positive night for British teams
Sunday's Premier League results – Hammers, Spurs, Villans, Foxes
Leave a comment