Morocco reopening
Muslims in Morocco will be able to attend mosques after July 15 as Morocco is opening for tourism, tentatively. To begin with, worships will only be able to pray the five daily prayers and the Friday Prayer will only be permissible where the Mosques can caution strict social distancing measures to prevent the coronavirus from spreading.
In a statement released by the Religious Affairs Ministry urging anyone with coronavirus symptoms to abstain from going to mosques to protect other believers.
People will have to wear facemasks, keep a distance of one and a half metre between worshipers and avoid crowding inside the mosques, underlying the tentative nature of reopening Morocco's Mosques. A strict ban on handshaking is still in place.
The ministry said that sanitizers will be made available at entrances as well as an infrared thermometer, adding that people will have to take their own prayer carpets.
Morocco open for tourism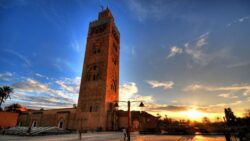 Usually, the summer months represent a peak season for Moroccan Tourism but this year is different. Mosques are major tourist attractions for tourists looking to soak up the local traditions and culture. Despite the reopening of Moroccan Mosques, they will not be open for tourism purposes.
Mosques toilets and ablution area will be kept closed to avoid potential contagions, it said.
The opening of mosques will be on a region-by-region basis depending on the development of the pandemic and will be open for tourists to pray but not visit.
Tourism is a $20bn dollar industry for Morroco and the government is desperate to reopen the borders to attract foreign tourists to boost the economy before the winter months. Flights to Morocco will reopen to selected airports on 10th July.
The surge of cases in Morocco recently was due to hotspots in industrial clusters as well as the general availability of mass testing.
The health minister Khaled Ait Taleb said caution is necessary and warned of the risk of a second wave of the virus as summer ends.
The Latest COVID-19 updates from Morocco
So far, 99% of diagnosed cases are asymptomatic with only 17 cases in a critical condition out of a little over 4000 active cases.
Morocco has so far recorded 14,730 cases, including 240 deaths and 10,848 recoveries with total tests standing at over 800,000.
In March following the confirmation of 28 COVID-19 cases, Morocco suspended all international flights and shut down its land and sea borders. Shortly after, on March 19, the country declared a state of emergency and ordered a strict lockdown for all residents.
Morocco has extended its state of emergency three times and has been under extreme pressure as thousands of Moroccan citizens are stuck abroad, but the Ministry is adamant that this tentative reopening will help reduce the chances of a second wave of COVID-19.
………………………………………
UPDATE: Morocco open borders July
Morocco is reopening borders -Relief for travellers as Airports to open July 10th
Morocco tourism soared to record high of $8Bn in 2019
Leave a comment