The battle between Nawaz Sharif vs Imran Khan intensifies as the High Court in Lahore ordered the government to remove former Prime Minister Nawaz Sharif's name from the country's exit control list for four weeks with no conditions attached. Shahbaz Sharif, president of Pakistan Muslim League-Nawaz (PML-N), filed a petition on Friday challenging the government to allow Nawaz Sharif to travel abroad for medical treatment.
A two-member bench comprising Justice Ali Baqar Najfi and Justice Sardar Ahmad Naeem heard the case and prepared a draft of Shahbaz's undertaking to guarantee his brother's return, ensuring permission to travel would not be used to engineer a second exile.
Shahbaz Sharif's lawyer, Ashtar Ausaf, told local media that the draft had been accepted by the party.
Nawaz Sharif vs Imran Khan
Nawaz Sharif, 69, who has held the country's top political office three times, is serving a seven-year sentence on corruption charges and was granted bail on health grounds.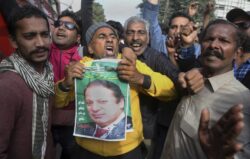 The PTI government, led by Imran Khan, approved his request to allow him to seek treatment abroad, but with a 7 billion rupee ($45.2 million) bond specifying his date of return but the High Court rejected those conditions that he rejected.
Shahbaz said the government's conditional approval was an "intentional delay" with "no legal, constitutional or judicial basis, playing politics on Nawaz Sharif's life."
Addressing reporters in Lahore, Shahbaz said that the government's "terrible demand" could be life-threatening to the ailing former premier whose health was rapidly deteriorating.
Imran's spite towards Nawaz Sharif
The opposition parties have accused Imran Khan of playing politics with former Prime Ministers life, hiding behind a veil of PTI ministers to deliver his hatred towards the former PM.
According to sources close to Imran Khan have suggested that the PTI leadership is fearful of Nawaz Sharif's return to politics. As he is the only real opposition to his premiership. The country is almost evenly divided between support for PTI and support for the 'Lion of Pakistan'.
Another major factor that hinders the Sharif family is there opposition to the Pakistan Army autonomous rule, and have openly condemned Army officials in the past for being hungry for power.
There has long been speculation that behind Imran Khan's PTI Government is the firm support of the Pakistani Army, almost approving his rule. Should he, however, sway from this line, his premiership will be over, swiftly.
They have been suggestions that his hate towards Nawaz Sharif stems from when he wanted to join the PML party as a leader but was rejected on the grounds of merit as Sharif wanted him to build his credibility as a politician first.
On a domestic front, he has spent the first year curbing growth and is battling a crippling economy, to the point of bankruptcy. Record-high inflation and a starving poor class who cannot afford staple foods. Seen as a major difference between Imran Khan and Nawaz Sharif government. Supporters of PML-N cite this as a major difference when they compare Imran Khan vs Nawaz Sharif government.
Political analysts in Pakistan, have commented saying that 'Imran Khan's honeymoon period is over', and this court ruling shows that he can no longer be the tyrant; judge, jury and executioner to the Sharif family. 'It is time he moved on from his spiteful hate of Nawaz Sharif and moved on to governing the bankrupt country'.
……………………………………………………
FOLLOW US ON SOCIAL MEDIA AND SHARE WTX NEWS  WITH YOUR FRIENDS AND FAMILY:
Facebook – Please like our page
Twitter  – Twitter updates available in English and Arabic. Please follow us and we would love to hear from you
Instagram – Follow our pages in English and Arabic
Leave a comment