It is time to choose the best patio heater for your garden or home. We all know how unpredictable the British weather is, one week we're breaking hottest days records and the next we are collecting the wettest month in history award.
Barbeques are cancelled last minute and when you blaze through the cold you are stood there freezing or crouched around the barbeque to capture some heat.
A patio heater solves that problem, ensuring you can enjoy a night outdoors while remaining cosy and comfortable. And the development of these heaters over the last five years has been spectacular.
They look better, throw out more heat and have become cheaper to run. We also have green options so you're friendly to the Polar bears and Jeremy Clarkson.
So let's dive into which types of patio heaters UK are best for your home
Fire pits for your garden
Fire pits are great for creating an ambience in your garden and many come with a protective lid for peace of mind – particularly handy if you have small children.
Fire pits are a great way of cultivating that campfire feel at home while warming the space immediately around you. They are usually made from steel, clay or cast iron and many also come with cooking grills so you can enjoy a cook-up too.
They're fueled by either charcoal or wood and can be even be used as an incinerator.
FITT CUBE: Review of the best home fitness product right now
Electric patio heaters for your home
If you want to heat your garden quickly and with minimal fuss, an electric heater is the one for you. They are easy to turn on and off, and typically reach the desired temperature quickly.
They come in different shapes and sizes and, depending on the model, can either be placed on the floor, on a raised surface such as a table or bench or even mounted on the wall.
Electric heaters are typically radiant heaters that heat objects directly – as opposed to convection heaters which circulate warm air to heat up the surrounding area.
Radiant heaters are generally better for large gardens as you can choose what area you'd like to be heated directly.
Gas patio heaters for your garden
Another option is a gas-powered patio heater. They're expensive to run at £1.20 per hour on average; the average running cost of an electric heater is just 15pc of a gas version making it a little bit greener.
They can also take a while to heat up. However, they do often provide very wide-ranging heat, making them a good option for bigger areas, and can be cheaper to buy.
Whatever your preference, here is our hand-picked selection of the best patio heaters you can buy now:
1. Bromic Platinum Smart-Heat 2.3kW Electric Heater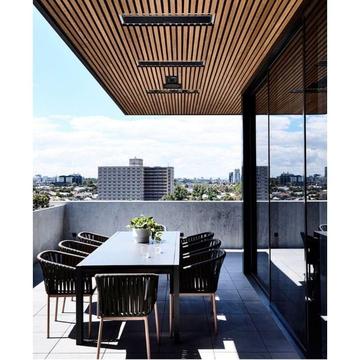 The award-winning Platinum Smart-Heat Electric range has been designed with low-clearance, semi-enclosed spaces in mind. Minimised light emissions and dedicated recess kits ensure The Platinum Smart-Heat Electric blends seamlessly into your environment.
Available in black and white, this slim-line, stainless steel unit spreads comfort evenly in its space while blending seamlessly into the background with our recess mounting solutions.
2. Eco-Smart Martini 50 Bioethanol Luxurious Fire Table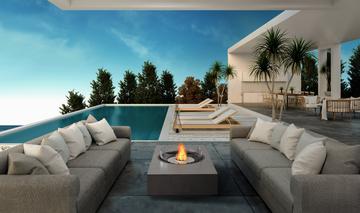 Elegant, simple, and ever so functional, the Martini Fire Table is perfect for entertaining guests at an outdoor party, you can eat near it and you can run a sheesha/hookah whilst enjoying the beautiful fire table. It has sufficient space to set down food or drinks, the fire becomes a welcoming destination for guests to gather around. With a sunken circular flame at its centre Martini certainly knows how to grab your attention.
3. Kratki Patio – gas patio heater with free decorative stones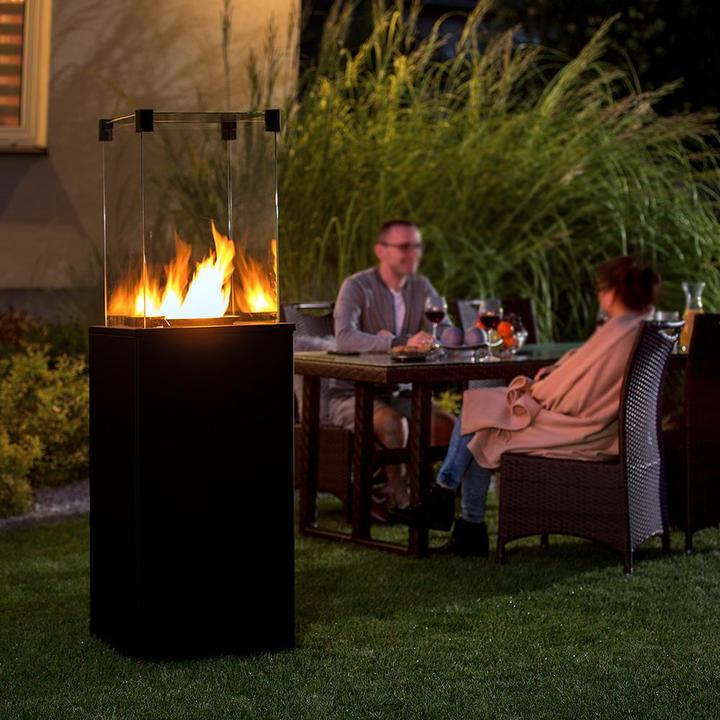 Patio Modern design suits almost anywhere. The gas patio heater can be an elegant decoration on the home's terrace or in the garden. It can be also used in restoration as well as the hotel industry as an interesting addition to the dining and leisure area. The attractive appearance and pleasurable warmth of Patio heater model will make gardens and terraces full of guests during spring, summer as well as winter evenings. Natural fire vision is ensured by the use of a modern ceramic burner. Additionally, decorative elements such as stones or decorative glass can be used in PATIO to enhance the look of the heater.
4. Tansun Rio Grande Single – Weatherproof Infrared Patio Heater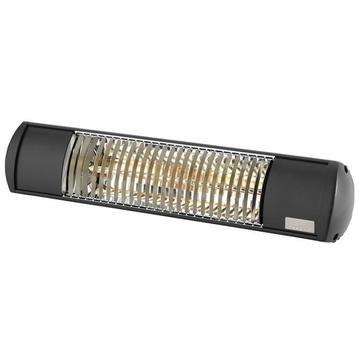 The Rio Grande Single is a fully weatherproof infrared heater used in all seasons and comes with a safety guard fitted as standard. This popular weatherproof infrared heater is one of the best-infrared heaters available on the market to their range.
Installation of the Rio Grande Single couldn't be easier and comes as standard, with a central 'swivel' bracket that allows you to mount the heater horizontally or at an angle. The Rio Grande Single produces radiant heat just like the sun, directly warming people and objects rather than the air in between.
Outside heaters are an investment for your garden
Whichever one you choose to buy to at least you can enjoy the outdoors a little bit longer this Autumn, Winter and perhaps in the Spring of 2022. We think these outisde heaters are now part of your staple investment at home. Such lavish gardens and immensely beautiful landscaping, it really is a shame to only use them for 3 months of the year.
In fact, this is a trick property investors use to sell homes to buyers, use patio heaters to sell the value of the land that comes with the property.
And remember the best patio heater for your garden is the one that fits, your budget, your home decor and is best suited to your comfort, we hope some of these choices help.
……………………………………………
Leave a comment