The Golden Globes delivered a powerful, concerted message about and from women, addressing sexual harassment and gender inequity. Yet they also highlighted the at-times awkward challenge of tackling such sobering issues within an award-show format.
Despite the sexual-harassment shadow that hung over an event where accused predator Harvey Weinstein once held sway. The show went on and tried to find a balance.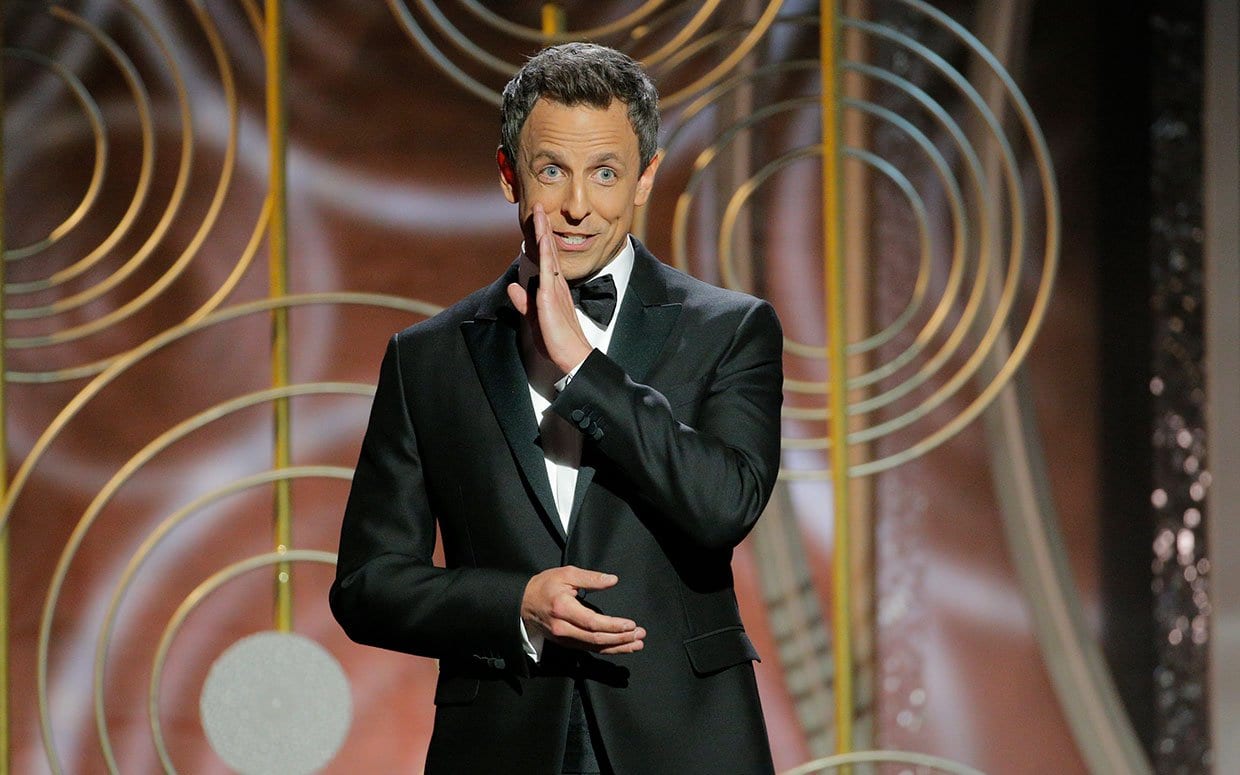 Seth Meyers, who hosted the ceremony, set just the right tone in his opening monologue — one that focused on the harassment issue as well as national politics; Harvey Weinstein and President Trump in the same monologue; I wonder if that was deliberate? Naturally,  President Trump didn't come away unscathed.
Anyway onto the victors of the night:
Best Motion Picture – Drama
"Three Billboards Outside Ebbing, Missouri" *WINNER
Best Motion Picture – Musical or Comedy
"Lady Bird" *WINNER
Best Performance by an Actress in a Motion Picture – Drama
Frances McDormand, "Three Billboards Outside Ebbing, Missouri" *WINNER
Best Performance by an Actor in a Motion Picture – Drama
Gary Oldman, "Darkest Hour" *WINNER
Best Actress in a Motion Picture – Musical or Comedy
Saoirse Ronan, "Lady Bird" *WINNER
Best Director
Guillermo del Toro, "The Shape of Water" *WINNER
Best Performance by an Actor in a Motion Picture – Musical or Comedy
James Franco, "The Disaster Artist" *WINNER
Best Supporting Actress in a Motion Picture
Allison Janney, "I, Tonya" *WINNER
Best Supporting Actor in a Motion Picture
Sam Rockwell, "Three Billboards Outside Ebbing, Missouri" *WINNER
Best Original Score in a Motion Picture
"The Shape of Water" *WINNER
Best Original Song in a Motion Picture
"This Is Me," "The Greatest Showman" *WINNER
Best Screenplay in a Motion Picture
"Three Billboards Outside Ebbing, Missouri" *WINNER
Best Motion Picture – Foreign Language
"In the Fade" *WINNER
Best Animated Film
"Coco" *WINNER
Career Achievement Award 
The Cecil B DeMille award for "outstanding contributions to the world of entertainment" 
Oprah Winfrey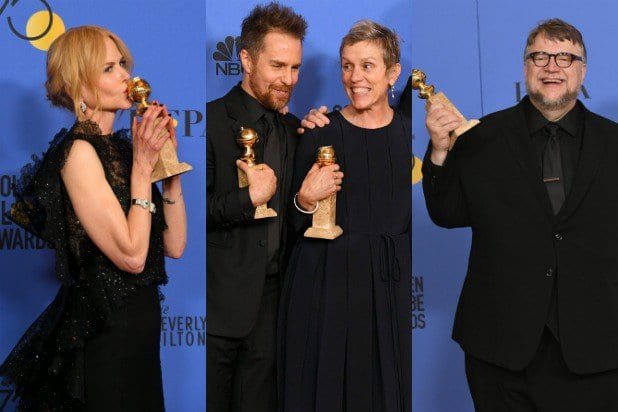 Best TV series – Drama
"The Handmaid's Tale" *WINNER
Best performance by Actress in a TV series – Drama
Elisabeth Moss, "The Handmaid's Tale" *WINNER
Best performance by an Actor in a TV Series – Drama
Sterling K. Brown, "This is Us" *WINNER
Best TV series – Musical or Comedy
"Marvelous Mrs. Maisel" *WINNER

Best performance by an Actor in a TV series – Musical or Comedy
Aziz Ansari "Master of None" *WINNER
Best performance by an Actress in a TV series – Musical or Comedy
Rachel Brosnahan, "The Marvelous Mrs. Maisel" *WINNER
Limited Series or Motion Picture Made for Television
"Big Little Lies" *WINNER
Best Performance by an Actor in a Limited Series or Motion Picture Made for Television
Ewan McGregor, "Fargo" *WINNER
Best Performance by an Actress in a Limited Series or Motion Picture Made for Television
Nicole Kidman, "Big Little Lies" *WINNER
Best Performance by an Actor in a Supporting Role in a Series, Limited Series or Motion Picture Made for Television
Alexander Skarsgard, "Big Little Lies" *WINNER
Best Performance by an Actress in a Supporting Role in a Series, Limited Series or Motion Picture Made for Television
Laura Dern, "Big Little Lies" *WINNER
---
[simple-payment id="11767″]